US "war on terror" - Afghanistan & Pakistan
Most of 5 freed Taliban prisoners have less than hard-core pasts - Los Angeles Times. Arriving in the western Afghanistan city of Herat in the late 1990s during Taliban rule, Pakistani journalist Rahimullah Yusufzai expected a locked-down, cowering population.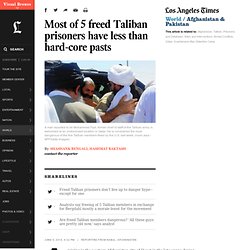 Instead, he heard residents openly criticize the militant Islamic movement. At the provincial government offices, he saw a parade of local clerics come to meet the governor, founding Taliban member Khairullah Khairkhwa, who greeted them in the local Persian, a language most of his comrades didn't speak. "He knew these people didn't really support the Taliban, so he made an extra effort," said Yusufzai, who has covered Afghanistan for three decades. "He was a friendly man and did not try to force his views on you.
" UPDATE: Kidnapped Anti-Drone Activist Karim Khan Has Been Freed, Says He Was Tortured. The US military describes its biggest mistakes in Afghanistan. Please support our site by enabling javascript to view ads.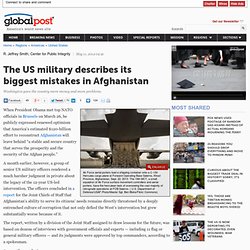 When President Obama met top NATO officials in Brussels on March 26, he publicly expressed renewed optimism that America's estimated $120-billion effort to reconstruct Afghanistan will leave behind "a stable and secure country that serves the prosperity and the security of the Afghan people." A month earlier, however, a group of senior US military officers rendered a much harsher judgment in private about the legacy of the 12-year US-led intervention. The officers concluded in a report for the Joint Chiefs of Staff that Afghanistan's ability to serve its citizens' needs remains directly threatened by a deeply entrenched culture of corruption that not only defied the West's intervention but grew substantially worse because of it.
CIA's Pakistan drone strikes carried out by regular US air force personnel | World news. Link to video: Drone: exclusive clip from new documentary A regular US air force unit based in the Nevada desert is responsible for flying the CIA's drone strike programme in Pakistan, according to a new documentary to be released on Tuesday.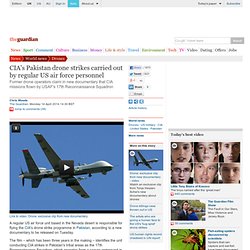 The film – which has been three years in the making – identifies the unit conducting CIA strikes in Pakistan's tribal areas as the 17th Reconnaissance Squadron, which operates from a secure compound in a corner of Creech air force base, 45 miles from Las Vegas in the Mojave desert. Afghanistan. Pakistan.
Afghanistan: U.S. Special Forces Guilty of War Crimes? Nerkh district is not an easy place to get to.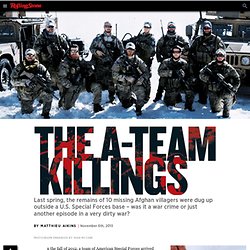 It's only a few miles along paved tarmac from the provincial capital, but the thick apple orchards and mud-walled compounds that line the road offer cover for the insurgents, who plant bombs and snatch passengers from their cars. The only way for me, my driver and my translator to get there is to attach ourselves to an Afghan army convoy heading to the district center. The soldiers are terrified of roadside bombs, and their line of Humvees inches forward as they sweep the ground ahead on foot.
U.S. Kicks Drug-War Habit, Makes Peace With Afghan Poppies | Danger Room. ZARI, Afghanistan — Because of the poppies, the raw material for most of the world's heroin, the list of things 1st Lt.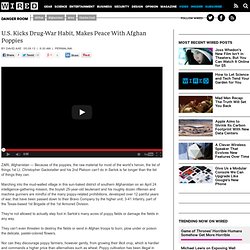 Christopher Gackstatter and his 2nd Platoon can't do in Sartok is far longer than the list of things they can. Marching into the mud-walled village in t­­his sun-baked district of southern Afghanistan on an April 24 intelligence-gathering mission, the boyish 25-year-old lieutenant and his roughly dozen riflemen and machine gunners are mindful of the many poppy-related prohibitions, developed over 12 painful years of war, that have been passed down to their Bravo Company by the higher unit, 3-41 Infantry, part of the Texas-based 1st Brigade of the 1st Armored Division. Indicting the US Government for crimes against humanity – unsealing the evidence. It is opportune that only a couple of weeks after three-times human rights awardee Bradley Manning presented his case against the US Government for war crimes committed in Iraq and Afghanistan, details have been released (see video trailer above) of a 15 month investigation by the Guardian and the BBC into torture centres in Iraq, coordinated by US Special Forces commander, James Steele, and former US General Petraeus.
Add in evidence of system-wide torture and massacres in Iraq and Afghanistan as compiled by the Bureau of Investigative Journalism (see below) with additional evidence from a number of other sources (also below) and what we have is much more than a dossier but an indictment – unsealed and without need for a grand jury – that could form the basis of charges raised against the US Administration either in the World Court or – deliciously turning the tables – at the military tribunal of Bradley Manning. The game is afoot! Note 1. The Way of the Knife: NYT's Mark Mazzetti... Afghanistan | World news. Chart: A Grisly Milestone in Afghanistan. On Sunday, it was widely reported that the number of US service members killed in the 11-year war in Afghanistan had reached 2,000.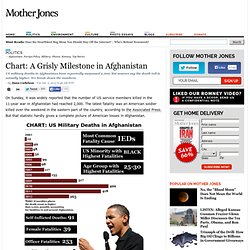 The latest fatality was an American soldier killed over the weekend in the eastern part of the country, according to the Associated Press. But that statistic hardly gives a complete picture of American losses in Afghanistan. Attacks on U.S and NATO Soldiers by Afghan Security Forces | New America Foundation. "Descent Into Chaos": Ahmed Rashid on How the US Aid to "War on Terror" Ally Pakistan is Aiding the Taliban. This is a rush transcript.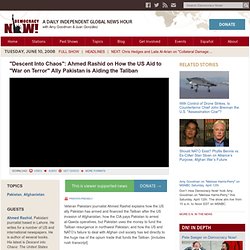 Copy may not be in its final form. AMY GOODMAN: A thousand Pakistani lawyers have begun a long march across the country to demand the restoration of judges fired by President Musharraf last year. Amidst mounting pressure to step down, the President told a group of journalists on Saturday he has no immediate plans to resign. PRESIDENT PERVEZ MUSHARRAF: [translated] I'm not tendering my recognition now. Ahmed Rashid on Pakistan, Afghanistan and the US "war on terror" "Pakistan on the Brink": Ahmed Rashid on Perilous Ties Between the U.S., Pakistan and Afghanistan. This is a rush transcript.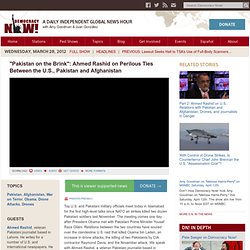 Copy may not be in its final form. NERMEEN SHAIKH: Top U.S. and Pakistani military officials will meet in the Pakistani capital Islamabad today in the first high-level talks since NATO air strikes killed two dozen Pakistani soldiers last November. Commander of the U.S. Central Command, General James Mattis, and commander of the International Security Assistance Force in Afghanistan, General John Allen, will meet chief of staff of the Pakistani army, General Ashfaq Parvez Kayani. The meeting follows on the heels of President Barack Obama and Pakistani Prime Minister Yousaf Raza Gilani meeting yesterday on the sidelines of a nuclear summit in the South Korean capital, Seoul. Part 2: Ahmed Rashid on U.S. Relations with Pakistan and Afghanistan, Drones, and Journalists in Danger. Top U.S. General: We Don't Know Why Afghan Troops Are Killing Us | Danger Room. International Security Assistance Force Commander U.S.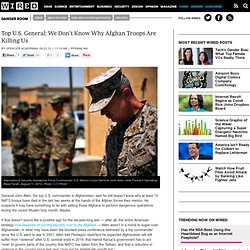 Marine Corps General John Allen visits Forward Operating Base Farah, August 11, 2012. Photo: ISAF/Flickr General John Allen, the top U.S. commander in Afghanistan, said he still doesn't know why at least 10 NATO troops have died in the last two weeks at the hands of the Afghan forces they mentor. He suspects it may have something to do with asking those Afghans to perform dangerous operations during the recent Muslim holy month. Protests grow as civilian toll of Obama's drone war on terrorism is laid bare - Asia - World. One lost a son and brother, killed by a missile that tore from the sky as they sat talking with others; one man's father was among those who died when a missile hit a tribal gathering. Another man, a wage labourer, was in the local bazaar when he heard his father was also among the dozens killed in the same incident. These individuals and their stories represent the collateral damage of America's drone missile programme in Pakistan, a covert CIA operation that has been conducted largely out of sight and beyond scrutiny.
Earlier this year, in his first public comment on the programme, President Barack Obama claimed the operations involved "precision strikes" against anti-American targets. "A lot of these strikes have been in [Pakistan's tribal areas]," he said. The causes of the protests in Afghanistan. (updated below) Most American media accounts and commentary about the ongoing violent anti-American protests in Afghanistan depict their principal cause as anger over the burning of Korans (it's just a book: why would people get violent over it?) — except that Afghans themselves keep saying things like this: Protesters in Kabul interviewed on the road and in front of Parliament said that this was not the first time that Americans had violated Afghan cultural and religious traditions and that an apology was not enough.
"This is not just about dishonoring the Koran, it is about disrespecting our dead and killing our children," said Maruf Hotak, 60, a man who joined the crowd on the outskirts of Kabul, referring to an episode in Helmand Province when American Marines urinated on the dead bodies of men they described as insurgents and to a recent erroneous airstrike on civilians in Kapisa Province that killed eight young Afghans. "They always admit their mistakes," he said. Photos from Afghanistan by Tyler Hicks. U.S. wastes $34 billion in Afghan and Iraq contracting. Nieman Watchdog. Facebook in Kabul | In Afghanistan, 'a generation of hope and change' COMMENTARY The Arab spring hasn't gone unnoticed in Afghanistan. Young men and women there, using Facebook and Twitter, are launching an unprecedented movement for national unity, writes Nasim Ferat, a young Afghan now at school in the United States.
Reporting the endgame | At least 1,400 arrests for antiwar dissent, but who's counting? Not the press. War in Afghanistan: all the data you need to understand the conflict | News. Afghanistan has changed in many and complex ways in the 10 years since operation enduring freedom began. In this time we have had insights into the reality of war quite unlike any before. The Afghanistan war logs gave insights into the numbers of explosive devises and the deaths these have caused. Freedom of Information requests have revealed the details of Afghanistan civilian deaths. We have even seen the compensation Afghan civilians have received from the MoD. Ninety Percent of Petraeus's Captured "Taliban" Were Civilians. Despite Troop Surge, Taliban Attacks and U.S. Casualties Soared.
---