US "war on terror" - Afghanistan & Pakistan
UPDATE: Kidnapped Anti-Drone Activist Karim Khan Has Been Freed, Says He Was Tortured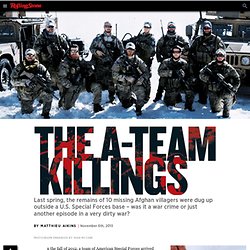 Nerkh district is not an easy place to get to.
Afghanistan: U.S. Special Forces Guilty of War Crimes?
ZARI, Afghanistan — Because of the poppies, the raw material for most of the world's heroin, the list of things 1st Lt.
U.S. Kicks Drug-War Habit, Makes Peace With Afghan Poppies | Danger Room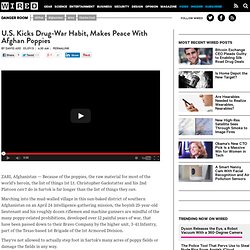 It is opportune that only a couple of weeks after three-times human rights awardee Bradley Manning presented his case against the US Government for war crimes committed in Iraq and Afghanistan, details have been released (see video trailer above) of a 15 month investigation by the Guardian and the BBC into torture centres in Iraq, coordinated by US Special Forces commander, James Steele, and former US General Petraeus. Add in evidence of system-wide torture and massacres in Iraq and Afghanistan as compiled by the Bureau of Investigative Journalism (see below) with additional evidence from a number of other sources (also below) and what we have is much more than a dossier but an indictment – unsealed and without need for a grand jury – that could form the basis of charges raised against the US Administration either in the World Court or – deliciously turning the tables – at the military tribunal of Bradley Manning.
Indicting the US Government for crimes against humanity – unsealing the evidence
The Way of the Knife: NYT's Mark Mazzetti...
Afghanistan | World news
Chart: A Grisly Milestone in Afghanistan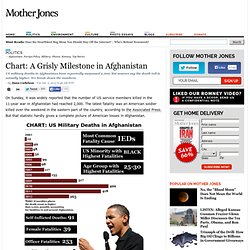 On Sunday, it was widely reported that the number of US service members killed in the 11-year war in Afghanistan had reached 2,000. The latest fatality was an American soldier killed over the weekend in the eastern part of the country, according to the Associated Press. But that statistic hardly gives a complete picture of American losses in Afghanistan.
Attacks on U.S and NATO Soldiers by Afghan Security Forces | New America Foundation
This is a rush transcript.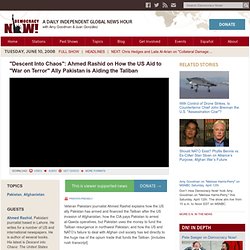 "Descent Into Chaos": Ahmed Rashid on How the US Aid to "War on Terror" Ally Pakistan is Aiding the Taliban
Ahmed Rashid on Pakistan, Afghanistan and the US "war on terror"
"Pakistan on the Brink": Ahmed Rashid on Perilous Ties Between the U.S., Pakistan and Afghanistan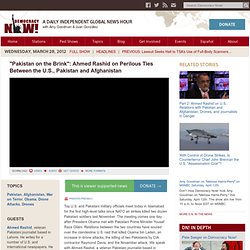 This is a rush transcript. Copy may not be in its final form.
Part 2: Ahmed Rashid on U.S. Relations with Pakistan and Afghanistan, Drones, and Journalists in Danger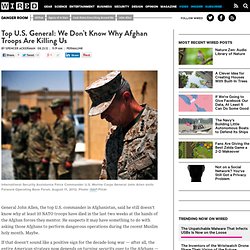 General John Allen, the top U.S. commander in Afghanistan, said he still doesn't know why at least 10 NATO troops have died in the last two weeks at the hands of the Afghan forces they mentor. He suspects it may have something to do with asking those Afghans to perform dangerous operations during the recent Muslim holy month.
Top U.S. General: We Don't Know Why Afghan Troops Are Killing Us | Danger Room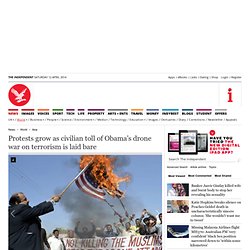 One lost a son and brother, killed by a missile that tore from the sky as they sat talking with others; one man's father was among those who died when a missile hit a tribal gathering.
Protests grow as civilian toll of Obama's drone war on terrorism is laid bare - Asia - World
The causes of the protests in Afghanistan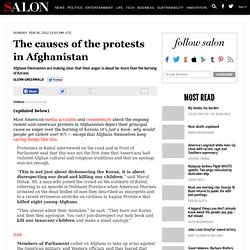 (updated below) Most American media accounts and commentary about the ongoing violent anti-American protests in Afghanistan depict their principal cause as anger over the burning of Korans (it's just a book: why would people get violent over it?)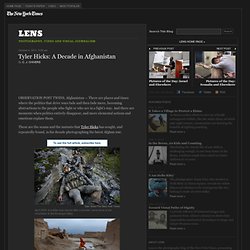 OBSERVATION POST TWINS, Afghanistan — There are places and times where the politics that drive wars fade and then fade more, becoming abstractions to the people who fight or who are in a fight's way.
Photos from Afghanistan by Tyler Hicks
U.S. wastes $34 billion in Afghan and Iraq contracting
Nieman Watchdog
Facebook in Kabul | In Afghanistan, 'a generation of hope and change' COMMENTARY The Arab spring hasn't gone unnoticed in Afghanistan.
Afghanistan has changed in many and complex ways in the 10 years since operation enduring freedom began.
War in Afghanistan: all the data you need to understand the conflict | News
Ninety Percent of Petraeus's Captured "Taliban" Were Civilians
WASHINGTON, Jun 12, 2011 (IPS) - During his intensive initial round of media interviews as commander in Afghanistan in August 2010, Gen.
WASHINGTON, Jul 3, 2011 (IPS) - Data on attacks by armed opposition forces and U.S. combat casualties since the U.S. troop surge in Afghanistan was completed last summer provide clear evidence that the surge and the increase in targeted killings by Special Operations Forces have failed to break the momentum of the Taliban. The Taliban and allied insurgent organisations launched 54 percent more attacks and killed or wounded 56 percent more U.S. troops over the nine months from last October through May than in the comparable period a year earlier, according to data collected by the U.S.
Despite Troop Surge, Taliban Attacks and U.S. Casualties Soared