Afghanistan
Meurtre de 16 Afghans : un soldat américain avoue pour échapper à la peine de mort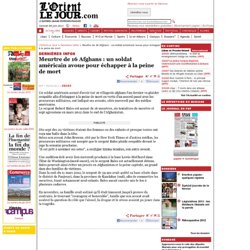 Un soldat américain accusé d'avoir tué 16 villageois afghans l'an dernier va plaider coupable afin d'échapper à la peine de mort en vertu d'un accord passé avec les procureurs militaires, ont indiqué ses avocats, cités mercredi par des médias américains. Le sergent Robert Bales est accusé de 16 meurtres, six tentatives de meurtre et sept agressions en mars 2012 dans le sud de l'Afghanistan. Dix-sept des 22 victimes étaient des femmes ou des enfants et presque toutes ont reçu une balle dans la tête. Selon son avocat John Browne, cité par le New York Times et d'autres médias, les procureurs militaires ont accepté que le sergent Bales plaide coupable devant le juge la semaine prochaine. "Il est prêt à assumer ses actes", a souligné Emma Scanlan, son autre avocat. Une audition doit avoir lieu mercredi prochain à la base Lewis-McChord dans l'Etat de Washington (nord-ouest), où le sergent Bales est actuellement détenu.
En quittant l'Afghanistan, Bernard Bajolet l'ambassadeur de France sortant, a remisé la langue de bois au placard et a critiqué le calendrier de la transition politique et militaire en Afghanistan. "Je n'arrive toujours pas à comprendre comment la communauté internationale et le gouvernement afghan sont parvenus à cette situation où tout doit se passer en 2014 : les élections, un nouveau président, les transitions économique et militaire, et tout cela alors que les négociations pour le processus de paix n'ont pas encore vraiment commencé", a déclaré M. Bajolet lors d'un discours d'adieu mardi à l'ambassade, remettant parfois en question les réalisations dans ce pays de la communauté internationale. M. Bajolet, qui a été nommé à 63 ans à la tête des services secrets français, faisait notamment référence au départ de l'essentiel des troupes de l'OTAN, qui doit se dérouler la même année que l'élection d'un successeur au président Hamid Karzaï.
Les mots sans concession de l'ambassadeur de France à Kaboul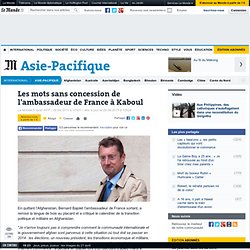 Vintage Afghanistan Photos Show Life And Travel In The 1960s
Before Afghanistan became synonymous with the war and the Taliban, it looked quite a bit different. Judging from these vintage photos, it could be quite lovely, with stately gardens, art and architecture, and even a couple UNESCO World Heritage sites on the map. These photos, shot mostly in Kabul in 1967-68 (more than a decade before the Soviet invasion) by Dr. Bill Podlich, can be seen on a website maintained by Clayton Esterson. They document the time Podlich spent there as a teacher at the city's Higher Teachers College, according to the Denver Post.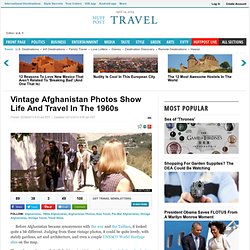 Have an account? Sign in New to Twitter? Join Today » Forgot password? Already using Twitter via text message?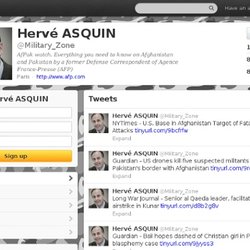 Hervé ASQUIN (Military_Zone) sur Twitter
Eight soldiers died of overdoses involving heroin, morphine or other opiates in 2010-1156 soldiers, including the eight, were investigated for using, possessing or selling the drugsMore soldiers in the Army overall are testing positive for heroin useThe Taliban are believed to be stockpiling opium to finance their activities, U.N. reported (CNN) -- Eight American soldiers died of overdoses involving heroin, morphine or other opiates during deployments in Afghanistan in 2010 and 2011, according to U.S. Army investigative reports. The overdoses were revealed in documents detailing how the Army investigated a total of 56 soldiers, including the eight who fell victim to overdoses, on suspicion of possessing, using or distributing heroin and other opiates. At the same time, heroin use apparently is on the rise in the Army overall, as military statistics show that the number of soldiers testing positive for heroin has grown from 10 instances in fiscal year 2002 to 116 in fiscal year 2010.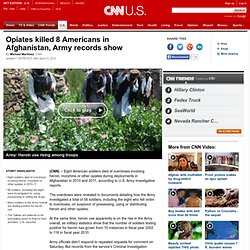 Opiates killed 8 Americans in Afghanistan, Army records show
Pakistan PM to Meet Qataris on Taliban Office
Afghanistan: The Trials of Woman Paratrooper Khatool Mohammadzai
Upper Gereshk: The Helmand plan meets tough reality
1 October 2011Last updated at 23:31 GMT By John Cantlie Gereshk Valley, Helmand "This place makes you old fast," one marine told me After 10 years in Afghanistan, foreign troops can claim successes in the notorious province of Helmand - but a vicious guerrilla war still rages in the Upper Gereshk valley, which US marines are in the process of handing back to British forces. It has only just turned 07:00 and it's already pushing 35C (95F). The three litres of warm water you drank at dawn have already soaked into your flak vest. The patrol advances slowly, inching through poppy fields like their lives depended on it.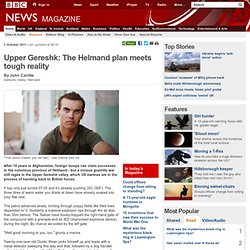 Saffron could displace opium poppies as Afghans' cash crop of choice
Farmers' fields outside the western Afghanistan city of Herat are about to blossom into a purple form of gold. Once rife with poppy, the lucrative spring crop used to produce heroin, these plots are now seeded with saffron flowers. They yield the burnt orange granules that trade as the most expensive spice in the world.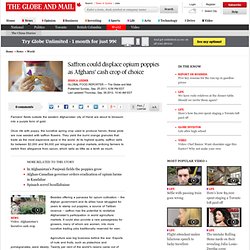 Kabul Hipster (KabulHipster) sur Twitter
Have an account? Sign in New to Twitter? Join Today »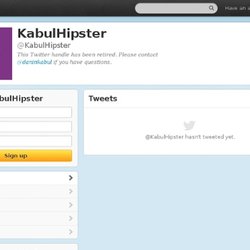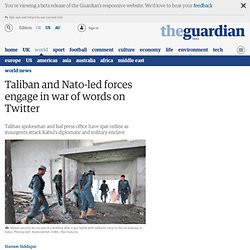 Taliban and Nato-led forces engage in war of words on Twitter | World news
As the 20-hour assault by Taliban insurgents on Kabul's diplomatic and military enclave drew to a close on Wednesday, insurgents and coalition forces decided to prolong the battle the modern way: on Twitter. If the continued insurgency in Afghanistan represents a failure of dialogue, the spat between the Taliban and the press office of the international security assistance force (Isaf) on Wednesday proved that they are ready to exchange words directly, even if their comments offered little hope of peace being forged anytime soon. The argument began when @ISAFmedia, which generally provides dry updates in military speak of the security situation in Afghanistan, took exception to comments from a Taliban spokesman, tweeting: "Re: Taliban spox on #Kabul attack: the outcome is inevitable. Question is how much longer will terrorist put innocent Afghans in harm's way?"
Alcidé Pingouin (M_Pingouin) sur Twitter
Troops retake Afghan building after deadly, hours-long raid by insurgents, officials say
Despite the losses, U.S. soldiers who took part in the fighting praised Afghan police for responding quickly, trapping the insurgents inside a government building and preventing more casualties. "We paid a price today, but I'm very happy," said Lt. Col. Jesse Pearson, commander of the U.S. battalion that responded to the scene. "We totally spoiled their attack."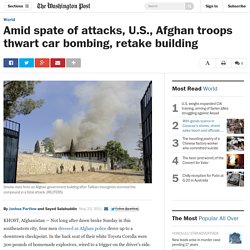 MSgt. Reed, USAF/AP Predator drones were used to eliminate terrorists after using cell phone service as spy tool. WASHINGTON - The controversial WikiLeaks document dump offers a rare glimpse into the tactics U.S. officials use to prevent terror attacks here. Diplomatic cables the group illegally obtained reveal U.S. officials quietly pushed for expanding cell phone service along the Afghanistan-Pakistan border. They also show U.S. counterterror operatives were trying to gather information on all foreign students studying in Yemen.
U.S. urged allies to boost cell phone service to target terrorists: WikiLeaks
La plupart des Américains s'opposent à la guerre en Afghanistan (sondage)
Les soldats américains en Afghanistan (Photo: Xinhua/Reuters) WASHINGTON, 30 décembre (Xinhua) -- Plus de 60% des Américains s'opposent à la guerre en Afghanistan, selon un sondage rendu public jeudi. Selon un sondage réalisé par CNN et l'institut Opinion Research Corporation, 63% des sondés ont déclaré être opposés à la guerre. Le sondage indique également que 56% de la population estime que les choses vont mal pour les Etats-Unis en Afghanistan.
Afghan Quest
Taliban Bombs Hit New High; 1500 In November Alone | Danger Room
The bad news first: Insurgents in Afghanistan have constructed more homemade bombs in the past six months than at any time during the nine-year war. But those bombs are killing and injuring fewer U.S. and allied forces. Most attempts at blowing up U.S. troops just fail.
Les Américains envoient des chars lourds en Afghanistan
Tout va bien et même de mieux en mieux en Afghanistan. La preuve : les Américains vont y dépêcher pour la première fois depuis 2001 une compagnie d'une quinzaine de chars Abrams M1. Servis par les Marines, ils seront déployés dans le nord de la province du Helmand. Dans le Washington Post, qui révèle l'information, un officier américain estime que les blindés vont apporter "l'effroi, le choc et la puissance de feu", reprenant des mots ("shock and awe") qui avaient eu leur heure de gloire au moment de la guerre d'Irak.
Karzai condemns Russian raid - Central & South Asia
Avec notre correspondant à Kaboul, Luc Mathieu Cette opération baptisée « Frappe du dragon » vise à reprendre le contrôle de trois districts situés à la périphérie de Kandahar. Une offensive simultanée pour éviter que les talibans ne s'enfuient et se regroupent dans une zone épargnée par les combats.
Afghanistan : l'Otan déclenche son opération «Frappe du dragon»
Afghanistan : quand l'argent américain profite aux talibans
U.S. Is Facilitating Afghan-Taliban Contacts, Say Officials
ACO - Allied Command Operations | New Taliban Code of Conduct … Not Matching Reality on the Ground
Pourparlers entre le gouvernement afghan et l'insurrection
Comment couvrir les crimes des soldats américains?
Afghans find tons of explosive devices transferred from Iran
Germans, Britons linked to Europe plot killed in recent US Predator strike
"No-Go" Tribal Areas Became Basis for Afghan Insurgency Documents Show
9/11 retrospectives
9/11 and the 9-Year War
Zakaria: Why America Overreacted to 9/11 - Newsweek
Obama: One war down, one to go
Afghan war through the eyes of the Taliban
Facing Afghan mistrust, al-Qaeda fighters take limited role in insurgency
International Institute for Strategic Studies 15 Oct 2009 - Discussion Meeting - 'Reconciliation with the Taliban: The View from Kabul'
Afghanistan Conflict Monitor
Who's Winning the War in Afghanistan?
Getting Out Early versus Staying In Too Long: Which is Worse
Afghanistan — and the winner is ... 2014
unnamed pearl
Opposition groups are puppets of Iran, Pakistan and India, Afghan officials tell US in private meeting | World news
iCasualties | Operation Enduring Freedom
Afghanistan - Mozilla Firefox
L'Afghanistan selon monsieur Pingouin - Mozilla Firefox
Le blog de Kaboul
Washington n'exclut pas un accord avec les talibans
Afghanistan, des alliés réticents
The Taliban Biography: The Structure and Leadership of the Talib
L'armée anglaise et la stratégie du sac d'o
Obama Sets Faster Troop Deployment to Afghanistan
800 légionnaires français engagés dans une "démonstration de for
Livre: l'armée soviétique en Afghanistan et ses
Les "Farces armées" afghanes, selon le magazine
Armed Farces
ÉTATS-UNIS • Obama démet le général McChrystal | Courrier intern
Mc Chrystal tire à vue sur Biden. Les Français, aussi, en prenne
Le vrai visage de McChrystal lors de sa visite à
Mon opinion : replions-nous, mais en bon ordre !
Afghanistan. Un général français "l'ouvre", le débat s'ouvre...
David Petraeus prend les commandes en Afghanistan dans un climat
Afghanistan, une "guerre compliquée" à l'issue incertaine - brux
Editorial - The State of the War in Afghanistan
Kabul War Diary - Afghanistan war logs