The body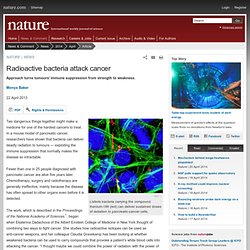 Listeria bacteria carrying the compound rhenium-188 (red) can deliver sustained doses of radiation to pancreatic-cancer cells. Two dangerous things together might make a medicine for one of the hardest cancers to treat. In a mouse model of pancreatic cancer, researchers have shown that bacteria can deliver deadly radiation to tumours — exploiting the immune suppression that normally makes the disease so intractable. Fewer than one in 25 people diagnosed with pancreatic cancer are alive five years later. Chemotherapy, surgery and radiotherapy are generally ineffective, mainly because the disease has often spread to other organs even before it is detected.
Radioactive bacteria attack pancreatic cancer
In the port city of Yokohama, south of Tokyo, there is a museum devoted entirely to noodle soup. It may be Japan's favourite foodie day out: one and a half million ramen fans visit the museum every year, and even on the wintry morning that I went the queue wound 50 yards down the street - young couples, mainly: cold, hungry and excited. Inside the Yokohama Ramen Museum and Amusement Park they meet exhibitions on the evolution of soup bowls and instant noodle packets - more fascinating than you'd think, but these are not the main event. That's deep in the basement, where there's an entire street, done up to look like a raucous 1950s Yokohama harbour-front.
If MSG is so bad for you, why doesn't everyone in Asia have a headache?
Every reason to justify it waferboard/Flickr "What I tell patients is, if you like coffee, go ahead and drink as much as you want and can," says Dr. Peter Martin, director of the Institute for Coffee Studies at Vanderbilt University. He's even developed a metric for monitoring your dosage: If you are having trouble sleeping, cut back on your last cup of the day. From there, he says, "If you drink that much, it's not going to do you any harm, and it might actually help you.
The Case for Drinking as Much Coffee as You Like - Lindsay Abrams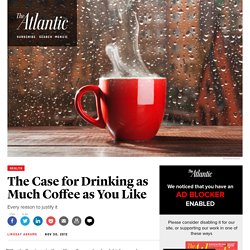 Early Arrival | Science News
How Do Pain Relievers Work?
Flexible Adult Stem Cells, Right There In Your Eye
For whom the cell tolls: Why your phone may (or may not) be killing you—By Nathaniel Rich
Niacin Brings No Benefit to Heart Patients - Heart Disease and Other Cardiovascular Conditions on MedicineNet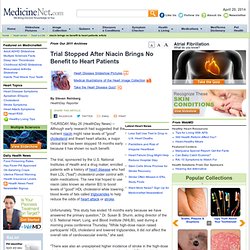 By Steven ReinbergHealthDay Reporter THURSDAY, May 26 (HealthDay News) -- Although early research had suggested that the nutrient niacin might raise levels of "good" cholesterol and thwart heart attacks, a major clinical trial has been stopped 18 months early because it has shown no such benefit. The trial, sponsored by the U.S.
Michael H Alderman + Author Affiliations By virtue of its central role in maintaining intravascular and extracellular volume, sodium is essential to human survival. Taste, habit, environment, genes, and behaviour probably all influence sodium intake.
Salt, blood pressure and health: a cautionary tale -- Alderman 31 (2): 311 -- International Journal of Epidemiology