Color
Search - find a PANTONE Color
Logos
Color Tags / Mauve
lour tutorial: How to make your monitor display colours accurately
Color: Links, Books & Tools to Make your Life Easier | Tips
Color is certainly a very important element of a design, and deciding on the best color palette for a project is something you really need to dedicate time to. From understanding color theory to having a glimpse of color psychology, you need to make sure your choice will not only look good but also have a good balance and deliver the right message. Thinking about, that we have decided to gather some tips, books recommendations, links to interesting readings and also some tools and apps that will make your life easier when it comes to color.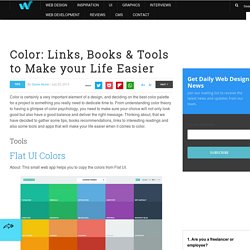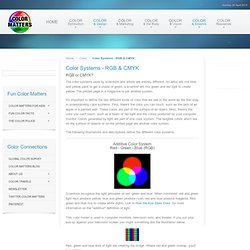 Color Systems - RGB & CMYK
RGB or CMYK? The color systems used by scientists and artists are entirely different. An artist will mix blue and yellow paint to get a shade of green; a scientist will mix green and red light to create yellow. The printed page in a magazine is yet another system. It's important to define the two different kinds of color that we see in the world as the first step in understanding color systems.
15 Useful Color Mixers For Effective Designing
I wanted to create this list, because there are times when I struggle choosing my design colors - for me it's not always easy task to just play with the colors and choose the right ones – of course, there are few favorite colors for everybody, but finding new great color combinations are not so easy task. That's why there a lot of helpful resources to ease this task, and I am here to show You those! Hopefully this will help You to create new designs and the process will become a little easier. 1. Colourlovers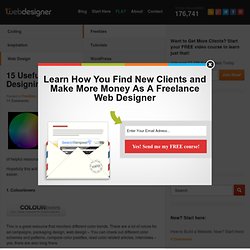 Photoshop gradients are one of the many presets that can be use to create some really creative designs and effects in your photographs or any other graphics. Before you go ahead and dive into these colorful Photoshop gradients please pop your eyes into some other nice posts on Photoshop tutorials and Photoshop resources that we have here: Have a great day, and enjoy the SuperBowl! If you get a chance to help promote this post, we'd really appreciate it.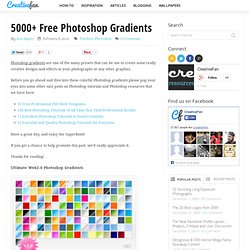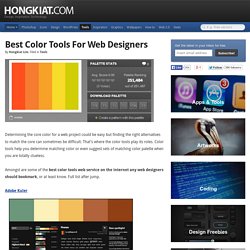 Best Color Tools For Web Designers
Determining the core color for a web project could be easy but finding the right alternatives to match the core can sometimes be difficult. That's where the color tools play its roles. Color tools help you determine matching color or even suggest sets of matching color palette when you are totally clueless. Amongst are some of the best color tools web service on the internet any web designers should bookmark , or at least know. Full list after jump. Adobe Kuler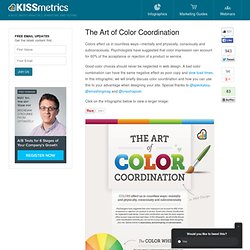 Colors affect us in countless ways—mentally and physically, consciously and subconsciously. Psychologists have suggested that color impression can account for 60% of the acceptance or rejection of a product or service. Good color choices should never be neglected in web design. A bad color combination can have the same negative effect as poor copy and slow load times . In this infographic, we will briefly discuss color coordination and how you can use this to your advantage when designing your site. Special thanks to @speckyboy , @smashingmag and @onextrapixel .
Color Palette Generator URL of image: Make color schemes. Enter the URL of an image to get a color palette that matches the image.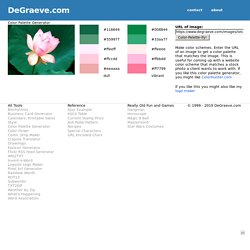 Τα χαρακτηριστικά των χρωμάτων
Ένταση: Ένταση ενός χρώματος ονομάζουμε την καθαρότητα και διαύγεια που διαθέτει. Καθαρά χρώματα είναι τα βασικά χρώματα αλλά και τα απλά πριμιτίφ χρώματα που συναντά κανείς στη λα'ι'κή τέχνη και τη ζωγραφική των παιδιών. Ένταση έχουν π.χ. τα δυνατά και καθαρά κόκκινα, πράσινα κίτρινα, που μοιάζουν με τα χρώματα της φύσης, εκφραστικά και αισθησιακά. Λιγότερη ένταση αλλά μεγαλύτερη εσωτερικότητα και ποιότητα έχουν τα «σπασμένα» χρώματα, τα χρώματα που αναμιγνύονται με κάποιο άλλο χρώμα, με άσπρο, μαύρο, γκρι κ.λπ.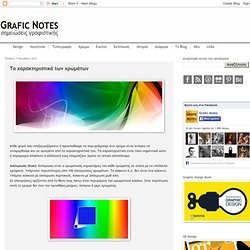 Monitor Calibration and Profiling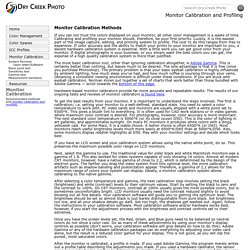 If you can not trust the colors displayed on your monitor, all other color management is a waste of time. Calibrating and profiling your monitor should, therefore, be your first priority. Luckily, it is the easiest part of the image capture, editing, and printing system to profile. The cost to do this ranges from free to expensive.