Web watch
KPCB Internet Trends - 2012
OOZAA
If you can see this page, then the people who own this website have just installed the Apache Web server software and the Apache Interface to OpenSSL (mod_ssl) successfully. They now have to add content to this directory and replace this placeholder page, or else point the server at their real content. If you are seeing this page instead of the site you expected, please contact the administrator of the site involved. (Try sending mail to .) Although this site is running the Apache software it almost certainly has no other connection to the Apache Group, so please do not send mail about this site or its contents to the Apache authors. If you do, your message will be ignored .
Google Custom Search makes it easy for web site owners to add Google-powered search boxes to their sites. Since a rapidly growing percentage of web search traffic originates from smartphones, we're pleased to announce that Google Custom Search now formats search results for mobile phones. If you own a web site and add a Google Custom Search box to it, when your users access the site on an Android-powered phone, iPhone, iPod Touch, or Palm Pre, they will can see optimized search results formatted for these devices. When they search on your web site, they are can be redirected to a Google-hosted Custom Search mobile results page created specifically for your Custom Search engine. If you'd like to serve these mobile results from your own web site, you can host your own version of the mobile Custom Search home page.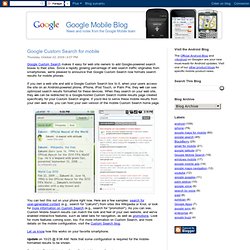 Official Google Mobile Blog: Google Custom Search for mobile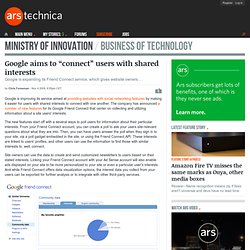 Google is improving its service aimed at providing websites with social networking features by making it easier for users with shared interests to connect with one another. The company has announced a number of new features for its Google Friend Connect that center on collecting and utilizing information about a site users' interests. The new features start off with a several ways to poll users for information about their particular interests. From your Friend Connect account, you can create a poll to ask your users site-relevant questions about what they are into.
Internet start-up ventures ply their wares at LeWeb conference in ParisEntrepreneurs hope their innovations can match success of Twitter or FacebookInventions range from Wi-Fi bathroom scales to 3D instant messengers Paris, France (CNN) -- With more than 2,000 Internet movers and shakers, the LeWeb conference in Paris is an ideal spot for start-up ventures to hoping to attract the investment and attention that will propel them to Twitter or Facebook-style success. A series of stalls across the venue -- a giant arts complex converted from a disused morgue -- saw fresh-faced entrepreneurs demonstrating gadgets and applications they insisted will change the way we interface with the Internet. These might just be the inventions that everyone will be talking about next year or they could simply slip below the radar. Either way, all will face the same question still being leveled at today's household names -- can they make money?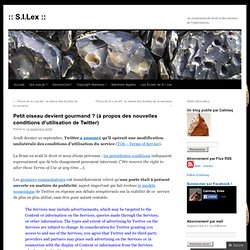 Jeudi dernier 10 septembre, Twitter a annoncé qu'il opérait une modification unilatérale des conditions d'utilisation du service (TOS – Terms of Service). La firme en avait le droit et nous étions prévenus : les précédentes conditions indiquaient expressément que de tels changement pouvaient intervenir ("We reserve the right to alter these Terms of Use at any time …). Les premiers commentateurs ont immédiatement relevé qu'une porte était à présent ouverte en matière de publicité, aspect important qui fait évoluer le modèle économique de Twitter en réponse aux débats sempiternels sur la viabilité de ce service de plus en plus utilisé, sans être pour autant rentable. The Services may include advertisements, which may be targeted to the Content or information on the Services, queries made through the Services, or other information.
Petit oiseau devient gourmand ? (à propos des nouvelles conditio
Yahoo! announced this morning that it is adding Facebook Connect across many of its properties. This afternoon Google Friend Connect announced the inclusion of Twitter as a top-level log-in option. These moves will be convenient for users, but may not be good for the future of the web. People have always said that Google does what's good for the web, because what's good for the web is good for Google. In this case I'm worried that the Royalty of the web's last generation has crowned these two leading social networks as the Royalty of the current generation in a deal that offers traffic and money but that could suffocate the most creative developments of the open, distributed web.
Identity Wars: Google & Yahoo! Bow to Facebook & Twitter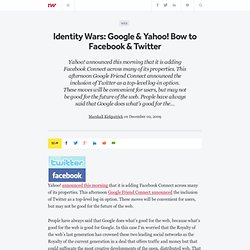 A storm of news points to a future of frictionless publishing and subscription, across platforms. Google just announced that its FeedBurner RSS publishing service now supports automatic publishing to a Twitter account. If you're among the many people who use the service Twitterfeed (like CNN, the WhiteHouse, ReadWriteWeb, etc.) then you may very well find that startup expendable starting now. That's just the tip of the iceberg when it comes to this and a series of related announcements over the past few days. The new feature looks relatively sophisticated and will use a new URL shortener, goo.gl. FeedBurner has not proven the most reliable service in recent years and is now part of the ad network AdSense, but the little startup Twitterfeed isn't always reliable either.
Google, Twitter, WordPress & Facebook: Publish/Subscribe Matrix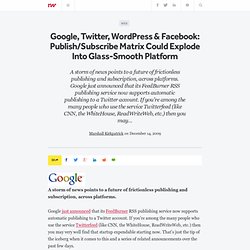 Twitter Starts Testing Features for Businesses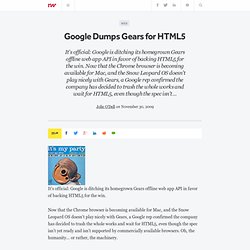 It's official: Google is ditching its homegrown Gears offline web app API in favor of backing HTML5 for the win. Now that the Chrome browser is becoming available for Mac, and the Snow Leopard OS doesn't play nicely with Gears, a Google rep confirmed the company has decided to trash the whole works and wait for HTML5, even though the spec isn't yet ready and isn't supported by commercially available browsers. Oh, the humanity... or rather, the machinery.
Google Dumps Gears for HTML5
Keith Teare was hanging around the Real-Time CrunchUp today showing off his newest project – Speedi.ly. What does Speedi.ly do? One thing, very well and at scale. Speedi.ly takes a piece of content, or grabs the content from a URL, and analyzes it. It does this very fast and it outputs some key data.
Getting To The SuperTweet: Speedi.ly Classifies The Real Time We