Web watch
KPCB Internet Trends - 2012
OOZAA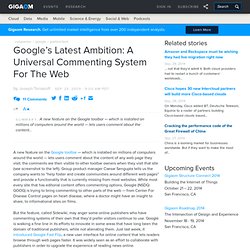 A new feature on the Google toolbar — which is installed on millions of computers around the world — lets users comment about the content of any web page they visit; the comments are then visible to other toolbar owners when they visit that site (see screenshot to the left).
Google's Latest Ambition: A Universal Commenting System For The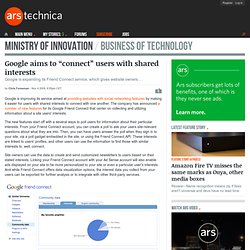 Google is improving its service aimed at providing websites with social networking features by making it easier for users with shared interests to connect with one another. The company has announced a number of new features for its Google Friend Connect that center on collecting and utilizing information about a site users' interests. The new features start off with a several ways to poll users for information about their particular interests. From your Friend Connect account, you can create a poll to ask your users site-relevant questions about what they are into.
Internet start-up ventures ply their wares at LeWeb conference in ParisEntrepreneurs hope their innovations can match success of Twitter or FacebookInventions range from Wi-Fi bathroom scales to 3D instant messengers Paris, France (CNN) -- With more than 2,000 Internet movers and shakers, the LeWeb conference in Paris is an ideal spot for start-up ventures to hoping to attract the investment and attention that will propel them to Twitter or Facebook-style success. A series of stalls across the venue -- a giant arts complex converted from a disused morgue -- saw fresh-faced entrepreneurs demonstrating gadgets and applications they insisted will change the way we interface with the Internet. These might just be the inventions that everyone will be talking about next year or they could simply slip below the radar. Either way, all will face the same question still being leveled at today's household names -- can they make money?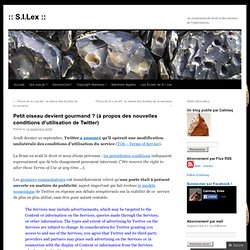 Jeudi dernier 10 septembre, Twitter a annoncé qu'il opérait une modification unilatérale des conditions d'utilisation du service (TOS – Terms of Service).
Petit oiseau devient gourmand ? (à propos des nouvelles conditio
Yahoo!
Identity Wars: Google & Yahoo! Bow to Facebook & Twitter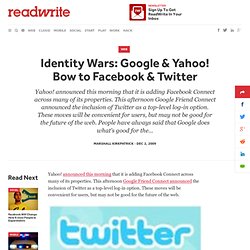 A storm of news points to a future of frictionless publishing and subscription, across platforms.
Google, Twitter, WordPress & Facebook: Publish/Subscribe Matrix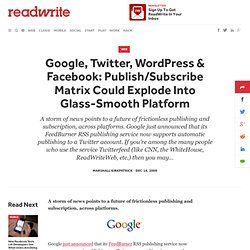 Twitter Starts Testing Features for Businesses
Hm, on retrouve toujours les memes au meme endroit :-)) 1 croissant que'on voit arriver le wallen ici dès qu'il revient de vacances ! by PED Oct 22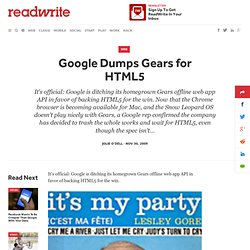 It's official: Google is ditching its homegrown Gears offline web app API in favor of backing HTML5 for the win. Now that the Chrome browser is becoming available for Mac, and the Snow Leopard OS doesn't play nicely with Gears, a Google rep confirmed the company has decided to trash the whole works and wait for HTML5, even though the spec isn't yet ready and isn't supported by commercially available browsers. Oh, the humanity... or rather, the machinery.
Google Dumps Gears for HTML5
Keith Teare was hanging around the Real-Time CrunchUp today showing off his newest project – Speedi.ly.
Getting To The SuperTweet: Speedi.ly Classifies The Real Time We