Business
All topics, facts and figures related to business, either ongoing or starting.
Entrepreneurs, Start Your Engines: 100 Business Ideas You Can Drive Home Today. 10 Blogs Entrepreneurs Need to Be Reading. See the 2012 edition: 10 Must Read Blogs for Entrepreneurs (2012 Edition) #1.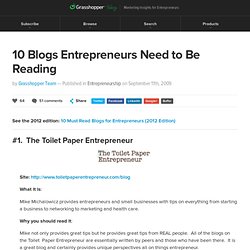 The Toilet Paper Entrepreneur Site: 45 Kick-Ass Resources for Online Entrepreneurs | Productive Entrepreneur. Few people talk about this great productivity tip… You will reach your goals faster and easier if you're willing to learn from others.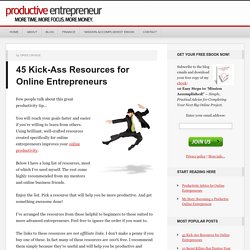 Using brilliant, well-crafted resources created specifically for online entrepreneurs improves your online productivity. Below I have a long list of resources, most of which I've used myself. Marketers Who Share Content Drive Traffic, Gain Customers [INFOGRAPHIC] Content marketing was a top priority for businesses in 2011, and it is going to remain so in 2012.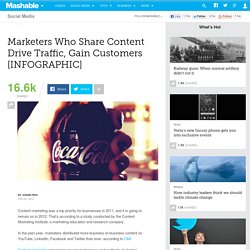 That's according to a study conducted by the Content Marketing Institute, a marketing education and research company. In the past year, marketers distributed more business-to-business content on YouTube, LinkedIn, Facebook and Twitter than ever, according to CMI. Content marketing encompasses new techniques and methods of sharing information. Best Practice Business Process Design and Training. 6 Predictions For Business Intelligence In 2012 - Software - Business Intelligence.
A look at in-memory analysis, visual discovery, big data, mobile BI, cloud and social BI achievements in 2011 and forecasts for the year ahead.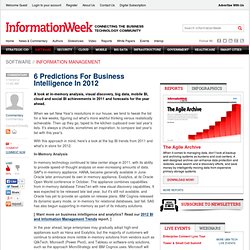 When we set New Year's resolutions in our house, we tend to tweak the list for a few weeks, figuring out what's more wishful thinking versus realistically achievable. Then up they go, taped to the kitchen cupboard over last year's lists. 25 Things I Learned From Opening a Bookstore - jlsathre. 1.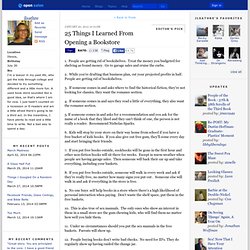 People are getting rid of bookshelves. Treat the money you budgeted for shelving as found money. Go to garage sales and cruise the curbs. Resource Center - Latest Content. Michael Steinhart360-Degree Slam Dunk 12|24|13 | 01:50 | (3) comments David Bencs, assistant director of Insight and Analytics for the Orlando Magic, outlines different analytics projects and the benefits they're delivering to the NBA franchise.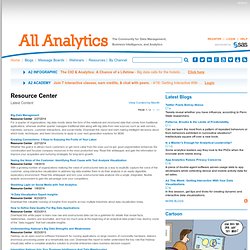 The team put demand-based pricing in place a few years ago, for example, and single-game ticket revenue grew 28% despite a disappointing season. Next up for the Magic is to combine social media activity, television viewership stats, and ticket sales data to achieve a 360-degree customer view. — Michael Steinhart, , Executive Editor, AllAnalytics.com. Tech Support Guy - Free help for Windows 7, Vista, XP, and more! The Noob Guide to Online Marketing – A beginners guide to internet marketing [INFOGRAPHIC] Management Methods | Management Models | Management Theories. Free Powerpoint Presentations for Students and Teachers. Free Management Library (SM)
Thirty Minute Resource. Welcome to Morningstar's 30-Minute Money Solutions Center, a complimentary, online supplement to Morningstar's newly published book.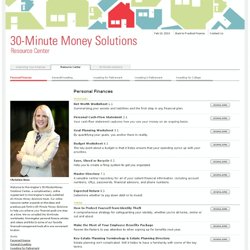 Our online resource center expands on the ideas and practices put forth in to help you achieve your financial goals one step at a time. We've compiled the 30-Minute worksheets, Morningstar personal finance articles and videos and links to some of our favorite financial management tools all in one convenient location. Go to: Personal Finance. Hedge Fund Manager Goodbye And F You - Daily Brief - Portfolio.com. The Art of Complex Problem Solving. How to Protect Your Intellectual Property. May 11, 2011 Financial services firms build their fortunes on the back of innovation.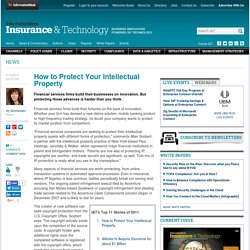 Whether your firm has devised a new claims solution, mobile banking product or high-frequency trading strategy, no doubt your company wants to protect its market position from competitors. "Financial services companies are seeking to protect their intellectual property assets with different forms of protection," comments Allan Soobert, a partner with the intellectual property practice of New York-based Paul, Hastings, Janofsky & Walker, which represents major financial institutions in patent and infringement matters. "Patents are one way of protecting IP; copyrights are another, and trade secrets are significant, as well. That mix of IP protection is really what you see in the marketplace.
" 10 Lesser Known Economic Issues. Politics While not an economist in the traditional sense, I am very interested in the study of economics.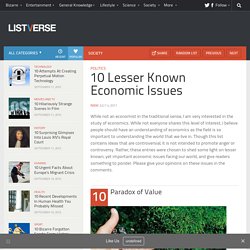 While not everyone shares this level of interest, I believe people should have an understanding of economics as the field is so important to understanding the world that we live in. Though this list contains ideas that are controversial, it is not intended to promote anger or controversy. Rather, these entries were chosen to shed some light on lesser known, yet important economic issues facing our world, and give readers something to ponder.
Please give your opinions on these issues in the comments. Business Network - Social Network for Business Professionals. Business Insider. How to Start a Startup. March 2005 (This essay is derived from a talk at the Harvard Computer Society.)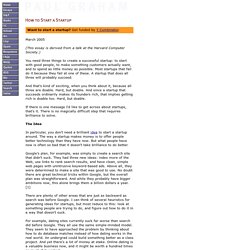 You need three things to create a successful startup: to start with good people, to make something customers actually want, and to spend as little money as possible. Most startups that fail do it because they fail at one of these. CrackingCreditCode.jpg (JPEG Image, 600x1708 pixels) - Scaled (37%) The Manager's Cheat Sheet: 101 Common-Sense Rules for Leaders.
---