11 septembre 2001
Video - Breaking News Videos from CNN.com. Pistorius trial cross-examination ends1:11Jewish center shooting suspect identified1:12Day care hit-and-run suspect in custody1:11Girl unwraps soldier dad for birthday0:49What is Bitcoin?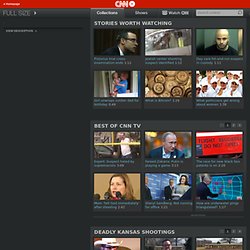 1:29What politicians get wrong about women1:38 Expert: Suspect hated by supremacists3:09Fareed Zakaria: Putin is playing a game3:13The race for new black box patents is on2:20Mom 'felt God immediately' after shooting2:42Sheryl Sandberg: Not running for office1:21How are underwater pings triangulated? 1:27Sources: Malaysia plane dropped altitude Hear police radio call after stabbing Students stabbed at Pennsylvania school Zakaria: Russia's trying to create chaos Piecing together a plane accident puzzle Nancy Grace: Regret doesn't excuse deed. September 11 2001 10th Anniversary Animated Typography Memorial. 11 affiches pour le 11 Septembre. Beyond 9/11: Portraits of Resilience, TIME.com. This site is not compatible with your current device.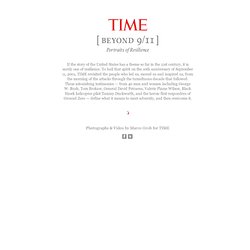 For optimal viewing experience, visit the site from your desktop or iPad. If the story of the United States has a theme so far in the 21st century, it is surely one of resilience. To hail that spirit on the 10th anniversary of September 11, 2001, TIME revisited the people who led us, moved us and inspired us, from the morning of the attacks through the tumultuous decade that followed. These astonishing testimonies — from 40 men and women including George W. 9/11 jumpers: America wants to forget victims who fell from Twin Towers. By Tom Leonard Updated: 10:01 GMT, 11 September 2011 Almost all of them jumped alone, although eyewitnesses talked of a couple who held hands as they fell.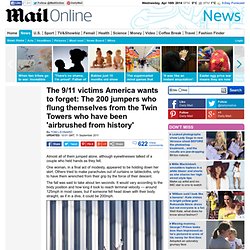 One woman, in a final act of modesty, appeared to be holding down her skirt. Others tried to make parachutes out of curtains or tablecloths, only to have them wrenched from their grip by the force of their descent. The fall was said to take about ten seconds. 11 septembre 2001. Au Monde.fr, un 11-Septembre de bugs et de baptême du feu. Le Monde.fr | • Mis à jour le | Par Claire Ané, avec le concours d'autres "anciens" C'est un beau mardi de septembre 2001, il est bientôt 15 heures à Paris et certains d'entre nous ne sont pas encore rentrés de leur pause déjeuner, tardive car il fallait achever la mise en ligne du Monde.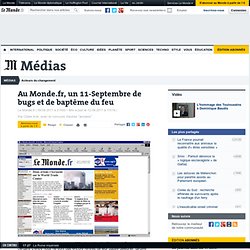 Est-ce l'urgent de l'Agence France-Presse sur nos écrans d'ordinateur, une chaîne d'info française, un coup de fil ou un SMS qui nous annonce qu'un avion a percuté le World Trade Center ? La presse mondiale face à l'indicible. Des images emblématiques mais partielles. Le 11-Septembre 2001 minute par minute.
---