Tips/Training
WordPress Landing Pages by Premise. The Sciences and Disciplines of Web Site Optimization. Bryan Eisenberg | January 2, 2009 | 1 Comment inShare1 If you are struggling in your optimization efforts, it might be time to examine your tools.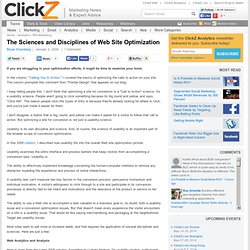 In the column, "Calling You to Action," I covered the basics of optimizing the calls to action on your site. The column prompted this comment from "Florida Design" that appears on our blog: Calling You to Action. Bryan Eisenberg | December 19, 2008 | 0 Comments inShare0 How well do your CTAs convert visitors?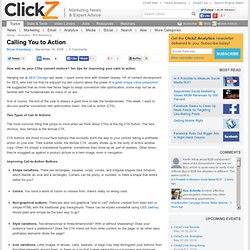 Ten tips for improving your calls to action. Hanging out at SES Chicago last week, I spent some time with Stewart Quealy, VP of content development for SES, who told me that he enjoyed my last column about the power of a great unique value proposition. He suggested that as more new faces begin to adopt conversion rate optimization, some may not be as familiar with the fundamentals as many of us are. The Conversion Optimisation Toolbox. A bad workman blames his tools.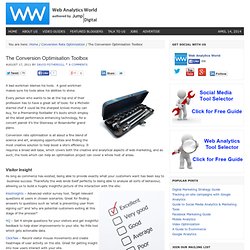 A good workman makes sure his tools allow his abilities to shine. Every person who wants to be at the top end of their profession has to have a great set of tools: for a Michelin starred chef it could be the sharpest knives money can buy, for a Premiership footballer it's boots which employ all the latest performance enhancing technology, for a concert pianist it's the Steinway or Bosendorfer grand piano. Conversion rate optimisation is all about a fine blend of science and art, analysing opportunities and finding the most creative solution to help boost a site's efficiency.
It requires a broad skill base, which covers both the creative and analytical aspects of web marketing, and as such, the tools which can help an optimisation project can cover a whole host of areas. Unfolding the Fold. Note: Since posting the data in this article, we have collected and analyzed much more detailed information regarding scrolling behavior of visitors.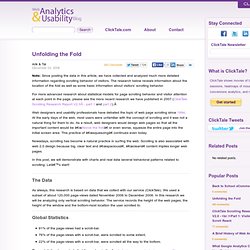 The research below reveals information about the location of the fold as well as some basic information about visitors' scrolling behavior. For more advanced research about statistical models for page scrolling behavior and visitor attention at each point in the page, please see the more recent research we have published in 2007 (ClickTale Scrolling Research Report V2.0 - part 1 and part 2). Web designers and usability professionals have debated the topic of web page scrolling since 1994.
At the early days of the web, most users were unfamiliar with the concept of scrolling and it was not a natural thing for them to do. As a result, web designers would design web pages so that all the important content would be "Above the fold" or even worse, squeeze the entire page into the initial screen area.
The Brain Audit 3.2: Marketing Strategy and Structure - Psychotactics - Big and Small Business Ideas. (Have you seen your customer ready to sign up, and then mysteriously back away?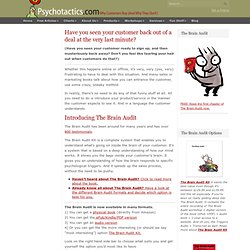 Don't you feel like tearing your hair out when customers do that?) Whether this happens online or offline, it's very, very (yes, very) frustrating to have to deal with this situation. And many sales or marketing books talk about how you can entrance the customer, use some crazy, sneaky method. In reality, there's no need to do any of that funny stuff at all. All you need to do is introduce your product/service in the manner the customer expects to see it. 6 Essential PPC Landing Page Optimizations. Your landing pages aren't converting.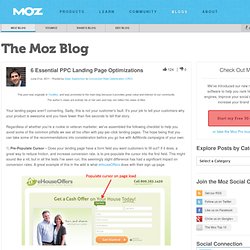 Sadly, this is not your customer's fault. It's your job to tell your customers why your product is awesome and you have fewer than five seconds to tell that story. Regardless of whether you're a rookie or veteran marketer, we've assembled the following checklist to help you avoid some of the common pitfalls we see all too often with pay-per-click landing pages. The hope being that you can take some of the recommendations into consideration before you go live with AdWords campaigns of your own. 1) Pre-Populate Cursor – Does your landing page have a form field you want customers to fill out?
---