12-09
Printing off the paper. Imagine being able to "print" an entire house.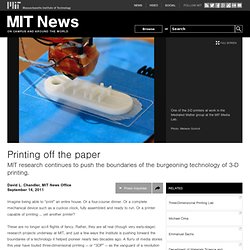 Or a four-course dinner. Or a complete mechanical device such as a cuckoo clock, fully assembled and ready to run. Or a printer capable of printing … yet another printer? These are no longer sci-fi flights of fancy. Rather, they are all real (though very early-stage) research projects underway at MIT, and just a few ways the Institute is pushing forward the boundaries of a technology it helped pioneer nearly two decades ago. Artificial blood vessels created on a 3D printer. 16 September 2011Last updated at 11:49 By Katia Moskvitch Technology reporter, BBC News Artificial blood vessels could help those in urgent need of an organ transplant Artificial blood vessels made on a 3D printer may soon be used for transplants of lab-created organs.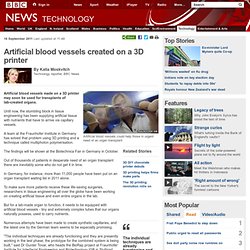 Until now, the stumbling block in tissue engineering has been supplying artificial tissue with nutrients that have to arrive via capillary vessels. A team at the Fraunhofer Institute in Germany has solved that problem using 3D printing and a technique called multiphoton polymerisation. Dwarf galaxies suggest dark matter theory may be wrong. 16 September 2011Last updated at 18:47 By Leila Battison Science reporter, Bradford Dwarf galaxies around the Milky Way are less dense than they should be if they held cold dark matter Scientists' predictions about the mysterious dark matter purported to make up most of the mass of the Universe may have to be revised.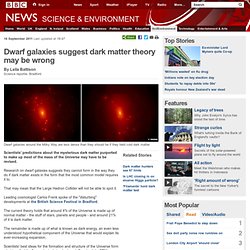 Bridges are Acoustic Information. Sound artist Rutger Zuydervelt and designer Gerco Hiddink have teamed up to organize a new audio project called Bridges.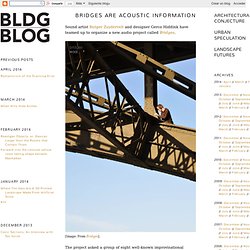 [Image: From Bridges]. The project asked a group of eight well-known improvisational musicians to "react" to four Dutch bridges (or, more accurately, to field recordings made on, under, and near those bridges). The project is thus as much about musical improv as it is about infrastructural acoustics—a structural ecology of sound vibrantly humming in the spaces around us. Animals in the Optoelectronic Metropolis. [Image: LEVEL 1 from "Theriomorphous Cyborg" by Simone Ferracina].
Last week, while I was lost in the process of moving east from Los Angeles to New York City, the Animal Architecture Awards were announced, a design competition for which I was proud to serve on the jury. I'll be posting at least two of the projects here, starting with what was ultimately the competition winner: a project called "Theriomorphous Cyborg" by Simone Ferracina. [Image: LEVEL 2 from "Theriomorphous Cyborg" by Simone Ferracina]. Animal Architecture Awards Announced! | Animal Architecture. Animal Architecture is proud to announce the winning entries for the 2011 Animal Architecture Awards.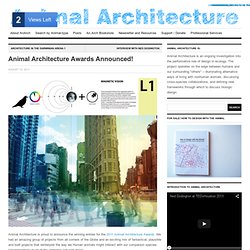 We had an amazing group of projects from all corners of the Globe and an exciting mix of fantastical, plausible and built projects that reinterpret the way we Human animals might interact with our companion species. Congratulations to all of the entrants! Job well done! Each project will be published in more detail here on Animal Architecture within the coming weeks (and look for more information about an upcoming exhibition of the work).
Farmland World. [Image: "Farmland World" by Design With Company (Allison Newmeyer and Stewart Hicks)].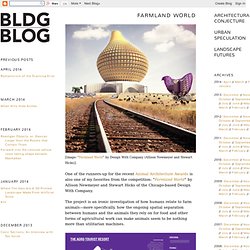 One of the runners-up for the recent Animal Architecture Awards is also one of my favorites from the competition: "Farmland World" by Allison Newmeyer and Stewart Hicks of the Chicago-based Design With Company. The project is an ironic investigation of how humans relate to farm animals—more specifically, how the ongoing spatial separation between humans and the animals they rely on for food and other forms of agricultural work can make animals seem to be nothing more than utilitarian machines. [Image: From "Farmland World" by Design With Company; view larger]. In the architects' words: Dinosaur Feathers Found in Amber Reinforce Evolution Theories - Hans Villarica - Life. Protofeather fossils discovered entombed in amber from the Late Cretaceous era support theories of dinosaur and avian evolution -- and make for one beautiful gallery Dinosaur and bird feathers preserved in amber from a Late Cretaceous site in Canada reveal new insights into the structure, function, and color of animals that date back to about 78 million years ago.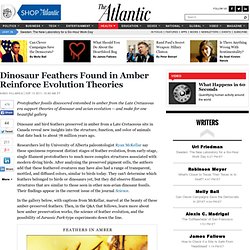 Researchers led by University of Alberta paleontologist Ryan McKellar say these specimens represent distinct stages of feather evolution, from early-stage, single filament protofeathers to much more complex structures associated with modern diving birds. After analyzing the preserved pigment cells, the authors add that these feathered creatures may have also had a range of transparent, mottled, and diffused colors, similar to birds today. They can't determine which feathers belonged to birds or dinosaurs yet, but they did observe filament structures that are similar to those seen in other non-avian dinosaur fossils.
The End of Books: Ikea Is Changing Shelves To Reflect Changing Demand. If you needed any more proof that the age of dead-tree books is over take a look at these alarming style changes at Ikea: the furniture manufacturer's iconic BILLY bookcase – the bookcase that everyone put together when they got their first apartment and, inevitably, pounded the nails wrong into – is becoming deeper and more of a curio cabinet.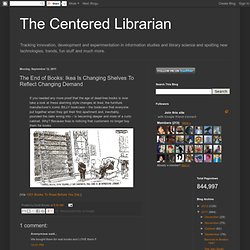 Why? Because Ikea is noticing that customers no longer buy them for books. The psychopathic neurobiologist. 3 Day Egyptian Maker Space - Expanding the Maker Movement by Bilal Ghalib. We want to organize a fully immersive three-day Maker/Hacker space at Maker Fair Africa in Cairo, Egypt, but we need your support to heat the soldering irons and power the circuits!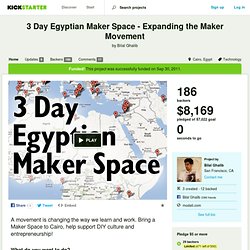 Imagine a place that integrates art, science, and technology into a great startup culture; open to all curious humans of all skill levels and all ages; and supported by Egypt's finest makers. Our goal is to establish a full-time Maker/Hackerspace in Cairo -- and more throughout Africa! Makin' It: Julian Lynch, Musician and Ethnomusicologist - Business.
Welcome to Makin' It, GOOD Business' look at how people with excellent jobs found themselves pursuing the work they love. You'll be jealous, but you'll pick up some tips, too. Julian Lynch is one of our favorite people making music right now, and a Ph.D. candidate in ethnomusicology at the University of Wisconsin, Madison. Between moments deep in the books, Julian was gracious enough to talk to us about how he came to study one of the coolest disciplines in academia and about how being a full-time student affects his life and music. Does school always win out when balancing the demands of your own music? The two seem, at least superficially, so mutually reinforcing. African Entrepreneurs Are Making Ghana Into a Tech Startup Hub - Technology. Step aside, Silicon Valley and Bangalore.
A group of aspiring web entrepreneurs in Ghana are looking to turn Accra into the newest startup hub. The nonprofit World Wide Web Foundation is working with local developers through a training program called Mobile Web Ghana to give participants the business and technology skills they need to leverage ideas into successful mobile web companies. The program kicks off its second training session today, and graduates from the first session in February have already produced 10 different mobile products. Cheaper Solar Panels Are Causing a Solar Boom - Environment. Solar power keeps getting cheaper, providing a real incentive for businesses to cut down on carbon emissions. As prices for solar panels have dropped, more companies and utilities in the United States have looked at their options and decided this could be a good time to invest in solar.
In the past couple of months, the falling price of solar panels has driven "a significant increase" in solar development across the U.S., according to Solarbuzz, which tracks solar projects in the pipeline. Two months ago, the group counted 17 gigawatts worth of solar projects; now, there are 24 gigawatts of solar projects either installed, being installed, or in the development phase. Most of those gigawatts are just a glimmer in the eye of forward-thinking companies. Novelists Predict Future With Eerie Accuracy. The 10 Youngest Power Men In Africa - Forbes.
Zara Accused Of Alleged 'Slave Labor' In Brazil. Retro 1970s Solar Vacation House by Michael Jantzen is Still Relevant. Michael Jantzen is best known for his M-House and his other transformer houses that have been everywhere on the net, but on his website is a link to some of his older projects, from the seventies, and he did amazing work.
In an interview on his greenhouses and building technologies, he describes how he used cheap and basic agricultural components to build a lovely little solar vacation house, shown here. He writes: "The Solar Vacation House was primarily made from agricultural components, which included a half of a grain silo roof, and corrugated metal siding. Atlantic Bluefin Tuna Google Earth Tour | Citizen Science Quarterly. September 7, 2011EOL Visited 1067 times , 2 Visits today Atlantic Bluefin can weigh up to 1,000 pounds (454 kgs), and swim up to 45 mph (72 km/ph). Scientist wondered where these tuna were going and turned to electronic tagging to follow them. They were surprised at what they discovered.
You can experience the daily life of a bluefin tuna in this Google Earth Tour video, or download the Google Earth file. Learn more about the Atlantic Bluefin Tuna on the Encyclopedia of Life. 1,5 milliard d'euros de plomberie. Blog Archive » Living Infrastructure. Earth's rarest metals ranked in a new 'risk list' Du "greenwashing" durable. Rio+20 must 'unenvironmentalise' green issues, says G77 negotiator | Environment. Close Read: What Jackie Said. Urbanisation's varying impacts on ecosystem services. Glowing cats shed light on Aids. Ten Things Everyone Should Know About Time | Cosmic Variance. The secret life of pronouns - science-in-society - 07 September 2011.
The Secret of the Fibonacci Sequence in Trees. Narco Polo » Blog Archive » Smokers Cost You Money and Other Asinine Anti-Smoking Lies. Adrian Woods.
---