Favorites
Get flash to fully experience Pearltrees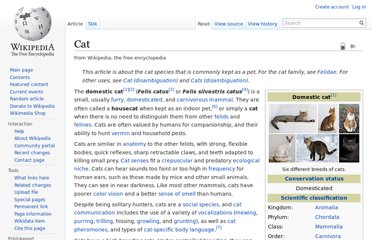 The domestic cat [ 1 ] [ 2 ] ( Felis catus [ 2 ] or Felis silvestris catus [ 4 ] ) is a small, usually furry , domesticated , and carnivorous mammal . It is often called the housecat when kept as an indoor pet, [ 6 ] or simply the cat when there is no need to distinguish it from other felids and felines . Cats are valued by humans for companionship and their ability to hunt vermin and household pests. Cats are similar in anatomy to the other felids, with strong, flexible bodies, quick reflexes, sharp retractable claws, and teeth adapted to killing small prey. Cat senses fit a crepuscular and predatory ecological niche . Cats can hear sounds too faint or too high in frequency for human ears, such as those made by mice and other small game.
Red Fox (Vulpes vulpes) WHAT DO FOXES LOOK LIKE? Foxes are in the same family as dogs, coyotes, and wolves (Canidae). They do not bark like dogs (unless they need to give a warning). They do howl and whine. Red foxes are what you usually see in Florida, but they are not always red.
Siberian (or Amur) tigers are the world's largest cats. They live primarily in eastern Russia's birch forests, though some exist in China and North Korea. There are an estimated 400 to 500 Siberian tigers living in the wild, and recent studies suggest that these numbers are stable. Though their northern climate is far harsher than those of other tigers, these animals have some advantages. Northern forests offer the lowest human density of any tiger habitat, and the most complete ecosystem. The vast woodlands also allow tigers far more room to roam, as Russia's timber industry is currently less extensive than that of many other countries.
The green head and yellow bill of the mallard duck is a familiar sight to many people living in the Northern hemisphere. In fact, the mallard is thought to be the most abundant and wide-ranging duck on Earth. Mallards prefer calm, shallow sanctuaries, but can be found in almost any body of freshwater across Asia, Europe, and North America. They're also found in saltwater and brackish water and are commonly found in wetlands. The male, or drake, is the more distinctively colored of the mallards.