Access
Access for people with disabilities
The World Health Organization (WHO) states that 15 per cent of world population are with disabilities. However, information and communication technologies (ICT) have the potential for making significant improvements in the lives of these persons, allowing them to enhance their social and economic integration in communities by enlarging the scope of activities available to them.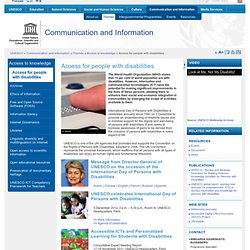 GAWDS - The Guild of Accessible Web Designers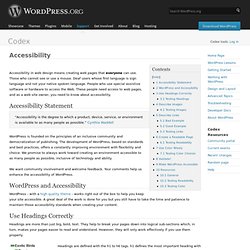 Accessibility
Accessibility Accessibility in web design means creating web pages that everyone can use. Those who cannot see or use a mouse.
Complete List of Web Accessibility Evaluation Tools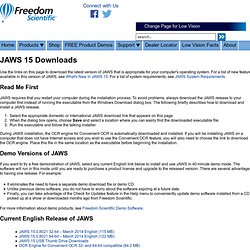 Use the links on this page to download the latest version of JAWS that is appropriate for your computer's operating system.
JAWS 13 Downloads
Accessibility: Low-Vision Support - The Chromium Projects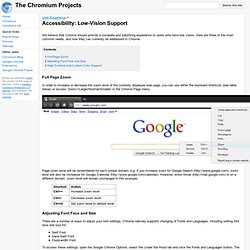 We believe that Chrome should provide a complete and satisfying experience to users who have low vision. Here are three of the most common needs, and how they can currently be addressed in Chrome.
Addressing accessibility | Fix the Web
Home | Disability and Development Database
Education | Disability and Development Database
Web Anywhere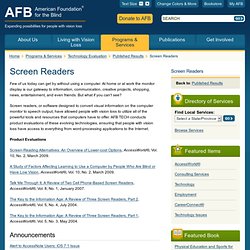 Screen Readers
Few of us today can get by without using a computer.
Welcome to www.guide-evas.com
JAWS Professional: $1,095 Note : All JAWS Professional products can be used with all 32-bit or 64-bit versions of Windows 8, Windows Vista, and Windows Server 2008. You can also use 32-bit versions of Windows XP operating systems and Windows Server 2003.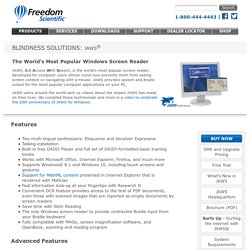 ai squared - making accessibility simple
Window-Eyes is nothing less than the most stable, secure and customizable screen reader available on the market today. Featuring comprehensive support for computers running Windows XP, Windows Vista, Windows 7, Windows 8, Windows Server 2003, and Windows Server 2008, Window-Eyes enables individuals who are blind or visually impaired to be completely independent on a PC and be more successful and productive at school and in the workplace. Window-Eyes gives total control over what you hear and how you hear it.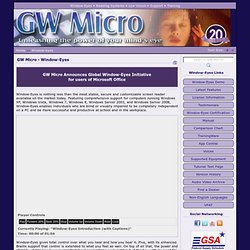 GW Micro - Window-Eyes
EVAS - Assistive Technology and Turn-key Computer Systems for People with Disabilities.
American Foundation for the Blind - Home Page
How Accessible is Your Website? 8 Tools to Analyze Your Website's Level of Accessibility
Designing a website that's as much successful as it is effective takes time, skills, and a lot of testing. Normally, when we're talking about web design and we hear the word testing, the first thing that comes to mind is usability , and that's fine, but when was the last time you sat down to analyze the level of accessibility of your website? Testing on other aspects of your website are important, however, a lot of us seem to neglect our websites accessibility.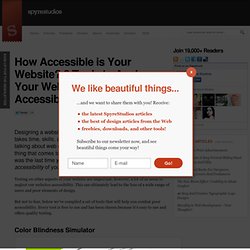 Screen readers are a form of assistive technology .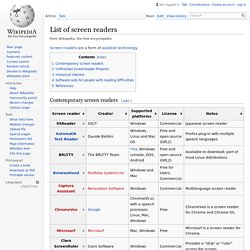 Comparison of screen readers
Overview
ACTF - aDesigner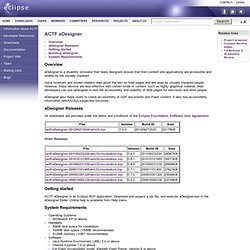 metalmouth - Developing an open source voice browser extension for Chrome
Screen readers are one type of assistive technology for people with visual disabilities. They typically speak out-loud the content on the screen and allow a user to interact with it via the keyboard.
Colour Blindness Check - Etre
Approximately one in twenty people have some form of colour blindess that prevents them from seeing colour the same way that people without any colour vision deficiencies do. Many images and resources on the web are coloured in such a way that it's difficult for users with vision deficiencies to comprehend them.
Microsoft Windows accessibility features are listed below. If a tutorial is available to help you adjust options related to the feature, the feature name is linked. Select the name of the product at the top of the column to display a full list of tutorials for the product.
Comparison of Accessibility Features in Various Versions of Windows
Virginia Web Accessibility Coding: ADA, Sec. 508, WCAG
Virginia Public And Private Sector Coding Web accessibility guidelines apply to commercial business web sites, not-for-profit sites, and public sector sites at the federal, state and local level (see excerpt at bottom of this page).
EASI is a non-profit organization, commited to the belief that students and professionals with disabilities have the same right to access information technology as everyone else.
Equal Access to Software and Information
Website and Enterprise Search - WCAG Compliance Auditor
How to Meet WCAG 2.0
WCAG Overview
WCAG 2.0 at a Glance