Access
Access for people with disabilities
The World Health Organization (WHO) states that 15 per cent of world population are with disabilities. However, information and communication technologies (ICT) have the potential for making significant improvements in the lives of these persons, allowing them to enhance their social and economic integration in communities by enlarging the scope of activities available to them. International Day of Persons with Disabilities is celebrated annually since 1992 on 3 December to promote an understanding of disability issues and to mobilise support for the dignity and well-being of persons with disabilities. It also seeks to increase awareness of gains to be derived from the inclusion of persons with disabilities in every aspect of life. UNESCO is one of the UN agencies that promotes and supports the Convention on the Rights of Persons with Disabilities, adopted in 2006.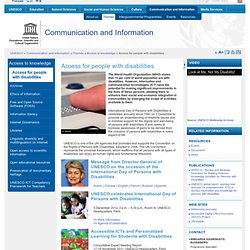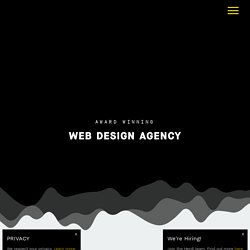 Trademark 101 for the Web Professional : an article by Ted Roe. The differences between trademark and copyright How to develop a strong trademark and A description of the trademark registration process. At last an easy way to complain about inaccessible websites - start reporting now!
GAWDS - The Guild of Accessible Web Designers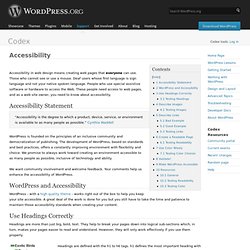 Accessibility
Accessibility Accessibility in web design means creating web pages that everyone can use. Those who cannot see or use a mouse.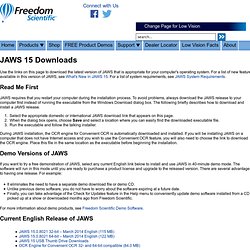 Use the links on this page to download the latest version of JAWS that is appropriate for your computer's operating system. For a list of new features available in this version of JAWS, see What's New in JAWS 15. For a list of system requirements, see JAWS System Requirements. Read Me First JAWS requires that you restart your computer during the installation process.
JAWS 13 Downloads
Accessibility: Low-Vision Support - The Chromium Projects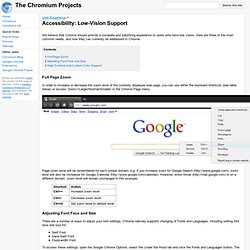 We believe that Chrome should provide a complete and satisfying experience to users who have low vision. Here are three of the most common needs, and how they can currently be addressed in Chrome. Full Page Zoom In order to increase or decrease the zoom level of the currently displayed web page, you can use either the keyboard shortcuts (see table below) or access 'Zoom->Larger/Normal/Smaller' in the Chrome Page menu. Page zoom level will be remembered for each unique domain, e.g. if you increase zoom for Google Search (http://www.google.com), zoom level will also be increased for Google Calendar (http://www.google.com/calendar). However, since Gmail (http://mail.google.com) is on a different domain, zoom level will remain unchanged in this example.
Addressing accessibility | Fix the Web
This new database created by the World Bank and Leonard Cheshire Disability provides information on government projects that aim to include people with disabilities in mainstream education, health and rehabilitation, and livelihoods programmes. With funding from the Japanese government through the World Bank, this database is the first of its kind. Information has been compiled from projects in Africa, South Asia, Southeast Asia and the Pacific.
Home | Disability and Development Database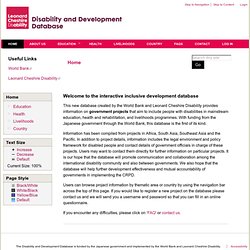 Education | Disability and Development Database
Web Anywhere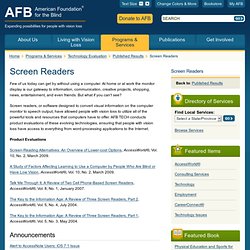 Screen Readers
Few of us today can get by without using a computer. At home or at work the monitor display is our gateway to information, communication, creative projects, shopping, news, entertainment, and even friends. But what if you can't see? Screen readers, or software designed to convert visual information on the computer monitor to speech output, have allowed people with vision loss to utilize all of the powerful tools and resources that computers have to offer.
Welcome to www.guide-evas.com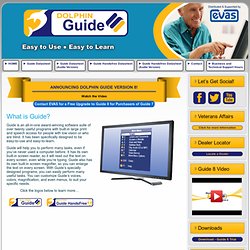 Dolphin's Guide is an all-in-one award-winning software suite of over twenty useful programs with built-in large print and speech access for people with low vision or who are blind. It has been specifically designed to be easy-to-use and easy-to-learn. Guide will help you to perform many tasks, even if you've never used a computer before. It has its own built-in screen reader, so it will read out the text on every screen, even while you're typing. Guide also has its own built-in screen magnifier, so you can enlarge the text on every screen.
JAWS Professional: $1,095 Note: All JAWS Professional products can be used with all 32-bit or 64-bit versions of Windows 8, Windows 7, Windows Vista, and Windows Server 2008. You can also use 32-bit versions of Windows XP operating systems and Windows Server 2003.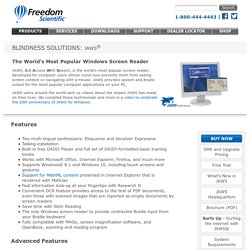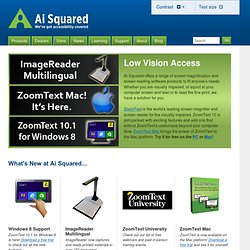 ai squared - making accessibility simple
ZoomText Mac 1.0.5 is Released We are happy to announce another free update for ZoomText Mac! Version 1.0.5 is not an automatic update so you will need to download and install it manually.
Window-Eyes is nothing less than the most stable, secure and customizable screen reader available on the market today. Featuring comprehensive support for computers running Windows XP, Windows Vista, Windows 7, Windows 8, Windows Server 2003, and Windows Server 2008, Window-Eyes enables individuals who are blind or visually impaired to be completely independent on a PC and be more successful and productive at school and in the workplace. Window-Eyes gives total control over what you hear and how you hear it.
GW Micro - Window-Eyes
EVAS - Assistive Technology and Turn-key Computer Systems for People with Disabilities.
Founded in 1979 by Gerald and Catherine Swerdlick, Electronic Vision Access Solutions is a family run, privately held corporation, located in Westerly, Rhode Island. With over 34 years of experience as both a user and a provider of Assistive Technology, C.E.O. Jerry Swerdlick has implemented a mission charter with the end-user's needs specifically in mind. EVAS' Assistive Technology Solutions are tools that can be used to gain independence - an independence, which can open the doors to further education or employment opportunities and a better quality of life. As one of its primary objectives, EVAS searches out, evaluates and acquires new and innovative Assistive Technology and, in doing so, has created close working relationships with dozens of industry leaders worldwide.
American Foundation for the Blind - Home Page
How Accessible is Your Website? 8 Tools to Analyze Your Website's Level of Accessibility
Designing a website that's as much successful as it is effective takes time, skills, and a lot of testing. Normally, when we're talking about web design and we hear the word testing, the first thing that comes to mind is usability, and that's fine, but when was the last time you sat down to analyze the level of accessibility of your website? Testing on other aspects of your website are important, however, a lot of us seem to neglect our websites accessibility.
Screen readers are a form of assistive technology. Contemporary screen readers[edit] Unfinished Screenreader Projects[edit] Historical interest[edit]
Comparison of screen readers
Overview aDesigner is a disability simulator that helps designers ensure that their content and applications are accessible and usable by the visually impaired. Voice browsers and screen readers read aloud the text on Web pages and are used by visually impaired people. However, these devices are less effective with certain kinds of content, such as highly graphical material. Web developers can use aDesigner to test the accessibility and usability of Web pages for low-vision and blind people.
ACTF - aDesigner
metalmouth - Developing an open source voice browser extension for Chrome
Colour Blindness Check - Etre
Comparison of Accessibility Features in Various Versions of Windows
Equal Access to Software and Information
Website and Enterprise Search - WCAG Compliance Auditor
How to Meet WCAG 2.0
WCAG 2.0 at a Glance