U.S. History
USHistoryNMH - Blog. Beyond the Five-Paragraph Essay - National Writing Project. Eric foner on american freedom. The Declaration of Independence: "An Expression of the American Mind" Activity 1.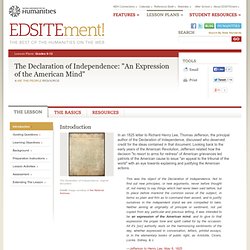 The Declaration's Origins: Four (4) Primary Sources for Understanding the Declaration of Independence Much of the language and many of the ideas in the Declaration can be found in other documents, to which Jefferson and the other writers had access. Instructor's Manual. Abraham Lincoln-Related Curriculum and Lesson Plans. Abraham Lincoln on Slavery and Race High school: This lesson covers the extension, restriction, and reorganization of political democracy after 1800; and sources and character of cultural, religious, and social reform movements in the antebellum era.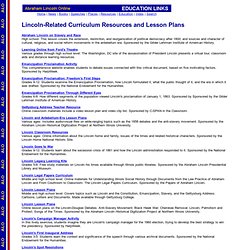 Sponsored by the Gilder Lehrman Institute of American History. Learning Online from Ford's Theatre Various grades through high school level: The Washington, DC site of the assassination of President Lincoln presents a virtual tour, classroom aids and distance learning resources. Emancipation Proclamation Activity This comprehensive website enables students to debate issues connected with this critical document, based on five motivating factors. The History Place. Teacher Resources. The Library of Congress offers classroom materials and professional development to help teachers effectively use primary sources from the Library's vast digital collections in their teaching.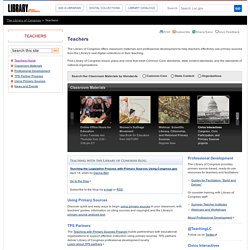 Find Library of Congress lesson plans and more that meet Common Core standards, state content standards, and the standards of national organizations. Using Primary Sources Discover quick and easy ways to begin using primary sources in your classroom, with teachers' guides, information on citing sources and copyright, and the Library's primary source analysis tool. TPS Partners. Primary Sources from the National Humanities Center. Collections of primary resources compatible with the Common Core State Standards — historical documents, literary texts, and works of art — thematically organized with notes and discussion questions.
American Beginnings The European Presence in North America, 1492–1690. EDSITEment | The Best of the Humanities on the Web. U.S. History Sourcebook - Advanced. Search for - history - among resources. Home | Facing History and Ourselves. RealClearPolitics - Opinion, News, Analysis, Videos and Polls. Infographics & Data Visualizations. Multimedia Educational Resource for Learning and Online Teaching. Return to MERLOT II Home Page Search all MERLOT Click here to go to your profile.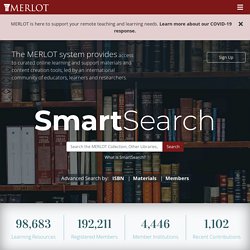 Zotero | Home. Critical Thinking Home Page. Defining Critical Thinking. It entails the examination of those structures or elements of thought implicit in all reasoning: purpose, problem, or question-at-issue; assumptions; concepts; empirical grounding; reasoning leading to conclusions; implications and consequences; objections from alternative viewpoints; and frame of reference.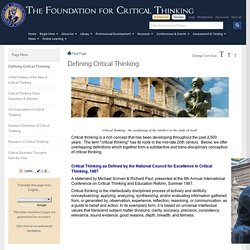 Critical thinking — in being responsive to variable subject matter, issues, and purposes — is incorporated in a family of interwoven modes of thinking, among them: scientific thinking, mathematical thinking, historical thinking, anthropological thinking, economic thinking, moral thinking, and philosophical thinking. Critical thinking can be seen as having two components: 1) a set of information and belief generating and processing skills, and 2) the habit, based on intellectual commitment, of using those skills to guide behavior. Critical Thinking Index Page. TRC Writing Project Grid. Teachinghistory.org. Dave Eggers' wish: Once Upon a School. Thousands of Free Lesson Plans and Educational Resources for Teachers | Verizon Thinkfinity.org. Opinion, News, Analysis, Videos and Polls.
Real Clear Politics Sunday Political Fraud About Voter Fraud - Robert Popper, Wall Street JournalThe GOP's Demographic Problem - Chris Cillizza, Washington PostLiberals Swoon Over Marxist Reboot - Kyle Smith, New York PostHigh Plains Moochers - Paul Krugman, New York TimesAre We Under-Saving for Retirement?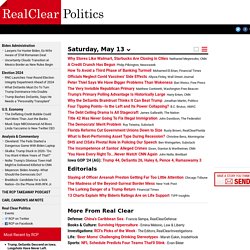 - Robert Samuelson, Wash Post RCP Afternoon Edition. Home page | Stanford History Education Group.
---