U.S. History
USHistoryNMH - Blog
Beyond the Five-Paragraph Essay - National Writing Project
eric foner on american freedom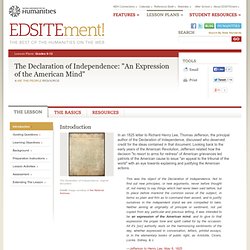 The Declaration of Independence: "An Expression of the American Mind"
Activity 1. The Declaration's Origins: Four (4) Primary Sources for Understanding the Declaration of Independence Much of the language and many of the ideas in the Declaration can be found in other documents, to which Jefferson and the other writers had access.
Instructor's Manual
Abraham Lincoln-Related Curriculum and Lesson Plans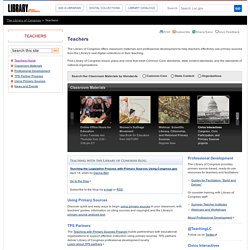 The Library of Congress offers classroom materials and professional development to help teachers effectively use primary sources from the Library's vast digital collections in their teaching.
Collections of primary resources compatible with the Common Core State Standards — historical documents, literary texts, and works of art — thematically organized with notes and discussion questions. American Beginnings The European Presence in North America, 1492–1690
Primary Sources from the National Humanities Center
U.S. History Sourcebook - Advanced
Search for - history - among resources
Home | Facing History and Ourselves
Critical Thinking Home Page
It entails the examination of those structures or elements of thought implicit in all reasoning: purpose, problem, or question-at-issue; assumptions; concepts; empirical grounding; reasoning leading to conclusions; implications and consequences; objections from alternative viewpoints; and frame of reference. Critical thinking — in being responsive to variable subject matter, issues, and purposes — is incorporated in a family of interwoven modes of thinking, among them: scientific thinking, mathematical thinking, historical thinking, anthropological thinking, economic thinking, moral thinking, and philosophical thinking. Critical thinking can be seen as having two components: 1) a set of information and belief generating and processing skills, and 2) the habit, based on intellectual commitment, of using those skills to guide behavior.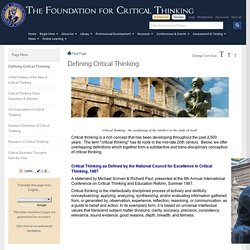 TRC Writing Project Grid
Real Clear Politics Wednesday Gay Marriage Hits the Supreme Court - Jonathan Rauch, Brookings Will Tolerance for the Faithful Be Tolerated?