Cooking/baking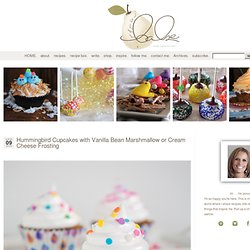 Get Off Your Butt and BAKE! » Impressive recipes made simple.
Winter does give us a few perks. I believe that we don't need to stress out quite as much, when it comes to our wardrobe. 1. We can just throw on a nice winter coat & a stylish pair of boots and we are set.
Cream Cheese and Cinnamon Crescent Rolls
I'm always looking for easy and delicious recipes that can be made quick and with ingredients I already have. This next recipe is one of those. They turned out so gooey and yummy – you will definitely have to try it out for yourself! This little treat has actually become the hubby's favorite snack on a weekend morning. Eating them when they've come straight out of the oven is just pure heaven!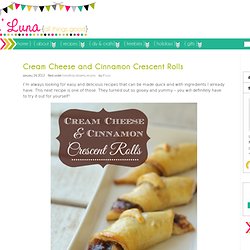 "Scalloped" is an attractive word, isn't it? When I hear it I think of several things: first, there's scallops, as in the seafood—totally delicious. Then there's the scalloped shape that can live on the edge of a pair of shorts or on the collar of a woman's blouse—always pretty and dainty.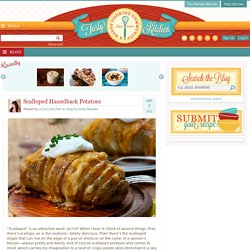 Scalloped Hasselback Potatoes
Mother of gummy bears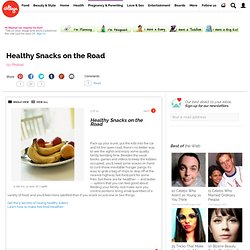 Pack up your trunk, put the kids into the car and hit the open road...there's no better way to see the sights and enjoy some quality family bonding time. Besides the usual books, games and videos to keep the kiddies occupied, you'll need some snacks on hand to curb those inevitable hunger pangs. It's easy to grab a bag of chips or stop off at the nearest highway fast food joint for some fries, but there are far healthier -- and tastier -- options that you can feel good about feeding your family. Just make sure you control portions; bring small quantities of a variety of food, and you'll feel more satisfied than if you snack on just one or two things. Get the 5 secrets of raising healthy eaters
10 Super Snacks You Can Make in Under 5 Minutes
I'm sorry for doing this to you. I really am. But see, last Friday while I was on a 10-hour road trip heading for vacation, I received this recipe from a reader named Liz.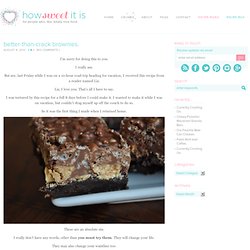 Better-Than-Crack-Brownies
Pizza Braid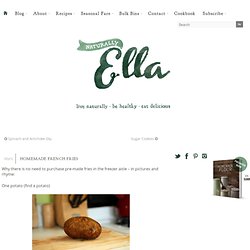 Homemade French Fries
Why there is no need to purchase pre-made fries in the freezer aisle – in pictures and rhyme: One potato (find a potato) Two potato (cut the ends off) Three potato (cut slices) Four (cut fries from slices) Five potato (Toss in herbs and olive oil)
Punchfork | The best new recipes from top food sites
penniesonaplatter
Adirondack Salmon Chowder I have a confession. I have a fear of cooking seafood. It's sad but true. If you look back at the history of this blog you will find zero (zero!) seafood recipes.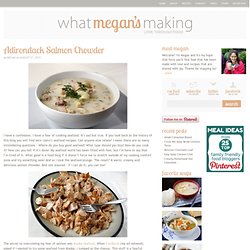 Adirondack Salmon Chowder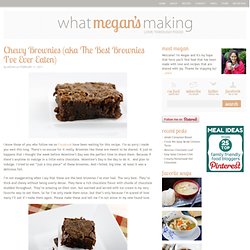 Chewy Brownies (aka The Best Brownies I've Ever Eaten)
1/3 cup Dutch-processed cocoa 1 1/2 teaspoons instant espresso (optional) 1/2 cup plus 2 tablespoons boiling water 2 ounces unsweetened chocolate , finely chopped (see note and related illustration) 4 tablespoons (1/2 stick) unsalted butter , melted 1/2 cup plus 2 tablespoons vegetable oil 2 large eggs 2 large egg yolks 2 teaspoons vanilla extract 2 1/2 cups (17 1/2 ounces) sugar 1 3/4 cups (8 3/4 ounces) unbleached all-purpose flour 3/4 teaspoon table salt 6 ounces bittersweet chocolate , cut into 1/2-inch pieces Adjust oven rack to lowest position and pre-heat oven to 350. Make a foil sling for your baking pan: Cut 18-inch length foil and fold lengthwise to 8-inch width. Fit foil into length of 13 by 9-inch baking pan, pushing it into corners and up sides of pan; allow excess to overhang pan edges.
Chocolate Chip Cookie Dough Dip It's time for a little confession. I realize this may get me shunned (especially in my hometown of Pittsburgh!), but….I don't like football.
Chocolate Chip Cookie Dough Dip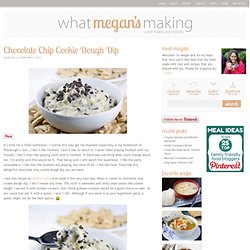 Food Pyramid Submissions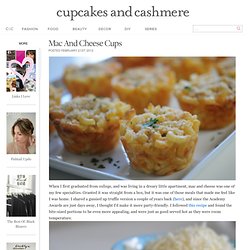 Mac and Cheese Cups
Share this image Share It Pin It When I first graduated from college, and was living in a dreary little apartment, mac and cheese was one of my few specialties. Granted it was straight from a box, but it was one of those meals that made me feel like I was home. I shared a gussied up truffle version a couple of years back (here), and since the Academy Awards are just days away, I thought I'd make it more party-friendly.
Pepperoni Pizza Monkey Bread
How do you make bread even better? You stuff it with pepperoni and cheese. Then, you bake it in a bundt pan that allows you to pull off little chunks and dip them in pizza sauce. This is the perfect thing to bring to a party (and I did, where it disappeared quickly!) or to eat during a football game.
Lunch Recipes: Wrap Sandwich and Burrito Recipes - Martha Stewart
The USDA released its new food pyramid the other day (which is actually a plate now instead of a pyramid), and I am sorely disappointed to report that cinnamon rolls did not appear anywhere on that plate. I think by now most of us know what should be on our dinner plate in terms of healthy, well-rounded nutrient-laden meals, but it is my considered opinion that our breakfast plate should include cinnamon rolls now and then. And not just any cinnamon roll, mind you, but how 'bout a homemade cinnamon roll hybrid that is a cross between a cinnamon roll and cinnamon toast, is super easy to make and gosh darn delicious. In honor of their ancestry, I call these little gems cinnamon toast rolls, and here's all you need to make them… Yep.
Cinnamon Toast Rolls
Better Than Takeout Orange Chicken
Yesterday as I stood in the kitchen trying to figure out what to make for dinner I wondered to myself, how do those people do it on those shows where they are given random ingredients and are suppose come up with something genius. I think I stood there for a solid 20 minutes looking in the cupboards and staring into the freezer hoping that I would be struck by some ingenious idea. Then I saw the oranges, and it hit me "O-raang Shh-ikun"….that is orange chicken if you can't understand the accent. I love orange chicken, and I almost always order # 14 Orange Chicken when we order Chinese take out and I wondered to myself if I could make it better at home. This recipe most definitely delivered!
I've tried lots of brownie recipes: Boxes, scratch, frosted, plain, nuts, chips, fudge … Each of them has something to like, but depending on my mood I might want a change of pace. Not any more. My wife found this recipe, and it's perfect. I'm done looking. This is the brownie recipe that I'll use from now on.
How To Make Perfect Brownies
Million Dollar Mac and Cheese {Recipe}
Greek
The Infamous Jacques Torres Chocolate Chip Cookies
anti-inflammatory-food-pyramid.jpg (705×693)
[#productName] Recipes
Slutty Brownies
Chocolate Chip Cookie Dough + Cupcake = The BEST Cupcake. Ever. Recipe