Bienfaits de l'égalité Méfaits de l'inégalité
A conference debate held at Sciences Po from 10:15am to 12:15pm
L'égalité est-elle meilleure pour tous ?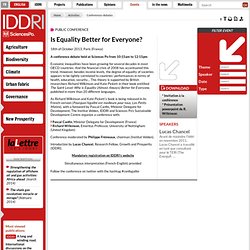 The Great Divide is a series on inequality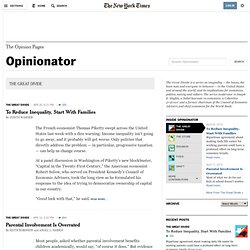 The Great Divide is a series on inequality — the haves, the have-nots and everyone in between — in the United States and around the world, and its implications for economics, politics, society and culture.
Thomas Piketty : "Il faut taxer fortement les très hauts revenus"
Pour l'économiste Thomas Piketty, les très hautes rémunérations sont économiquement inefficaces et socialement injustes; elles menacent la démocratie.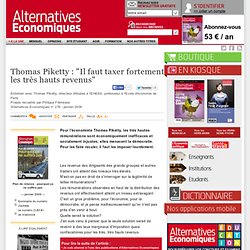 We'd All Be Much Wealthier If We Acted Like a Society—Instead We Prop Up the Private Wealth of a Small Number of Elites
Photo Credit: shutterstock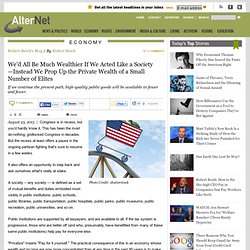 L'inégalité source d'instabilité - Les Crises Olivier Berruyer
Les inégalités nuisent gravement à la cohésion sociale - Vivre Ensemble
Mon propos essentiel était qu'il ne s'agissait pas d'une crise, mais d'une transformation en profondeur du monde : parler de crise, c'est laisser penser que les problèmes actuels sont graves, mais transitoires, et que l'objectif est de revenir à un passé perdu. Je crois qu'une telle vision est une erreur profonde, car demain ne pourra être comme hier, ce sous l'effet de trois forces qui s'entremêlent :
Le danger des lignes Maginot des inégalités croissantes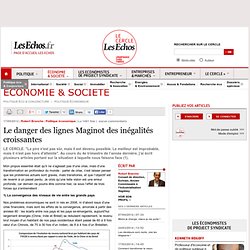 Les bienfaits de l'égalité - The Equality Trust
Billionaire businessman Warren Buffett, pictured above, argued in a New York Times op-ed last month that the U.S. government doesn't tax him and his super-rich friends enough. "I know well many of the mega-rich and, by and large, they are very decent people," wrote Buffett. "Most wouldn't mind being told to pay more in taxes as well, particularly when so many of their fellow citizens are truly suffering."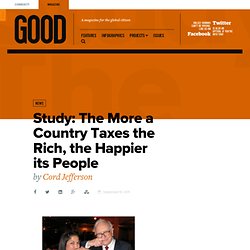 Study: The More a Country Taxes the Rich, the Happier its People - Politics