Aplicações educativas da web 2.0
E-Learning Heroes. Rogerallabout - My. Dokeos | Open Source E-Learning. Emerging Top 100 Tools for Learning 2011. Centre for Learning & Performance Technologies The Toolbox Share your Top 10 Tools to help build the 2011 list This is the 5th annual Top 100 Tools for Learning list I have built based on the contributions of learning professionals worldwide.
I am now compiling the Top 100 Tools for Learning 2011 189 contributions so far Latest contribution: 25 June, 2011 List will be finalised 13 November, 2011 KEY Links to previous years' lists: 2010, 2009, 2008 and 2007 F = Free, C= Commercial, D=Download, S=Server, O=Online Cells shaded blue are new tools on the list this year, green are returners. Wink - [Homepage] Here is a sample Flash tutorial created by Wink.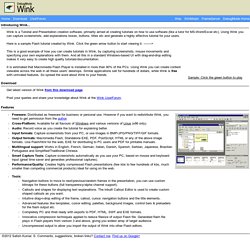 Click the green arrow button to start viewing it. --------> 150 Free Textbooks: A Meta Collection. Free textbooks (aka open textbooks) written by knowledgable scholars are a relatively new phenomenon.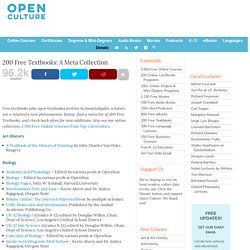 Below, find a meta list of 170 Free Textbooks, and check back often for new additions. Also see our online collection of Free Online Courses. Art History A Textbook of the History of Painting by John Charles Van Dyke, Rutgers. Wiki. eXe. The eXe project developed a freely available Open Source authoring application to assist teachers and academics in the publishing of web content without the need to become proficient in HTML or XML markup.
Resources authored in eXe can be exported in IMS Content Package, SCORM 1.2, or IMS Common Cartridge formats or as simple self-contained web pages. eXe grew out of the New Zealand Government Tertiary Education Commission's eCollaboration Fund and was led by the University of Auckland, The Auckland University of Technology, and Tairawhiti Polytechnic. It was later supported by CORE Education, a New Zealand-based not-for-profit educational research and development organisation. It has also been greatly assisted by a global group of participants and contributors. Moodle.org: open-source community-based tools for learning. Your Dashboard | Glogster. Multimedia Educational Resource for Learning and Online Teaching. Return to MERLOT II Home Page Search all MERLOT Click here to go to your profile.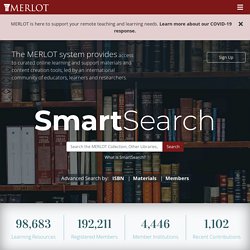 Hot Potatoes Home Page. News - 12/06/2013 Dr.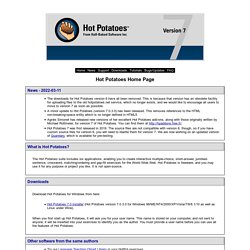 Stan Bogdanov has published Hacking Hot Potatoes: The Cookbook, available in paperback, PDF and ePub format. Check it out! A change to the user agent string in Firefox 17 results in Hot Potatoes and Quandary exercises showing an error message when loading in the browser. Voxopop - a voice based eLearning tool. CamStudio - Free Screen Recording Software. Top de portals de portables. Estoig Digital Portal orientat a la recopilació de recursos i estrategies per fer a l'aula amb aplicacions portables i gratuites Top de portals de portables.
RELOAD Project. Blog Tool and Publishing Platform. Quandary Home Page. FCE SPECIAL. Tools. JeLSIM Builder The JeLSIM Builder toolkit is a FREE toolkit for producing educational simulations.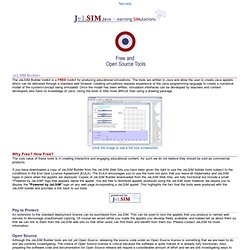 The tools are written in Java and allow the user to create Java applets which can be delivered through a standard web browser. Creating simulations requires experience of the Java programming language to create a numerical model of the system/concept being simulated. Once the model has been written, simulation interfaces can be developed by teachers and content developers who have no knowledge of Java. Using the tools is little more difficult than using a drawing package. Over 20 Free Digital Classroom Tools… Customize… Plus No Log In.
This is a site that you are bound to find useful in your classroom.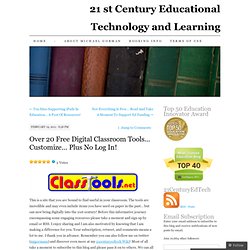 The tools are incredible and may even include items you have used on paper in the past… but can now bring digitally into the 21st century! Before this informative journey encompassing some engaging resources please take a moment and sign up by email or RSS. I enjoy sharing and I am also motivated by knowing that I am making a difference for you. Your subscription, retweet, and comments means a lot to me. I thank you in advance. LAMS: Learning Activity Management System. 135 recursos para sacar el mayor partido a Twitter. En la categoría de Twitter, hemos ido comentando a lo largo de los meses centenares de aplicaciones, es por eso que hemos preparado este artículo, en el cual hemos elegido algunas de las más funcionales y curiosas aplicaciones para que podáis desde organizaros mejor hasta opinar sobre el cine, ver las ultimas noticias, así como también gestionar los seguidores, entre otras funciones… Actualizando los 100 recursos que os mostramos en 2009, aquí tenéis: Para opinar sobre el cine - Mombo: Para valorar y criticar películas de estreno vía Twitter. - Skinni Popcorn: Muestra mediante una lista las diferentes películas y las opiniones de los usuarios colgadas de cada una de ellas. - MovieCritter: Vota la película que más te guste desde Twitter. - Fflick: Revisiones de películas mediante Tweets.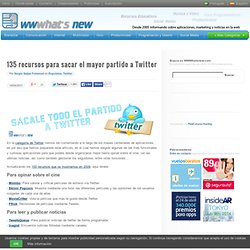 Para leer y publicar noticias. Xerte - Open Source E-Learning Developer Tools. Welcome to the Xerte Project People are Saying... An Introduction to Xerte in pdf format. An introduction for advanced developrs creating data-driven templates using Xerte. Watch a streaming video of a recent launch event for Xerte Online Toolkits. Alistair McNaught of Jisc TechDis demonstrates Xerte Online Toolkits. Rededuca - home. CourseLab - free e-Learning authoring tool. Home. Business English Grammar Lessons. Recopilación de enlaces: "Aplicaciones educativas de la. Estoig Digital. Glogster – Poster Yourself | Text, Images, Music and Video.
Merlí. Catàleg de recursos educatius. La catalogació de recursos educatius a Merlí (XTEC) ens permet preservar els recursos i patrimoni educatiu català i donar a conèixer les experiències educatives en un marc europeu. La preservació digital es basa en la cerca de mètodes per garantir que la informació emmagatzemada digitalment en qualsevol tipus de format, maquinaria, programari o sistema continuï sent accessible tot i el ràpid desenvolupament de les noves tecnologies. Per evitar el buit digital o l'obsolència de materials us recomanem catalogar els recursos educatius al catalogador Merlí que s'ofereix al professorat amb una versió simplificada i una interfície millorada. El lloc d'ajuda de Merlí és obert a tothom per facilitar la cerca i la catalogació de recursos.Aquest lloc us permet tenir les millors recomanacions per trobar o integrar nous continguts en un entorn col·laboratiu.
QuestGarden.com. Index - Learning Circuits. About Learning Circuits ASTD launched Learning Circuits in January 2000. Its goal was to promote and aid the use of e-learning, creating a body of knowledge about how to use technology efficiently and effectively for learning. :::: xical.org :::: Learning Tools - Multimedia Learning Object Authoring Tool. Multimedia Learning Object Authoring Tool video, audio, image slides and text synchronization XML based content organizer advanced web based media player on-the-fly that supports the standard multimedia formats Build-in file uploader Customized editing interface SMIL supported SCORM compliant learning object generator Video based teaching aids Multimedia file synchronization Web based video playbacks Audio based story telling Image slider Tim Wang, John Bratlien, Liang Shao.
ClassTools.net: Create interactive flash tools / games for education.
---