FOOD!
Chicken Parmesan. Chicken with Coconut-Lime Peanut Sauce Recipe: Thai, Asian Inspired. The Super Bowl is this Sunday and I am finally diverting from my Valentine's recipes and sharing a dish that would be great alongside all those mini bite appetizers.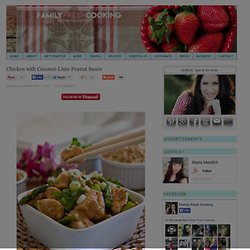 There have been so many awesome recipes passed around the internet the past few weeks in preparation for the game. Do I even know who is playing, no. Do I know what I will be eating, sure. The Butter Steak: What's the Best Way to Cook a Steak? I'm not interested in carbonizing the surface of the meat.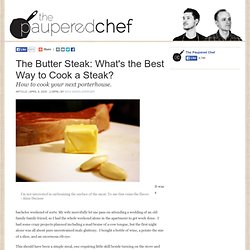 To me that ruins the flavor. - Alain Ducasse It was a bachelor weekend of sorts. My wife mercifully let me pass on attending a wedding of an old family family friend, so I had the whole weekend alone in the apartment to get work done. The Best French Onion Soup (…ever!) The last recipe I posted for French Onion soup was from Cook's Illustrated and the soup came out great.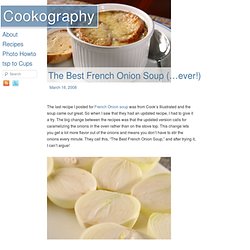 So when I saw that they had an updated recipe, I had to give it a try. The big change between the recipes was that the updated version calls for caramelizing the onions in the oven rather than on the stove top. This change lets you get a lot more flavor out of the onions and means you don't have to stir the onions every minute. They call this, "The Best French Onion Soup," and after trying it, I can't argue! Baked Zucchini Sticks and Sweet Onion Dip: that bloomin' zucchini! | King Arthur Flour - Baking Banter - StumbleUpon. Today, class, it being late July and all, we're going to examine our zucchini facts: •Zucchini is always at the end of any A-to-Z food list; •Zucchini and fruitcake are the undeserving targets of many a joke; •The zucchini plant literally grows like a weed, making it absolutely ubiquitous in vegetable gardens across America; •And for that reason, enterprising cooks have discovered ways to turn it into muffins, and cake, and pancakes, and… Baked Zucchini Sticks.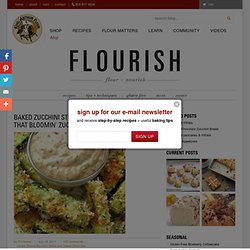 You know that onion appetizer that came into bloom back in the late '80s? Outback Steakhouse claims it invented the "Bloomin' Onion" back in 1988, and it wasn't long before quasi-fast food restaurants adopted it as the hottest appetizer since artichoke dip baked in a bread bowl. Steak au Poivre - The Showstopper | Food for My Family - StumbleUpon. I have a comment on this comment, then I have a comment for the OP.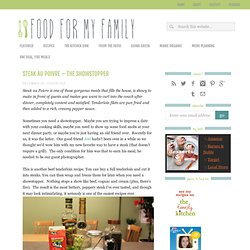 To Amy: Removing to foil is simply a way to keep the steaks warm whilst resting (FOR 5 MINUTES AT LEAST… ALWAYYYS!). When the OP says remove to foil, he/she doesn't mean to wrap them tightly. They mean to place them in a plate, and form a loose 'covering' of foil. How to Make Proper Barbecue Chicken | The Paupered Chef - StumbleUpon. There's a lot of misconception when it comes to "barbecue.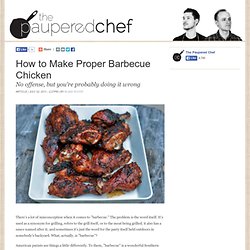 " The problem is the word itself. It's used as a synonym for grilling, refers to the grill itself, or to the meat being grilled; it also has a sauce named after it; and sometimes it's just the word for the party itself held outdoors in somebody's backyard. Picky Eaters Recipes for Kids. Real, Juicy, Bacon Cheeseburgers | Kevin & Amanda's Recipes - StumbleUpon. Nothing says "summer" quite like thick, juicy, hamburgers — even better when they're topped with bacon, melty cheese, and prepared just the way you like 'em.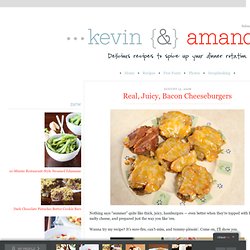 Wanna try my recipe? It's sure-fire, can't-miss, and tummy-pleasin'. Visual Recipes - Free Recipes with Step-by-Step Pictures - StumbleUpon. - StumbleUpon. Carpe Season | Living Seasonally in an Underseasoned World - StumbleUpon. Pizza Braid | Busy Mommy: An Iowa Mom Blog - StumbleUpon. - StumbleUpon. Strawberry Margarita Jell-O Shooters | Bakers Royale - StumbleUpon.
Strawberry Margarita Jell-O Shooters Margarita Jell-O Shooters ~ A fun farewell to summer and a festive edition to your Sunday football tailgate party or gatherings.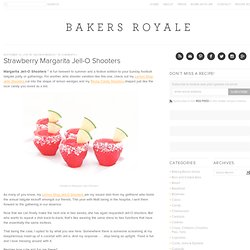 For another Jello shooter variation like this one, check out my Lemon Drop Jello Shooters cut into the shape of lemon wedges and my Rocky Candy Shooters shaped just like the rock candy you loved as a kid. Dr. Pepper Barbecue Sauce Recipe at Epicurious.com - StumbleUpon. I too love this bbq sauce but have added my own twists.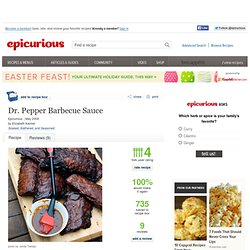 I only had salted butter so I omitted the salt, then melted the butter and skimmed the butter fats before adding the onions and garlic, so it was essentially clarified butter. I also like a nice cherry flavor so I used a mix of half dr pepper half black cherry soda, but I bet cherry dr pepper would also do the trick.
I also didn't have the ancho chili powders, but I did have some scotch bonnet sauce which I used about a teaspoon. My wife doesn't like the spicy bbq sauces, so I gotta keep it on the low, for me, I would probably triple that amount or more. Red Velvet Crinkle Cookies | Red Velvet Cake Mix Cookies | Two Peas & Their Pod - StumbleUpon. Red Velvet Crinkle Cookies First of all, thanks everyone for the birthday wishes.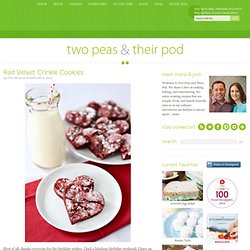 I had a fabulous birthday weekend. I have an easy and festive Valentine's Day cookie recipe for you today. I made Red Velvet Cheesecake Cookies during Christmas time and they were a huge hit. Healthy Brown Bag Lunches For Kids and Adults. Be a healthy hero: Pack a daily lunch for yourself and your children. Not only will you give your diet a big nutrition boost, you'll save money too. We've got ten expert-approved, easy-to-pack lunch ideas—five for kids, and five for adults—to get you started. Now get packing! MORE: Six Foods That Could Save Your Life For Kids: Healthy Turkey Sandwich. Broccoli and White Cheddar Mac & Cheese & The Craving Chronicles - StumbleUpon.
Mac & cheese. Oh how I love mac & cheese. It's one of my favorite foods on the planet (besides chocolate). Whenever it's cold outside or I need some comfort or I'm hungry or it's a day that ends in 'y', I turn to mac & cheese. I've had to impose mac & cheese limits on myself to keep from eating it every day of the week. I love it so much I would run away with mac & cheese and never look back. How to Make Bagels: A Users Manual at Epicurious.com - StumbleUpon. While making bagels may seem challenging to home cooks, it's actually not as complicated as you might think.
But before we get into the specific recipe and bagel-making process, let's explore a few urban myths: Do You Need a Special Type of Flour to Make Bagels? No. Bagel shops often use a type of high-gluten flour to achieve that distinctively chewy texture and to stand up to the rigors of mass production, but you can opt for more readily available unbleached bread flour and still achieve fantastic results. Plus, even though bread flour contains slightly less protein—12.5 percent compared with 14 percent for high-gluten flour—it actually tastes better. No-knead focaccia $1.07 recipe / $0.09 serving.
88 Snacks Under 100 Calories Originally from The... | Matchstick Molly - StumbleUpon. Caramelized Chicken with Jalapeno Cream | How Sweet It Is - StumbleUpon. Want to know how to make one heck of a delicious chicken dish? Good. Because I was going to tell you anyway. 50 Healthy Recipes to Kick Off 2012 | Two Peas & Their Pod - StumbleUpon. Happy New Year! Many of us are thinking about our New Year's resolutions and healthy eating is often at the top of the list. If you are setting a goal to eat healthy in 2012, here are 50 healthy recipes to help you get started. Mini Peanut Butter and Nutella Cheesecakes | Just Everyday Me - StumbleUpon.
Sandwich Recipes. Bacon-wrapped Jalapeno Chicken Bites - StumbleUpon. Buffalo Chicken Dip | - StumbleUpon. Cheddar Bacon Ranch Pull-Apart Bread.
Sausage &Pepperoni Pizza Puffs | Make Ahead Meals For Busy Moms. Cruft: Lasagna Cupcakes - StumbleUpon. Moscow Hot Chocolate Recipe. Recipe: buffalo chicken ring. Tuscan Garlic Chicken.
---