Food
The Daily Basics
Cocktail Whisperer | Cocktail and food musing from Rum judge Warren Bobrow
My Baking Addiction
Brown Eyed Baker | Sweet. Savory. Sinful.
Eclectic Recipes
Love & Olive Oil
I stole this from... | A great WordPress.com site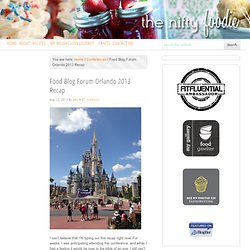 I can't believe that I'm typing out this recap right now.
The Nifty Foodie
JoyofBaking.com - Baking & Dessert *Video Recipes*
Serious Eats: A Food Blog and Community
Cooking For Engineers - Step by Step Recipes and Food for the Analytically Minded.
i am a food blog
A Thought For Food - where ideas are brought to simmer
Aggies Kitchen
SAVEUR.com - Authentic Recipes, Food, Drinks and Travel
Eat, Live, Run
The Bitchin' Kitchin'
Cook's Thesaurus
foodgawker | feed your eyes
Beyond Salmon
Piccadilly Carrot Souffle Recipe
I Wash You Dry - simple recipes, easy clean-up
Honest Cooking - Food News | Recipes | Wine | Beer | Opinion | Culinary Travel
The Wednesday Chef
Darius Cooks
We are not Martha
Cookstr - Recipes You Love From Cookbooks You Trust
Recipe Index
Food Wishes Video Recipes
Laura in the Kitchen
Business Inquiries Only: Laura.Vitale@LauraintheKitchen.com 'Laura in the Kitchen' is an interactive cooking show hosted by Laura Vitale. The show focuses on Italian cuisine, but viewers are very welcome to make requests.
Michael Ruhlman - Translating the Chef's Craft for Every Kitchen kitchen
CHOW - Recipes, cooking tips, resources, and stories for people who love food
101 Cookbooks - Healthy Recipe Journal
Our Best Bites | Tips, Tricks, and Tastes from Two Real-Life Kitchens
Simple Girl
Hungry Blogger | Foodie news, recipes, restaurant deals and coupons, and all things yummy
One Hungry Mama
101 Cookbooks - Healthy Recipe Journal
The Crepes of Wrath
I have some really exciting news, folks. Set your TiVos to "awesome", because I am going be on Anderson Cooper Live on Thursday, February 28th! Three competitors were chosen to face off in Anderson's Chocolate Chip Cookie Challenge, where I will be force feeding Mr. Cooper cookie after cookie. It'll be just like that episode of The Simpsons where Homer goes to hell for eating the Forbidden Doughnut, and they hook him up to that machine that feeds him a million doughnuts and he still asks for more. I hope that you will all watch as I embarrass myself on national television.
Good Morning Sunshine Bars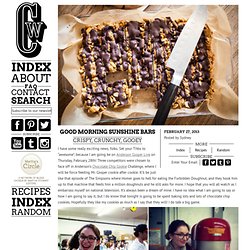 Once you make peanut butter at home, it will be very difficult to get excited about storebought peanut butter ever again. Not that eating peanut butter of any kind would ever be a chore because I love it so, but homemade peanut butter is a delicacy. And a nearly effortless delicacy at that. It's akin to savoring a piece of high-end dark chocolate that's rich and pure, uncomplicated by fillers, additives, or ingredients that have no place being in chocolate; and then grabbing a milk chocolate bar in the checkout line at the grocery store, which is likely a combination of tasteless, grainy, and waxy.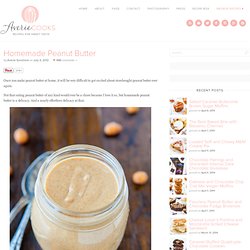 Homemade Peanut Butter
Power bars! Make them at home with only three ingredients and a food processor. Prepare for your minds to be blown. Ready? Homemade energy bars. Three ingredients.
How to Make Easy 3-Ingredient Energy Bars at Home Cooking Lessons from The Kitchn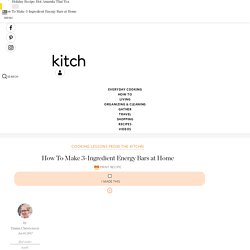 The BEST Balsamic Vinaigrette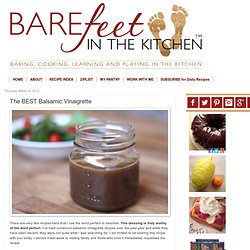 There are very few recipes here that I use the word perfect to describe.
chinese grandma | food, family and thoughtful living
Barefeet In The Kitchen
52 Kitchen Adventures - Simplifying baking from scratch. Learn how to make beautiful, mouth-watering (and sometimes healthy) desserts every week of the year. | 52 Kitchen Adventures
The Kitchenista Diaries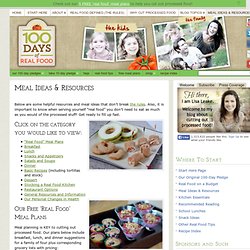 Below are some helpful resources and meal ideas that don't break the rules. Also, it is important to know when serving yourself "real food" you don't need to eat as much as you would of the processed stuff! Get ready to fill up fast. Click on the category you would like to view: Our Free "Real Food" Meal Plans Meal planning is KEY to cutting out processed food.
Meal Ideas & Resources
Eat It, Atlanta
Food Republic | Eating, Drinking & Living The Way A Man Should
The Red Bird Life | Food, Recipes, Family and Home
Strawberry and Chocolate Jiggle-Fluff Pie Recipe : Sunny Anderson
Ingredients 2 cups salted pretzels, lightly broken 2 sticks unsalted butter, melted 7 tablespoons granulated sugar 8 ounces cream cheese, at room temperature 1/4 cup powdered sugar 3 tablespoons cocoa powder 4 cups heavy cream, chilled, divided 1 teaspoon vanilla extract Salt 2 cups pineapple juice 1 (6-ounce) box strawberry-flavored powdered gelatin mix 2 cups frozen chopped strawberries, thawed 1-ounce piece semisweet chocolate bar, for shaving Special Equipment: Stand mixer or electric hand mixer Directions Preheat the oven to 400 degrees F. In a 13 by 9-inch pan, add the pretzels, butter, and 2 tablespoons sugar.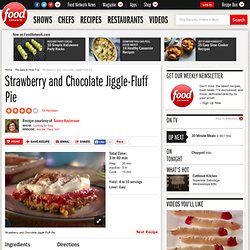 Wonderland Kitchen » food, drink, and life get curiouser
"Eat all the junk food you want as long as you cook it yourself" Michael Pollan I just love this time of year. The mad dash to get everything ready for Christmas. The promise of lazy Summer holidays looming. And of course the many opportunities to celebrate with my favourite things: good food, good company, good vino and good music. But as you know, such celebrations can take a toll on one's waistline.
stonesoup — 5 ingredient recipes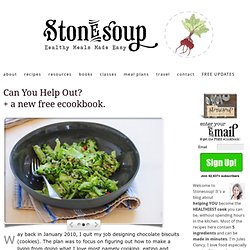 Closet Cooking
No Recipes – Techniques, inspiration and cooking tips from my Japanese kitchen
Shutterbean
Oh my goodness. You know when you have one of those desserts that completely knocks your socks off? This is it. And it's simple, too. It's like the new Holy Grail of treats!
Cannoli Tart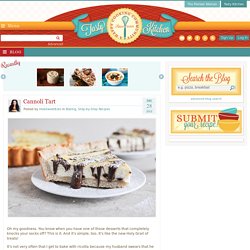 Tasty Kitchen: A Happy Recipe Community!
The Seaside Baker | Baking by the sea…
How Sweet It Is
Free Online Recipes | Free Recipes
Chinese Lemon Chicken Recipe
Why order take out when you can make your own Chinese lemon chicken at home? There are a few different versions of lemon chicken out there, all coming from different countries. Probably the most popular type of lemon chicken would be baked in the oven. We all know baked lemon chicken is great but here is the Chinese version – just like take out or at the buffets. The Chinese version varies greatly from that of other cultures. Like most types of Chinese chicken the chicken is first cut into small chunks, battered, and then deep fried and covered with a sweet-lemon sauce.
recipes - Pure Hedonist by Letitia Elizabeth
Brought to you by Sweet Insanity Bake Shop : Magically Delicious! Unicorns may manage their elusiveness but they left behind some fanciful evidence of their existence and I was able to recreate their leavings. This unicorn poop, in reality, has a funny story.
Unicorn Poop!
Kheer (Rice Pudding) Recipe
Kheer
Rice Kheer or Pudding is cooked in some variation in every culture! In India, I grew up eating different kinds of Kheer such as Semolina Kheer, Vermicelli Kheer, Makhana Kheer, Carrot Kheer and Lauki Kheer. The main ingredient in Kheer is whole milk, choice of vegetable or grain and sugar. Rice Kheer is the most popular of all; it is made on every special occasion and used as an offering at religious events. The best Rice Kheer is made with starchy, medium grain rice and cooked slowly so the starch is released into the milk, making it creamy and smooth.
Rice Kheer (Rice Pudding) | Rashmi's Recipes
phirni
How to make Rice Kheer (Chawal Ki Kheer) - Indian Sweet Dessert Recipe Video by Show Me The Curry,indian recipe, cooking videos, recipe videos
Translate this page into your language: Rice Kheer is a Classic! It does not matter which part of India you go to or come from, this milk with rice and sugar concoction (with few variations) is going to win your heart. So much so , it is now famous and is known to the world as "Rice Pudding". Here are some other regional names that we lovingly call this dish – Kheer, Khir, Payasam, Payasa or Kheeri.
Averie Cooks
Recipe from the Archives: Chocolate Chip Cookies
Lulu the Baker
saving the world one bit[e] at a time
Tutti Dolci – All Sweets | baking – recipes – photography
Cookie and Kate - Celebrating whole foods with vegetarian recipes
How to Make Pecan Butter
Louisiana Kitchen | Authentic Cuisine, Culture and Travel
New Orleans Cuisine
Chef John Folse & Company
Cajun Cooking at Cooking Louisiana - Home Page
Chez Us » She cooks. He devours.
Home - Pastry Affair
Pinch My Salt - Food, Recipes, and Photography
Supper for a Steal - Shop the deals, save on meals
Benefits Of Green Drinks & The Ultimate Green Smoothie
SUE'S NUTRITION BUZZ —
Doña Lupe's Kitchen @ Doña Lupe's Kitchen
A Man Obsessed with Food, Drink, and Everything Inbetween - MattBites.com
aguas frescas
Online Cookbook | Excellent Source of Videos Recipes & Professional Chefs
entertaining
Agua Fresca Recipes: 10 Refreshing Drink Ideas
Make Those Agua Frescas Boozy Ones
Bayou Woman
The Best Remedy
Syrup and Biscuits - a blog about Southern food, culture and traditions
The Southern Bite | Stacey Little's Southern Food Blog
Urban Comfort
Angel in the Kitchen
Leite's Culinaria | Recipes, Food, and Cooking Blog
Blackberry Cobbler - Urban Comfort
Pink Grapefruit Cake (Part II) - Urban Comfort
Old Fashioned (AND SUPER EASY) Berry Cobbler
Southern Plate - Recipes from Below the Mason Dixon Line
Blackberry Cobbler #1
Simply Recipes Food and Cooking Blog
The Pioneer Woman Cooks | Ree Drummond
Icebox Cookies Recipe
homecanning.com
Eating Clean Recipes
Food52 - food community, recipe search and cookbook contests
Healthy. Happy. Life. | Vegan Blog | Vegan Recipes
Stately Sandwiches
The Kitchn | Inspiring cooks, nourishing homes
Chef Huda
popbar - Handcrafted Gelato on a Stick
Eater National : The National Restaurant, Bar, and Nightlife Blog
Sugar Donut Muffins » The Daily Dish Recipes
crabmeat brie soup
everydaycookin
::Everyday Cookin' - The Food Blog of Darius T. Williams
Everyday Cookin' [dot] com – The Official Food Blog of Darius T. William
Sunny Anderson
www.biteandbooze.com
Dining Blog - Dining Education for Foodies
Eating Made Easy
Search Recipes For Easy Recipes | Appetizers, Cooking Bread & Chicken Recipes, Soup, Baking Cake & More | Taste Of Home
Honey-Mustard Potato Salad Recipe
Healthy Recipes for Runners – Fit Foodist
Recipe for Mustard Potato Salad with Honey — Fit Foodist
Chow Ciao | Blogger Profile
The Noshery — a little something to nosh on
My Creole & Cajun Recipe Page | Nola Cuisine
Nola Cuisine | Celebrating the Food and Drink of New Orleans Louisiana!
The Gumbo Pages :: Make Levees, Not War
Aunt Clara's Kitchen: Dominican cooking, recipes, dishes, food and culinary culture
Baking & Dessert Recipes & Videos - Joyofbaking.com *Tested Recipes*
smitten kitchen
Bleezie's Playhouse
Tales of pigling bland
Bon Appetit Magazine
Burgers and Bourbon with BJ Coleman
Steamy Kitchen Recipes and Food Blog