Food
Easter Morning Breakfast Too busy planning for Easter dinner? Here are some fabulous recipes for Easter morning breakfast! Spring Market Finds from France & Finland!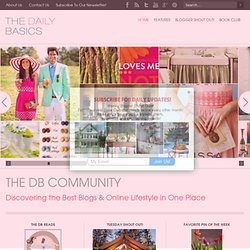 The Daily Basics
Cocktail Whisperer | Cocktail and food musing from Rum judge Warren Bobrow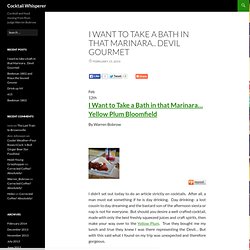 I believe that ice is the most important ingredient in a well-crafted cocktail. Just imagine this scenario. You go to your favorite cocktail lounge; the bartender is making crafted cocktails. The first thing that you notice is the amount of tiny cubes he is putting in the drinks. It would appear that the glasses are filled to the brim with this frozen substance possessing neither form nor shape.
My Baking Addiction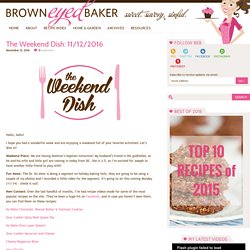 Happy Saturday! I hope you had a fabulous week and are ready to enjoy some relaxing down time. We have some car shopping planned for today, and tomorrow I have a baby shower for an old friend. It's been so long since I've been to a shower, I don't know what to do with myself!
Brown Eyed Baker | Sweet. Savory. Sinful.
Eclectic Recipes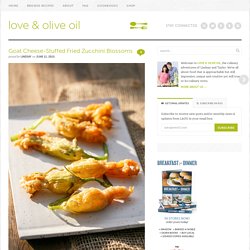 Love & Olive Oil
If Taylor were to start his own food blog, it would most definitely, without a doubt, be about sandwiches. Or, maybe beer and sandwiches. But definitely sandwiches. However, since having two food blogs in one family is certifiably unpractical, we've decided to give him a space on this blog to share his love of sandwiches (aka good things between bread). This will be the first in a monthly series we are calling Taylor's Sandwich Club. While the recipes may be simple, he loves learning the history and stories behind his favorite classic sandwiches.
I love to cook breakfast. Probably more than I like to eat, ok that's a lie. I like to do both. When I was a kid, my mom would make quiche. Of course because I was a kid, I wouldn't eat it. At some point, most of us grow up and learn that there are new and yummy foods out there to try beyond what is familiar.
I stole this from... | A great WordPress.com site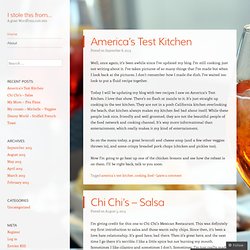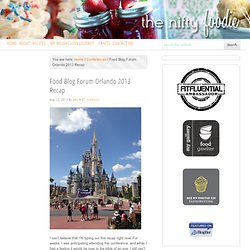 I can't believe that I'm typing out this recap right now. For weeks, I was anticipating attending this conference, and while I had a feeling it would be over in the blink of an eye, I still can't believe it's really over. Inspiring sessions, meeting amazing fellow bloggers and of course, seeing Mickey…it's hard to put into words how wonderful this conference was, but oh man, if you ever have the opportunity to attend this conference, do it. One of the biggest things that happened for me is that I walked away from this conference so inspired to make a huge change to this blog, and hopefully in the coming weeks, you will see those changes actually happen. I was waivering on making these changes for a while, but one session in particular let me know that this change is a good thing.
The Nifty Foodie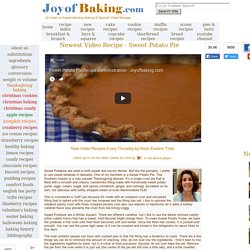 Contact Us Privacy Policy Joyofbaking On Twitter Stephanie Jaworski+
JoyofBaking.com - Baking & Dessert *Video Recipes*
Serious Eats: A Food Blog and Community
Cooking For Engineers - Step by Step Recipes and Food for the Analytically Minded.
Asparagus and Eggs, Two Ways I've been having lots of issues with soft boiled eggs lately. Not the soft-boiling part, but the peeling. It's strange because (not to be boastful or anything) I never used to have issues peeling eggs. I always wondered what the big fuss was - my egg shells always came off gloriously easily.
i am a food blog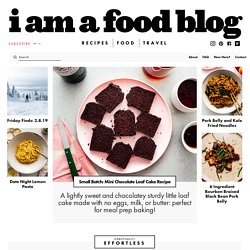 This blog has become such a part of my life that when I don't post, it feels like something is missing. I knew that with the move, any projects, both personal and professional, would have to be put on hold. Through it all, though, my mind hasn't stopped churning out ideas for recipes.
A Thought For Food - where ideas are brought to simmer
Aggies Kitchen
Warning: This post is going to make you extremely hungry!! Today my beautiful friend Flavia is here, sharing what's in her fridge in her Italian kitchen. Flavia's food is "home" to me, it brings me such comfort to read her posts and how she describes her food and writes her recipes.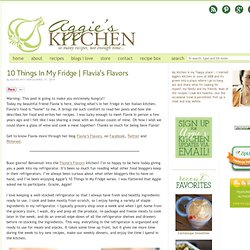 SAVEUR.com - Authentic Recipes, Food, Drinks and Travel
In case you're wondering, I am still working my way through my list of meals to freeze for post baby! I really love making these meals, packaging them up and putting them out in our deep freezer. I love thinking that the next time I see them we'll have a new family member! Such a crazy, weird thought. It seems like everyone on the internet recommends empanadas for a great post-baby meal.
Eat, Live, Run
The Bitchin' Kitchin'
Remember when I told you I was going to give you healthy recipes? Well, I lied. Sorry 'bout that. I ended up making this amazing cake for a New Year's Eve party last week and I just about died over it.
Cook's Thesaurus
foodgawker | feed your eyes
Beyond Salmon
Battered and deep-fried is how most Americans first encounter squid, and that's a shame. Squid can be so much more than a vehicle for batter. No, it does not taste like chicken. If that's the most important quality for you in proteins, you might not get along with squid. It has its own unique flavor that is slightly sweet. Cooking squid takes surprising no skill as long as you understand a simple principle: it can either be cooked in 30 seconds or 2 hours.
Piccadilly Carrot Souffle Recipe
I Wash You Dry - simple recipes, easy clean-up
Honest Cooking - Food News | Recipes | Wine | Beer | Opinion | Culinary Travel
I am having a very odd week. On Monday, just after I'd dropped Hugo off at daycare (thankgodthankgodthankgod), I slipped on some just-formed black ice on the sidewalk. There was no time to catch myself, no time to even register what was happening before I slammed my head against the cobblestones. It was all very upsetting, as you can imagine, what with bits of tooth suddenly loose in my mouth and blood on the sidewalk and a momentary loss of vision and all that pain, pain, pain.
The Wednesday Chef
Darius Cooks
We are not Martha
Cookstr - Recipes You Love From Cookbooks You Trust
Recipe Index
Food Wishes Video Recipes
Laura in the Kitchen
Michael Ruhlman - Translating the Chef's Craft for Every Kitchen kitchen
CHOW - Recipes, cooking tips, resources, and stories for people who love food
101 Cookbooks - Healthy Recipe Journal
Our Best Bites | Tips, Tricks, and Tastes from Two Real-Life Kitchens
Simple Girl
Hungry Blogger | Foodie news, recipes, restaurant deals and coupons, and all things yummy
One Hungry Mama
101 Cookbooks - Healthy Recipe Journal
The Crepes of Wrath
Good Morning Sunshine Bars
Homemade Peanut Butter
How to Make Easy 3-Ingredient Energy Bars at Home Cooking Lessons from The Kitchn
The BEST Balsamic Vinaigrette
chinese grandma | food, family and thoughtful living
Barefeet In The Kitchen
52 Kitchen Adventures - Simplifying baking from scratch. Learn how to make beautiful, mouth-watering (and sometimes healthy) desserts every week of the year. | 52 Kitchen Adventures
The Kitchenista Diaries
Meal Ideas & Resources
Eat It, Atlanta
Food Republic | Eating, Drinking & Living The Way A Man Should
The Red Bird Life | Food, Recipes, Family and Home
Strawberry and Chocolate Jiggle-Fluff Pie Recipe : Sunny Anderson
Wonderland Kitchen » food, drink, and life get curiouser
stonesoup — 5 ingredient recipes
Closet Cooking
No Recipes – Techniques, inspiration and cooking tips from my Japanese kitchen
Shutterbean
Cannoli Tart
Tasty Kitchen: A Happy Recipe Community!
The Seaside Baker | Baking by the sea…
How Sweet It Is
Free Online Recipes | Free Recipes
Chinese Lemon Chicken Recipe
recipes - Pure Hedonist by Letitia Elizabeth
Unicorn Poop!
Kheer (Rice Pudding) Recipe
Kheer
Rice Kheer (Rice Pudding) | Rashmi's Recipes
phirni
How to make Rice Kheer (Chawal Ki Kheer) - Indian Sweet Dessert Recipe Video by Show Me The Curry,indian recipe, cooking videos, recipe videos
Averie Cooks
Recipe from the Archives: Chocolate Chip Cookies
Lulu the Baker
saving the world one bit[e] at a time
Tutti Dolci – All Sweets | baking – recipes – photography
Cookie and Kate - Celebrating whole foods with vegetarian recipes
How to Make Pecan Butter
Louisiana Kitchen | Authentic Cuisine, Culture and Travel
New Orleans Cuisine
Chef John Folse & Company
Cajun Cooking at Cooking Louisiana - Home Page
Chez Us » She cooks. He devours.
Home - Pastry Affair
Pinch My Salt - Food, Recipes, and Photography
Supper for a Steal - Shop the deals, save on meals
Benefits Of Green Drinks & The Ultimate Green Smoothie
SUE'S NUTRITION BUZZ —
Doña Lupe's Kitchen @ Doña Lupe's Kitchen
A Man Obsessed with Food, Drink, and Everything Inbetween - MattBites.com
aguas frescas
Online Cookbook | Excellent Source of Videos Recipes & Professional Chefs
entertaining
Agua Fresca Recipes: 10 Refreshing Drink Ideas
Make Those Agua Frescas Boozy Ones
Bayou Woman
The Best Remedy
Syrup and Biscuits - a blog about Southern food, culture and traditions
The Southern Bite | Stacey Little's Southern Food Blog
Urban Comfort
Angel in the Kitchen
Leite's Culinaria | Recipes, Food, and Cooking Blog
Blackberry Cobbler - Urban Comfort
Pink Grapefruit Cake (Part II) - Urban Comfort
Old Fashioned (AND SUPER EASY) Berry Cobbler
Southern Plate - Recipes from Below the Mason Dixon Line
Blackberry Cobbler #1
Simply Recipes Food and Cooking Blog
The Pioneer Woman Cooks | Ree Drummond
Icebox Cookies Recipe
homecanning.com
Eating Clean Recipes
Food52 - food community, recipe search and cookbook contests
Healthy. Happy. Life. | Vegan Blog | Vegan Recipes
Stately Sandwiches
The Kitchn | Inspiring cooks, nourishing homes
Chef Huda
popbar - Handcrafted Gelato on a Stick
Eater National : The National Restaurant, Bar, and Nightlife Blog
Sugar Donut Muffins » The Daily Dish Recipes
crabmeat brie soup
everydaycookin
::Everyday Cookin' - The Food Blog of Darius T. Williams
Everyday Cookin' [dot] com – The Official Food Blog of Darius T. William
Sunny Anderson
www.biteandbooze.com
Dining Blog - Dining Education for Foodies
Eating Made Easy
Search Recipes For Easy Recipes | Appetizers, Cooking Bread & Chicken Recipes, Soup, Baking Cake & More | Taste Of Home
Honey-Mustard Potato Salad Recipe
Healthy Recipes for Runners – Fit Foodist
Recipe for Mustard Potato Salad with Honey — Fit Foodist
Chow Ciao | Blogger Profile
The Noshery — a little something to nosh on
My Creole & Cajun Recipe Page | Nola Cuisine
Nola Cuisine | Celebrating the Food and Drink of New Orleans Louisiana!
The Gumbo Pages :: Make Levees, Not War
Aunt Clara's Kitchen: Dominican cooking, recipes, dishes, food and culinary culture
Baking & Dessert Recipes & Videos - Joyofbaking.com *Tested Recipes*
smitten kitchen
Bleezie's Playhouse
Tales of pigling bland
Bon Appetit Magazine
Burgers and Bourbon with BJ Coleman
Steamy Kitchen Recipes and Food Blog