Fashion/Lifestyle
I can't help it. When a person wearing what looks like a well worn in pair of jeans sits down, I subconsciously pay attention to a few areas: The shins, backs of knees, and the front-upper thighs. What I am looking for is the way the wear patterns match the wear. Usually, I notice that the stacks, whiskers, and honeycombs don't match the way the wearer is sitting. It's not their fault. Designer Distressed jeans have been around longer than I have, but I now think that they're all pointless.
Blog — Aristocracy Apparel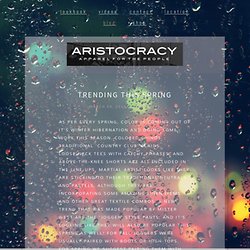 New Orleans Living Magazine, local business, health, food, fashion and more…
Kempt - world of men's style / fashion / grooming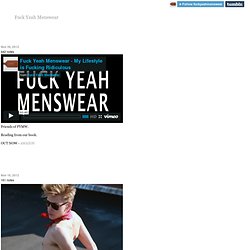 Fuck Yeah Menswear
Uh well-a well-a well-a Ugh. Tell me more. Err'body back from camp.
Lavish Magazine// Urban Style, Beauty, Culture, Politics
Individualism - Mens Style, Fashion and Streetwear Blog
Downeast and out
the style of a guy
hook+ALBERT
Off the Cuff. Classic. Modern. Style.
StyleBlazer | The #1 Fashion Obsession for Women of Color
naiise.wordpress.com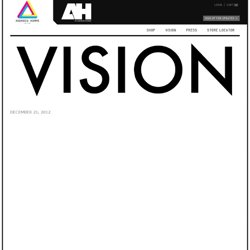 Automobile recently revealed that German automaker BMW is still working on the M8, the long-awaited successor to the original 1981 M1. There are still disagreements to be worked over as BMW's CEO Norbert Reithofer isn't quite all for it yet, while M Division president Friedrich Nitschke "doesn't take no for an answers." One solution, Automobile offers, is to put the M8 on the same carbon fiber and aluminum platform as the i8.
Vision • Android Homme
The Emerging Man
LAist: Los Angeles News, Food, Arts & Events
The Gentleman's Daily
PrettierThanPerez.com
www.funkydineva.com
Mike & Mimi
Davey Wavey Fitness - Workouts For Men, Exercise Tips & Fitness Advice
The Daily Basics
DIG - Baton Rouge Uncovered
Tabloid Prodigy
The Influencer Culture. |
Blog | B. Scott videos, photos and blog: Official website
STREET FASHION STYLE: A San Francisco and New York Street Style Blog (SF to NYC!)
What I Saw Today
They call it "work". Lol #fashion #menswear #shirts #sergiowonder #style #designers #atwork @sirmichaelfernandez [& friends] wear Sergio James large "Jo" necklaces and "guilty" bracelets for his music video. #fashion #music #sergiojames #sergioandjames #Accessories #jewelry #necklaces #bracelets #NewYork #nyc #soho #throwbackthursday #tbt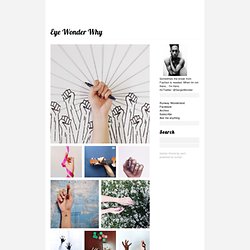 Eye Wonder Why
www.didntinviteme.net
The Imagist | Everything Is Image
GayCities - Gay bars, hotels, restaurants with reviews, maps, photos - GayCities
New Orleans by goNOLA.com: The "What's going on in New Orleans?" Blog
Healthy Black Men | African American Health, Black Mens Health,
HomoCouture.Com