Advertising and psychology
Psychology and advertising. Mind Hacks Neuroscience and psychology news and views. « mindhacks is now on twitter GABA gimmick in a can » Psychology and advertising Here are links to some old posts about psychology and advertising.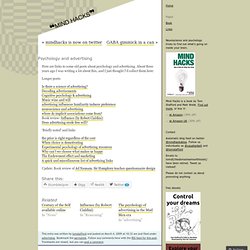 The Psychology of Advertising. How often have you seen a teeth-whitening ad that shows the person with bright, white teeth as more attractive — sexier even?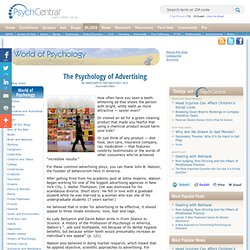 Or viewed an ad for a green cleaning product that made you fearful that using a chemical product would harm your kids? Or just think of any product — diet food, skin care, insurance company, car, medication — that features celebrity testimonials or the words of other consumers who've achieved "incredible results." For these common advertising ploys, you can thank John B. Watson, the founder of behaviorism here in America. After getting fired from his academic post at Johns Hopkins, Watson began working for one of the biggest advertising agencies in New York City, J.
Psychology of advertising. Advertising and its Mental Laws. Our systems have detected unusual traffic from your computer network.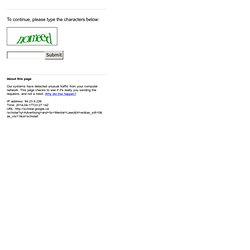 This page checks to see if it's really you sending the requests, and not a robot. Why did this happen? This page appears when Google automatically detects requests coming from your computer network which appear to be in violation of the Terms of Service. The block will expire shortly after those requests stop. Carl Jung. Carl Gustav Jung (/jʊŋ/; German: [ˈkarl ˈɡʊstaf jʊŋ]; 26 July 1875 – 6 June 1961), often referred to as C.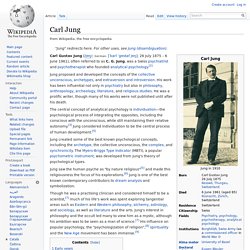 G. Jung, was a Swiss psychiatrist and psychotherapist who founded analytical psychology.[2] Jung proposed and developed the concepts of extraversion and introversion; archetypes, and the collective unconscious. His work has been influential in psychiatry and in the study of religion, philosophy, archeology, anthropology, literature, and related fields. He was a prolific writer, many of whose works were not published until after his death. The central concept of analytical psychology is individuation—the psychological process of integrating the opposites, including the conscious with the unconscious, while still maintaining their relative autonomy.[3] Jung considered individuation to be the central process of human development.[4]
Myths-Dreams-Symbols- The Psychology of Dreams. Symbols and psychology. Psychology Symbol Information Guide. Psychology Symbol Thinking About Becoming A Psychology Student?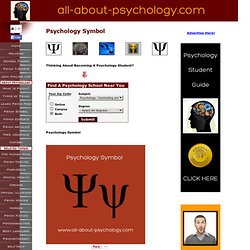 Find A Psychology School Near You Psychology Symbol When you study psychology you quickly discover that the universal symbol for the discipline is the pitchfork shaped image like the one in the picture above. Now while this is great for short hand purposes i.e. drawing the symbol rather than having to spell out the word psychology in full, have you ever wondered about where the psychology symbol originates? Advertising and psychology. Advertising and psychology.
---