Fractals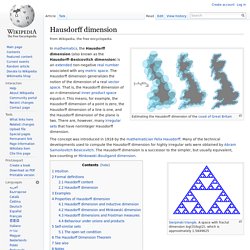 Hausdorff dimension
In mathematics , the Hausdorff dimension (also known as the Hausdorff–Besicovitch dimension ) is an extended non-negative real number associated with any metric space .
Sierpinski triangle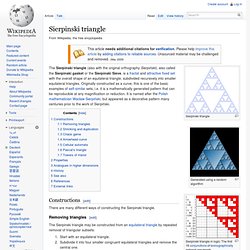 Sierpinski triangle
Snowflakes forming complex symmetrical patterns is an example of emergence in a physical system. In philosophy , systems theory , science , and art , emergence is the way complex systems and patterns arise out of a multiplicity of relatively simple interactions.
Emergence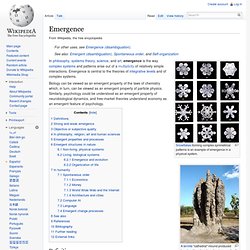 In mathematics , in the field of differential equations , a boundary value problem is a differential equation together with a set of additional restraints, called the boundary conditions . A solution to a boundary value problem is a solution to the differential equation which also satisfies the boundary conditions. Boundary value problems arise in several branches of physics as any physical differential equation will have them.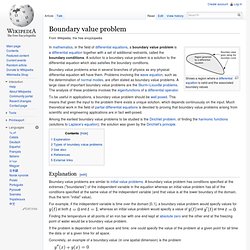 Boundary value problem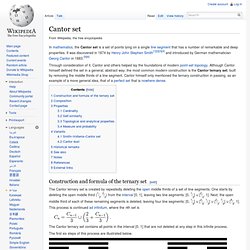 In mathematics , the Cantor set is a set of points lying on a single line segment that has a number of remarkable and deep properties. It was discovered in 1874 by Henry John Stephen Smith [ 1 ] [ 2 ] [ 3 ] [ 4 ] and introduced by German mathematician Georg Cantor in 1883. [ 5 ] [ 6 ]
Cantor set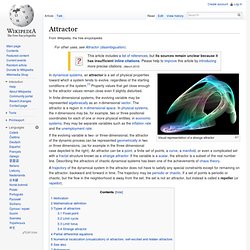 Visual representation of a strange attractor An attractor is a set towards which a variable , moving according to the dictates of a dynamical system , evolves over time.
Attractor
The Sierpinski carpet is a plane fractal first described by Wacław Sierpiński in 1916.
Sierpinski carpet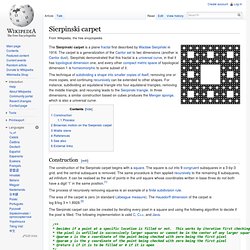 Figure 1a.