Creative life
Ol Street Art & Inventive Urban Art - Mr Pilgrim Graffiti Artist. Collection of Inventive Urban Art & Cool Street Art One of the great things about cool street art is how inventive and original it can be.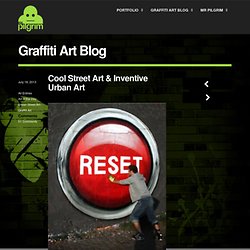 It can be incredible how some people perceive the world and can create something seemingly out of nothing. It is the essence of opportunistic art and is often the most quoted and memorable pieces. Not all of the pieces I have included are created like this but are equally inventive and original. See more cool street art, inventive urban art & graffiti art online on Mr Pilgrim's google plus or facebook pages. 24 Clever Print Ads. Pencil sketches that seem to stand up off the page [12 pictures]
Japanese graphic design from the 1920s-30s. In the 1920s and 1930s, Japan embraced new forms of graphic design as waves of social change swept across the nation.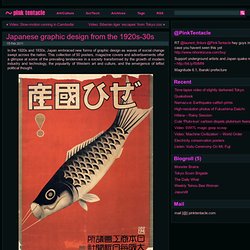 This collection of 50 posters, magazine covers and advertisements offer a glimpse at some of the prevailing tendencies in a society transformed by the growth of modern industry and technology, the popularity of Western art and culture, and the emergence of leftist political thought. "Buy Domestic! " poster, 1930 [+] Cover of "Nippon" magazine issue #1, Oct 1934 [+] "Fuji Weekly" cover, Oct 1930 [+]
10 Awesome Infographics for Graphic Designers. As a graphic designer, you've probably designed at least a few infographics for your clients – or even for fun.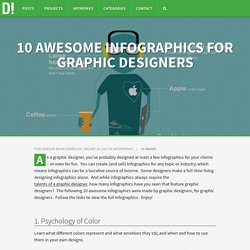 You can create (and sell) infographics for any topic or industry, which means infographics can be a lucrative source of income. Some designers make a full-time living designing infographics alone. And while infographics always require the talents of a graphic designer, how many infographics have you seen that feature graphic designers?
The following 10 awesome infographics were made by graphic designers, for graphic designers. Follow the links to view the full infographics. Playtype | Typographer's Glossary. Serif: Serif's are semi-structural details on the ends of some of the strokes that make up letters and symbols.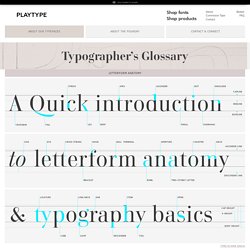 A typeface that has serifs is called a serif typeface (or seriffed typeface). Some of the main classifications of Serif type are: Blackletter, Venetian, Garalde, Modern, Slab Serif, Transitional, and Informal. Fonts in each classfication share certain similiar characteristics including the shape or appearance of their serifs. Serif fonts are widely used in traditional printed material such as books and newspapers. Coasting into Spring | Sharpie Markers Official Blog.
Getting antsy for Spring to come?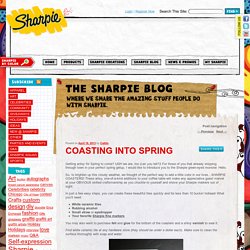 UGH we are, too (can you tell?)! For those of you that already skipping through town in your perfect spring getup, I would like to introduce you to the Sharpie green-eyed monster. Hello. So, to brighten up this cloudy weather, we thought of the perfect way to add a little color in our lives…SHARPIE COASTERS! These artsy, one-of-a-kind additions to your coffee table will make any appreciative guest marvel at your OBVIOUS skilled craftsmanship as you chuckle to yourself and shove your Sharpie markers out of sight. How Famous Companies Got Their Names.
Psychology of Color [Infographic] | WebpageFX Blog. While color can be appealing to us visually, a lot more is going on behind the scenes than just an aesthetic.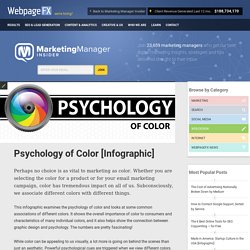 Powerful psychological cues are triggered when we view different colors. Colors evoke emotions, moods and feelings. Whether you are a designer or a consumer, knowing the power of color psychology can help you make better decisions. Photographs of Mirrors on Easels that Look Like Paintings in the Desert. Daniel Kukla is a photographer who had formal training in biological and anthropological sciences.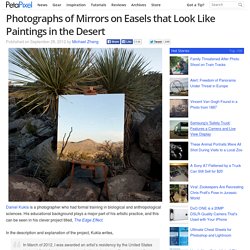 His educational background plays a major part of his artistic practice, and this can be seen in his clever project titled, The Edge Effect. In the description and explanation of the project, Kukla writes, In March of 2012, I was awarded an artist's residency by the United States National Park Service in southern California's Joshua Tree National Park. While staying in the Park, I spent much of my time visiting the borderlands of the park and the areas where the low Sonoran desert meets the high Mojave desert. 10 Most Creative Packaging Design - Part II. Erkan | On 20, Oct 2012 Creative packaging is regarded as one of the most commonly seen illustration of graphic design.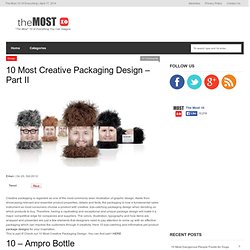 Aside from showcasing relevant and essential product properties, details and facts, the packaging is now a fundamental sales instrument as most consumers choose a product with creative, eye-catching packaging design when deciding on which products to buy. Therefore, having a captivating and exceptional and unique package design will make it a major competitive edge for companies and suppliers. The colors, illustration, typography and how items are wrapped and presented are just a few elements that designers need to pay attention to come up with an effective packaging which can impress the customers through it creativity.
Moss Graffiti. Op Art and Music | Op-art.co.uk | Op-Art.co.uk. WRITING. Imagery on Fabric: A Complete Surface Design Handbook - Jean Ray Laury. 4fef75ba9d899.jpg (JPEG Image, 521×960 pixels) - Scaled (94%) Judith Ann Braun's Fingers Are Magical. With an art career spanning more than three decades, Judith Ann Braun has tested the limits of her artistic musculature.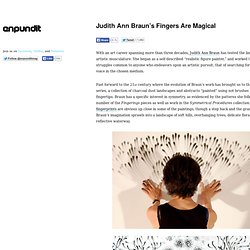 She began as a self-described "realistic figure painter," and worked through the struggles common to anyone who endeavors upon an artistic pursuit, that of searching for one's own voice in the chosen medium. Fast forward to the 21st century where the evolution of Braun's work has brought us to the Fingerings series, a collection of charcoal dust landscapes and abstracts "painted" using not brushes but her fingertips. 3D animated video instructions . Make a Peace crane, a flapping bird and a shirt. » 30 Essential PDF Documents Every Designer Should Download. Positive Space 30 Essential PDF Documents Every Designer Should Download Well it took me a lot longer than I had originally expected but I was able to track down the original links to more than thirty PDF documents that I have collected over the past couple of years.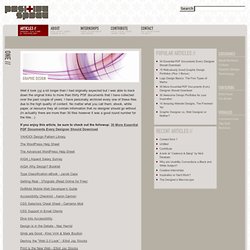 Skout™ • resources + for designers + by designers. Designers' List - Great resources and websites for designers. Workshops. Willow Withy Model Making Research in a chosen curriculum area is done before designs are made to create decorated sculptures made with willow, tape and tissue paper. The process engages children in a cross section of learning areas including the research subject, design drawing, 2-D or 3-D planning design, problem solving, working in a team and construction skills. The design can involve varying degrees of complexity depending on a group's age, with the focus being concentrated on decoration for young children.
Printing. Mixed Media Art Canvas - Steampunk Dragonflies. Vandalized Vandalism. Monotyping With GOLDEN Acrylics. Extend the use of old suitcases in a creative way. Anglo Felt. Arborsmith Studios. Public Art Concepts - Dan Sternof Beyer 2011. Fascinating Lamps by Calabarte.
Stunning Installations From Luzinterruptus Shed Light On Environmental Issues. 유진 박's pin:Bookbinding tutorial. Ferrofluids Go Next Level Technicolor In Fabian Oefner's Amazing Images.
Specialist shops
Sculptures/Modeling | beautifullife.info. Sébastien Preschoux | Thread Installations. Projects. How To Draw A Wave | Club Of The Waves. How to Make Leaf Skeletons. You must Face Reality! You knew i was going to make one. Jimmie Martin. HUH. The johnson banks thought for the week. Sidewalk chalk guy.
Zig Zag Accordion Streamers DIY. Gift Ideas for Poor Creative Souls (13) Most favorited all-time. Learn korean in 15minutes ! | keeploling.com | keeploling with lolcentre. Drowning Beautiful | Share Your Stickman Drawings - Draw a Stickman.
Moraine Lake, Banff National Park, Canada. Illustrator tutorials: 50 awesome ideas to try today! Gear : Design Magazine. New : NestRest - Contemporan. Sistine Chapel. Concept Design by edigu. Seamless Pattern Background Designs.
---