Customer development
Social network marketing: Getting from zero to critical mass. (above is a picture of fun San Francisco tradition called Critical Mass in which cyclists take over the street!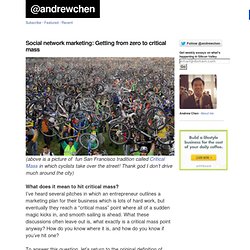 Thank god I don't drive much around the city) What does it mean to hit critical mass? I've heard several pitches in which an entrepreneur outlines a marketing plan for their business which is lots of hard work, but eventually they reach a "critical mass" point where all of a sudden magic kicks in, and smooth sailing is ahead. How to calculate cost-per-acquisition for startups relying on freemium, subscription, or virtual items biz models. Buying ads make sense for direct monetizing products When it comes to products that directly monetize their audience using subscription, ecommerce, virtual items, etc., it can make a lot of sense to rely on advertising as a distribution channel.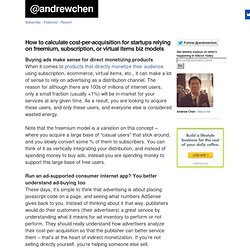 The reason for although there are 100s of millions of internet users, only a small fraction (usually <1%) will be in-market for your services at any given time. As a result, you are looking to acquire these users, and only these users, and everyone else is considered wasted energy. Facebook viral marketing: When and why do apps ?jump the shark? Excel spreadsheet download For those of you who are interested in the gory details, please download the following spreadsheet here: Viral and Retention Excel Model (Click to download) Math warning!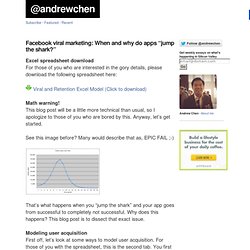 Lessons Learned – Viral Marketing. A short study of this web site reveals that a hugely important factor for success in startup companies is finding ways to acquire customers at a low cost.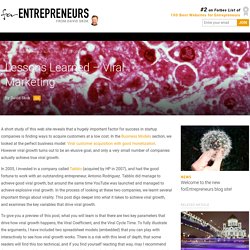 In the Business Models section, we looked at the perfect business model: Viral customer acquisition with good monetization. However viral growth turns out to be an elusive goal, and only a very small number of companies actually achieve true viral growth. In 2005, I invested in a company called Tabblo (acquired by HP in 2007), and had the good fortune to work with an outstanding entrepreneur, Antonio Rodriguez. A Spreadsheet Model for Viral Growth — Mark de Visser. When you are working to build your personal brand, it is important that you contribute relevant and timely information about your topic of interest.
I assume you have chosen a topic to which you can add value based on your passion, skill and passion. But a large part of your ability to be relevant and timely comes from the hard work you put in research, writing and distribution/promotion of your content. And if you are like most of us, you have only limited time to dedicate to your branding work, so being efficient and finding the right tools will determine whether your efforts succeed or not.
There are great tools to help you save time and make it easier to get your brand out. And many of these tools are free.
---