Customer development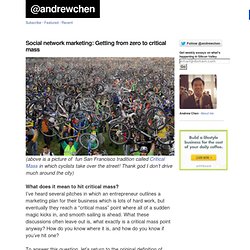 Social network marketing: Getting from zero to critical mass
(above is a picture of fun San Francisco tradition called Critical Mass in which cyclists take over the street! Thank god I don't drive much around the city) What does it mean to hit critical mass?I've heard several pitches in which an entrepreneur outlines a marketing plan for their business which is lots of hard work, but eventually they reach a "critical mass" point where all of a sudden magic kicks in, and smooth sailing is ahead.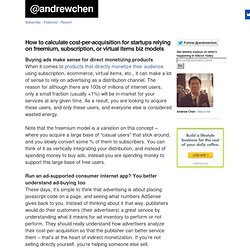 Buying ads make sense for direct monetizing products When it comes to products that directly monetize their audience using subscription, ecommerce, virtual items, etc., it can make a lot of sense to rely on advertising as a distribution channel. The reason for although there are 100s of millions of internet users, only a small fraction (usually <1%) will be in-market for your services at any given time. As a result, you are looking to acquire these users, and only these users, and everyone else is considered wasted energy.
How to calculate cost-per-acquisition for startups relying on freemium, subscription, or virtual items biz models
Excel spreadsheet download For those of you who are interested in the gory details, please download the following spreadsheet here: Viral and Retention Excel Model (Click to download) Math warning!
Facebook viral marketing: When and why do apps ?jump the shark?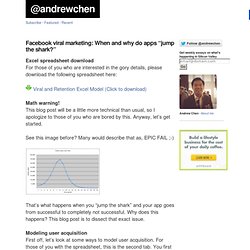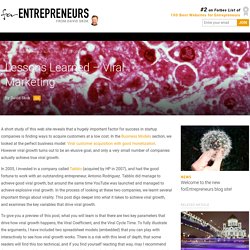 A short study of this web site reveals that a hugely important factor for success in startup companies is finding ways to acquire customers at a low cost.
A Spreadsheet Model for Viral Growth — Mark de Visser