Arquitectura
Psychology of Color | Miss Centsible. Hotel Fasano Boa Vista, Brazil. NYC's Stairway to Heaven. Scheduled to be up and running this summer, the Mercedes House by Ten Arquitectos will provide a fresh new look to the bustling streets of Midtown Manhattan.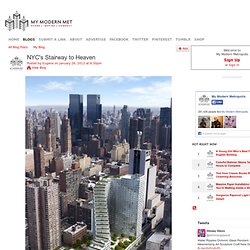 With spectacular views of De Witt Clinton Park and the Hudson River, the building zig zags vertically and diagonally to preserve city side streets. The winding feature of the structure also allows for each residential unit to enjoy natural light and air throughout the day, and many even have their very own rooftop garden. Furniture. Japanese Modern Architecture. Studio aisslinger - Home. Natural Pools or Swimming Ponds. Natural Pools or Natural Swimming Ponds (NSPs) Let nature clean the water...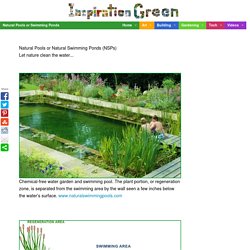 Chemical-free water garden and swimming pool. The plant portion, or regeneration zone, is separated from the swimming area by the wall seen a few inches below the water's surface. www.naturalswimmingpools.com. Design Within Reach: The Best in Modern Furniture and Modern Design. Architonic | architecture and design. Looks like good Triangulo House by Ecostudio Architects. 4500 Square Feet Tropical House on a Very Small Lot But With a Garden. Luxury Home For Sale in Whistler « Luxury Furniture, Property, Travel & Interior Design. Luxury woodland property in Whistler Sothebys Realty Canada have recently listed this luxury property situated in the prestigious location of Whistler for sale at a price of $14,995,000 The 4,800 sqft home, constructed in 2004, features 6 bedrooms and 7 bathrooms each finished off to the highest of standards, and features a host of luxury appliances and contemporary furniture.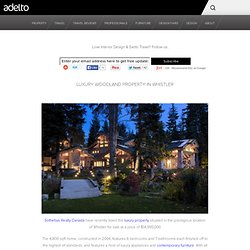 With all the privacy and seclusion one could hope for this perfectly designed home has been built with every detail in mind. Lofted Space-Saving Furniture for Bedroom Interiors | Designs &Ideas on... - StumbleUpon. Tumidei is more than just a furniture company – they construct modern and relatively inexpensive (no, not cheap) pieces of furniture that they also create compositions from – interior design photos that you can use to shape your own space.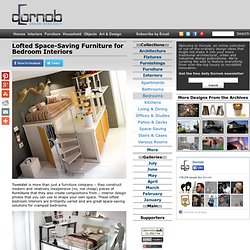 These lofted bedroom interiors are brilliantly varied and are great space-saving solutions for cramped bedrooms. A lot of these lofted interiors are clearly designed for children and teens in terms of sizes, colors and material quality. They incorporate elements needed for a student office, plenty of clothing, game and toy storage and stairs that older people might not be as eager to climb. For a small space (and a small person) one could really see the appeal of fitting everything in. The Sifter's Top 10 Homes of 2010.
If you're a regular reader of the Sifter you're familiar with my real estate fascination.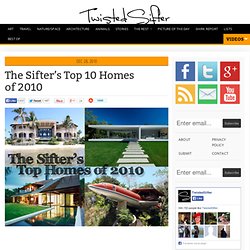 I love posting all types of homes. From the unique and interesting to the grand and opulent. Moshe Safdie: Singapore | EMPTY KINGDOM You are Here, We are Everywhere. Interior Design, Architecture and Contemporary Homes Magazine - HomeDSGN, a daily source for inspiration and fresh ideas on interior design and home decoration. Luxury Villa Amanzi, Thailand by Original Vision Studio « Luxury Furniture, Property, Travel & Interior Design. Luxury Villa Amanzi, Thailand by Original Vision Studio The Villa Amanzi by Architect firm Original Vision Studio is a stunning modern vacation residence located in the exclusive Cape Sol on the West coast of Phuket, Thailand.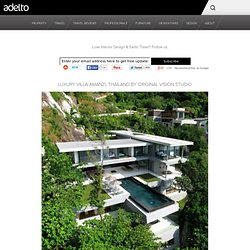 Villa Amanzi is a stunning six bedroom residence with a 15m infinity pool and breathtaking views over the Andaman Sea. This luxury villa enjoys a spectacular headland location along Kamala's exclusive Millionaires Mile and captures cool gentle breezes all year round with uninterrupted sea views from every vantage point, in one of the most breathtaking locations Phuket has to offer. The contemporary design features ultra modern architecture and interiors that combine to provide guests with the optimal environment to relax and unwind in unspoilt luxury. Trendir - Home Decorating Trends magazine. Curbly | DIY Design Community. Dornob | Modern Home, Interior & Furniture Designs & DIY Ideas. Architecture Linked - Architect & Architectural Social Network.
PlusMOOD.
---