Meals and Sides
Get flash to fully experience Pearltrees
There's a thing in my house that when you have ripe ol bananas either you make banana bread or banana fritters. These delicious tasty treats can be eaten morning, noon, or night, as a snack or as dessert.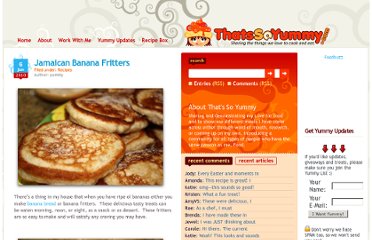 A repeat offender in the lede-burier category, let me begin with what matters: this is absolutely my new favorite quick and obsessively delicious way to prepare mushrooms. And now, a story. Once upon a time, I was a vegetarian who loved going to steakhouses. A friends birthday would approach and out of kindness to me, they'd start talking about gathering friends at a restaurant that had vegetarian options and I'd beg them to go to a steakhouse instead.
If you've ever tasted pesto in Italy you know that the pesto here in the United States just isn't the same. I received a lesson in how to make pesto from a real Italian grandmother last week and now I understand the difference and what makes it so.
Sooner or later, all my conversations inevitably turn to food.
Steak au Poivre is one of those gorgeous meals that fills the house, is showy to make in front of guests and makes you want to curl into the couch after dinner, completely content and satisfied.
Ingredients 1 cup dried mushrooms, such as shiitake, porcini or chanterelle 1 cup bulgur (see ingredient note) 1 cup boiling water 2 tsp extra virgin olive oil 1 small onion, chopped 1 stalk celery, chopped 2 cloves garlic, minced 1 Tbsp Worcestershire sauce 1 can 15-ounce diced tomatoes, drained ½ cup non-fat evaporated milk ½ cup ketchup 1 large egg 2 large egg whites 1 ½ lb 90%-lean ground beef 1 cup fine bread crumb ¼ cup chopped fresh parsley 2 tsp dried thyme ½ tsp salt Directions 1.
Doron Schlair total prep 491 calories/serving 1 1/2 cups water 3/4 cups quinoa 1 tablespoon olive oil, plus additional for greasing pan 1 medium onion, finely chopped 1 large celery rib, finely chopped 1 carrot, finely chopped 10 ounces crimimi mushrooms, trimmed and chopped 2 garlic cloves, finely chopped 2 pounds grass-fed beef or buffalo 1/2 cup chopped flat leaf parsley 2 large organic eggs 2 tablespoons Worcestershire sauce 1/2 teaspoon each salt and pepper 1 cup organic ketchup or more to cover meatloaf Preheat oven to 375°F.
The following article was written by Keegan Baur. Spring is upon us, and I, for one, am so ready for warm weather. This past weekend, I wanted to cook a fresh and light dinner and decided to try the Avocado Pesto Pasta dish à la Chef Chloe .
Oven-fresh bread is one of life's simple joys.