For-Profit incarceration
The Corrupt Corporate Incarceration Complex | Truthout. Seventeen-year-old Hillary Transue did what lots of 17-year-olds do: Got into mischief.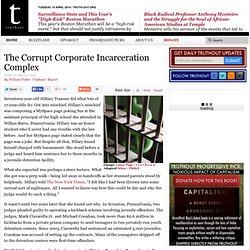 Hillary's mischief was composing a MySpace page poking fun at the assistant principal of the high school she attended in Wilkes-Barre, Pennsylvania. Hillary was an honor student who'd never had any trouble with the law before. And her MySpace page stated clearly that the page was a joke. But despite all that, Hilary found herself charged with harassment. Public Safety Shouldn't Be Privatized, Fasano Says - Video. The Private Prison Business. The Influence of the Private Prison Industry in Immigration Detention | Detention Watch Network.
Introduction Since the late 1990's, the number of people held in immigration detention has exploded.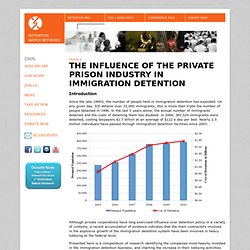 On any given day, ICE detains over 33,000 immigrants; this is more than triple the number of people detained in 1996. In the last 5 years alone, the annual number of immigrants detained and the costs of detaining them has doubled: in 2009, 383,524 immigrants were detained, costing taxpayers $1.7 billion at an average of $122 a day per bed. Nearly 2.5 million individuals have passed through immigration detention facilities since 2003. U.S. Private Prison Population Grew 37 Percent Between 2002-2009 As Industry Lobbying Dollars Grew 165 Percent. By Zaid Jilani on September 26, 2011 at 1:40 pm "U.S.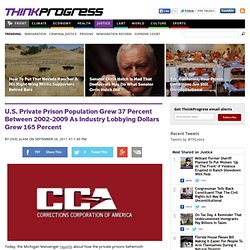 Private Prison Population Grew 37 Percent Between 2002-2009 As Industry Lobbying Dollars Grew 165 Percent" Today, the Michigan Messenger reports about how the private prisons behemoth Corrections Corporations of America grew over the last decade, expanding both its prisoner population and its political clout. The Messenger cites data from the U.S. Department of Justice showing that the private prison population grew from 87,369 to 129,336 from 2000 to 2009: Unholy Alliance | Public Campaign. How the private prison industry is corrupting our democracy and promoting mass incarceration New report from: November 15, 2011 Introduction.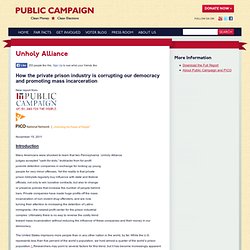 A Brief History of Private Prisons in Immigration Detention | Detention Watch Network. Although the number of privately managed immigration detention beds has grown drastically since 1996, corporations have actually dominated the field for more than two decades.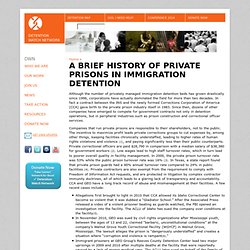 In fact a contract between the INS and the newly formed Corrections Corporation of America (CCA) gave birth to the private prison industry itself in 1983. Since then, dozens of other companies have emerged to compete for government contracts not only in detention operations, but in peripheral industries such as prison construction and correctional officer services.
David Donnelly: Private Prisons Industry: Increasing Incarcerations, Maximizing Profits and Corrupting Our Democracy. Earlier this year in Louisiana, a plan by Gov.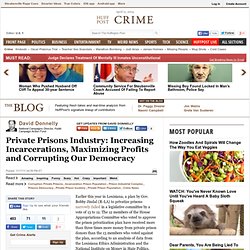 Bobby Jindal (R-LA) to privatize prisons narrowly failed in a legislative committee by a vote of 13 to 12. The 12 members of the House Appropriations Committee who voted to approve the prison privatization plan have received more than three times more money from private prison donors than the 13 members who voted against the plan, according to an analysis of data from the Louisiana Ethics Administration and the National Institute on Money in State Politics. Gov. Jindal himself has taken nearly $30,000 from the private prison industry. This is but one example of many in a new report from Public Campaign and PICO National Network, Unholy Alliance: How the Private Prison Industry is Corrupting Our Democracy and Promoting Mass Incarceration, highlighting the increasingly powerful and influential private prison industry.
---