News ENG Politique 2
Home. RT – Latest News. Salon.com. Secrecy News. The Director of National Intelligence has forbidden most intelligence community employees from discussing "intelligence-related information" with a reporter unless they have specific authorization to do so, according to an Intelligence Community Directive that was issued last month.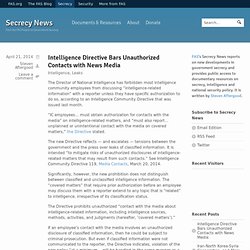 "IC employees… must obtain authorization for contacts with the media" on intelligence-related matters, and "must also report… unplanned or unintentional contact with the media on covered matters," the Directive stated. The new Directive reflects — and escalates — tensions between the government and the press over leaks of classified information. It is intended "to mitigate risks of unauthorized disclosures of intelligence-related matters that may result from such contacts." Slate Magazine. T r u t h o u t. The Palestine Telegraph. The Konformist. DRUDGE REPORT 2010® Breaking News and Opinion on The Huffington Post.
Talking Points Memo | Breaking News and Analysis. Rusmedia – the infochannel of Euro-Rus. Home. Cryptome. The Official Website of Ilan Pappé. The Cato Institute.
Information and commentary not to be found in the mainstream med. Media Matters for America. Hoover Institution. The Conservative Voice News and Columns. Bad Subjects: Political Education for Everyday Life. The Free Expression Policy Project. War in Context -
---
vincent4711 Dec 25 2009

You're welcome! Merry Xmas to you too.

vincent4711 Dec 25 2009

No prob, I'll check your sites...

salvadorrusso Dec 25 2009

Thanks for the links =) Check my ecommerce sites and let me know if I can help =) Merry Christmas!
---