Writing
Resources for collaborative writing - ideas, online, for students and teachers May 11
Poetica: Make words easy
StoryJumper: Publish and read children's story books
Docs Templates
The interactive Printing Press is designed to assist students in creating newspapers, brochures, and flyers. Teachers and students can choose from several templates to publish class newspapers, informational brochures, and flyers announcing class events. Text added to the templates can be modified using a simple WYSIWYG editor, which allows students to choose text features, such as font size and color.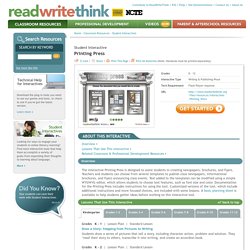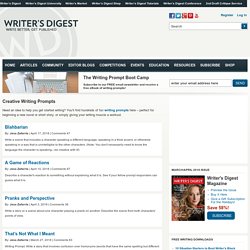 [description]Get daily creative writing prompts for your short story, fiction or nonfiction novel, essay and more at WritersDigest.com.[/description] [keywords]writing prompts, creative writing prompts, expository writing prompts, writing prompt[/keywords] Need an idea to help you get started writing? You'll find hundreds of fun writing prompts here – perfect for beginning a new novel or short story, or simply giving your writing muscle a workout.
Pre-writing with Dr. Seuss
This afternoon someone emailed me asking for some suggestions for tools for creating book trailer videos. It has been two years since I last wrote about the topic so I created a new list of tools for creating book trailers. Book trailers are short videos designed to spark a viewer's interest in a book. Having students create book trailers is an excellent alternative to traditional book report projects.
5 Tools Students Can Use to Create Alternative Book Reports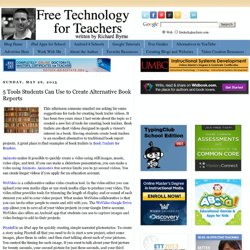 Activeprompt
From the same wonderful anthology of How to Use the Power of the Printed Word , I am sharing with you some great strategies to improve your writing style advocated by the popular writer Kurt Vonnegut and featured in Brainpickings. Everyone of us is a struggling writer no matter how skilled we are at writing. This is the case even with the well-known authors because writing is an " unfinished ongoing and developing craft ".
8 Excellent Rules to Improve your Writing Style ~ Educational Technology and Mobile Learning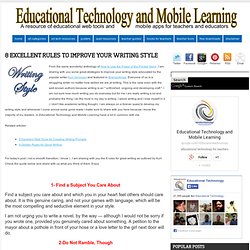 Meograph – 4 Dimensional Story Telling Web 2.0 Style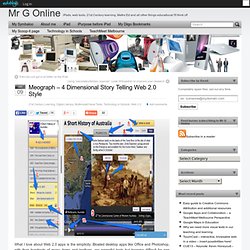 What I love about Web 2.0 apps is the simplicity. Bloated desktop apps like Office and Photoshop, with their hundreds of menu items and toolbars, are powerful tools but become difficult for non techies to handle. Web 2.o tools, on the other hand, are focused on specific purposes, allowing them to be streamlined and simple enough for anyone to use.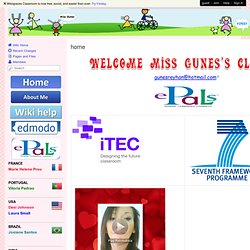 esltevfikileri - home
Get your brand new Wikispaces Classroom now and do "back to school" in style. guest Join | Help | Sign In esltevfikileri Home
Remember on this one thing, said Badger. The stories people tell have a way of taking care of them. If stories come to you, care for them. And learn to give them away where they are needed.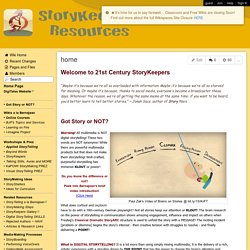 StoryKeepers - home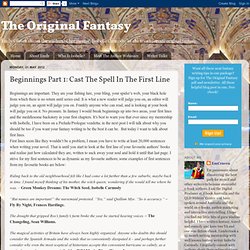 Beginnings are important. They are your fishing lure, your bling, your spider's web, your black hole from which there is no return until series end. It is what a new reader will judge you on, an editor will judge you on, an agent will judge you on. Frankly anyone who can read, and is looking at your book will judge you on it. No pressure.
The Original Fantasy: Beginnings Part 1: Cast The Spell In The First Line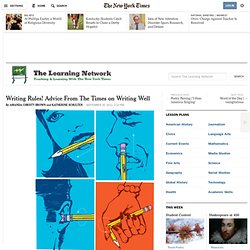 Writing Rules! Advice From The Times on Writing Well
The Times has recently published a few features that we consider gifts to English teachers everywhere, including a summer "How To" section of the Sunday Book Review, and a new series, called "Draft," on the art of writing, which features essays by grammarians, historians, linguists, journalists, novelists and others. Below, we collect some "rules" we've derived from these features and from other pieces on the Times site, along with links and related activities we hope writers at any stage will find fun or useful — or both. Before you go, please note Rule 10, in which we ask for your writing advice. Rule 1: Listen to the Voice Inside Your Head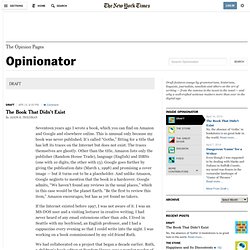 John Wells and I have been together a very long time. If you haven't heard of Wells, he's a C.I.A. operative who plays the starring role in a series of espionage thrillers that I started writing a decade ago. Random House published the first, "The Faithful Spy," in 2006.
Flash Fiction Online
This is a tooltip bear collar crowd dog fence
ACMI Story Monster
Tristan Bancks | Australian Children's Author | Children's Books: Story Scrapbook
New Web-Based Version of Story Scrapbook Coming Early 2014!!Greater shareability, easier embedding of content and fixes for bugs in current app version. This free contemporary storytelling tool for Mac and PC lets you bring together images, video, music, text and web grabs on virtual pages, making creative writing interactive and fun. It is based on my own multimedia-fuelled writing process, bringing the writing process alive for people who think visually, interactively and aurally, as well as textually. Story Scrapbook lets you tell stories your way.
FREE Graphic Organizers for CSI
StoryKeepers - VideoMaking ToolKits
Four Web 2.0 Collaborative-Writing Tools