Monitoring
Dizionario SEO. CPC, anchor text, crawler, SERP, PageRank… quando un SEO parla o scrive un articolo, il risultato è praticamente incomprensibile per la maggior parte della gente.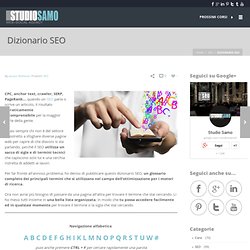 Quasi sempre chi non è del settore è costretto a sfogliare diverse pagine web per capire di che diavolo si sta parlando, perché il SEO utilizza un sacco di sigle e di termini tecnici che capiscono solo lui e una cerchia ristretta di addetti ai lavori. Per far fronte all'annoso problema, ho deciso di pubblicare questo dizionario SEO, un glossario completo dei principali termini che si utilizzano nel campo dell'ottimizzazione per i motori di ricerca.
Ora non avrai più bisogno di passare da una pagina all'altra per trovare il termine che stai cercando. Li ho messi tutti insieme in una bella lista organizzata, in modo che tu possa accedere facilmente ed in qualsiasi momento per trovare il termine o la sigla che stai cercando. Navigazione alfabetica. 33 strumenti SEO gratuiti: guida definitiva ai SEO Tools | Studio Samo. Quello che non si paga è sempre bello, e se ti piacciono gli strumenti SEO, di sicuro amerai questa lista di ben 33 strumenti SEO gratuiti.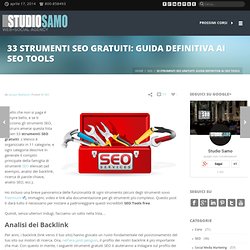 L'elenco è organizzato in 11 categorie, e ogni categoria descrive in generale il compito principale della famiglia di strumenti SEO elencati (ad esempio, analisi dei backlink, ricerca di parole chiave, analisi SEO, ecc.). Ho incluso una breve panoramica delle funzionalità di ogni strumento (alcuni degli strumenti sono freemium), immagini, video e link alla documentazione per gli strumenti più complessi. Questo post ti darà tutto il necessario per iniziare a padroneggiare questi incredibili SEO Tools free. Quindi, senza ulteriori indugi, facciamo un salto nella lista… Analisi dei Backlink. SEO. SEO / SEM. Concepts SEO. SEO.
SEO Tools. Infographic: The Death Of SEO, Failed Predictions Over The Years. SEO has been declared "dead" almost from when it first began, as our post from a few years ago, Is SEO Dead?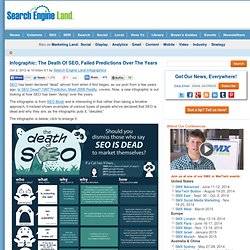 1997 Prediction, Meet 2009 Reality, covers. Now, a new infographic is out looking at how SEO has been "dying" over the years. The infographic is from SEO Book and is interesting in that rather than taking a timeline approach, it instead shows examples of various types of people who've declared that SEO is dead and why they are, as the infographic puts it, "deluded." 18+ SEO Excel Functions | Blind Five Year Old. SEO and Excel are like chocolate and peanut butter - great together.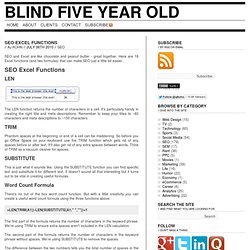 Here are 18 Excel functions (and two formulas) that can make SEO just a little bit easier. SEO Excel Functions The LEN function returns the number of characters in a cell. It's particularly handy in creating the right title and meta descriptions. SEO Copywriting for User Experience. Seo study guides. Audience Measurement, Lookalike Modeling, Audience Buying. SEO Hacker - Online SEO School. Real Time Search - Social Mention. Wildfire Social Media Monitor. Google. SocialPointer- Real-Time Social Media Marketing Tools Campaign & Tactics. Social Network Analysis. Web2.0. Search Socially. TermWiki - dedicata all'apprendimento. Doochoo, un nuovo modo di fare ricerche di mercato. Sfruttare le ricerche di mercato per raccogliere più informazioni possibili sui propri utenti, così da raffinare poi le ricerche stesse.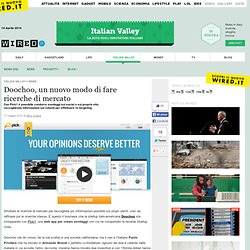 È questo il business che la startup italo-americana Doochoo sta sviluppando con Pick1, una web app per creare sondaggi con cui ha conquistato la recente Startup Chile. Doochoo (da do chose, fai la tua scelta) è una società californiana, ma il ceo è l'italiano Paolo Privitera che ha trovato in Armando Biondi il perfetto co-fondatore: ognuno dei due è carente nelle materie in cui eccelle l'altro, racconta.
Insieme hanno trovato due investitori e con 150mila dollari hanno messo in piedi dal 2009 un team di quattordici persone che ora lavorano in remoto un po' in America e soprattutto in Italia, fra Venezia, Milano e Roma sfruttando strumenti come Skype, Podio, mail, Whatsapp e Voxer (un Whatsapp vocale). L'idea originale era quella di creare un database delle opinioni aggregate. Boardreader - Forum Search Engine. Real Time Search - Social Mention. Mamuna social media reviews. Scoopeo. Infomous. Klout - The Standard for Influence.
Word Search Generator :: Make your own printable word searches. Make your own custom word search worksheets!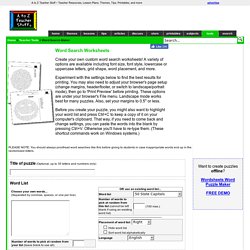 A variety of options are available including font size, font style, lowercase or uppercase letters, grid shape, word placement, and more. Experiment with the settings below to find the best results for printing your word search. You may also need to adjust your browser's page setup (change margins, header/footer, or switch to landscape/portrait mode), then go to 'Print Preview' before printing. Monitoring LIVE. Ghostery. Kurrently - real-time social media search engine. Crowdmap. What Exactly Is Crowdmap?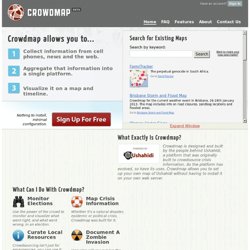 Crowdmap is designed and built by the people behind Ushahidi, a platform that was originally built to crowdsource crisis information. As the platform has evolved, so have its uses. Crowdmap allows you to set up your own map of Ushahidi without having to install it on your own web server. Bottlenose - A Smarter Way To Surf The Stream. How Bottlenose Can Help Turn Twitter into a High Signal Channel.
Reviewing Bottlenose On Saturday I discovered the Bottlenose service and quickly realised how it can enhance my Twitter, Facebook and other channels to enable me to quickly find content of interest to me.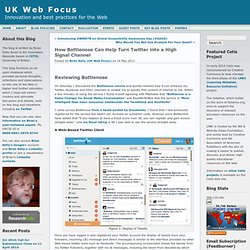 Within a few minutes of using the service I found myself agreeing with Mashable that "Bottlenose is a Game Changer for Social Media Consumption" and ReadWriteWeb that the service is "More intelligent than basic consumer dashboards like TweetDeck and HootSuite". I came across Bottlenose from a tweet posted by @suebecks. I found that I had previously registered for the service but hadn't yet received an activation code. Business Social Marketing is Easy with Bottlenose – WP Pro Business. Business marketing on social networks and blogs can be difficult.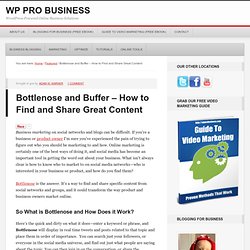 If you're a business or product owner I'm sure you've experienced the pain of trying to figure out who you should be marketing to and how. Online marketing is certainly one of the best ways of doing it, and social media has become an important tool in getting the word out about your business. What isn't always clear is how to know who to market to on social media networks—who is interested in your business or product, and how do you find them?
Heardable online reputation management and social media monitoring - hsn.com. Netvibes - Dashboard Everything. 4 façons de surveiller votre e-répuration. 4 façons de surveiller votre e-répuration Il existe aujourd'hui trois types de personnes (physiques ou morales) : Celles qui sont partout sur Internet (ou presque )Celles qui se trouvent sur quelques sitesCelles qui ne s'y trouvent pas du tout Pour chacun de ces cas très spécifiques, il y a des chances que des gens parlent de vous.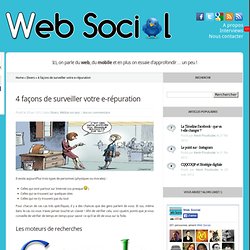 Et oui, même dans le cas où vous n'avez jamais touché un clavier ! Sémio/Veille/analyse. Veille. Veille. Veille. Veille : moteur de recherche. 10 Little Known Social Media Tools You Should Be Using -- Now. Editor's note: A version of this article previously appeared at KISSmetrics.com. Social media is everywhere. It's in our homes, places of worship, schools and, of course, our businesses. Web Analytics. Outils de veille. Agents d'alerte. Surveillance d'un site web en "dur". Moteur recherche.
Outils de veille et curation. 6 Steps for Protecting Corporate Reputation in the Social Media Age. Layla Revis is vice president of digital influence at Ogilvy PR Worldwide . Her specialties include international affairs, tourism and multicultural marketing. It takes years to build a good reputation, but seconds to damage it beyond repair, as executives at companies from Dell to Domino's certainly have found out. Outil Google. Trucs et Astuces. You Can't Control the Conversation on Social Media (and That's Okay) " iMediaConnection Blog. Beyond all of the Likes, retweets and +1s, social media's greatest gift to marketers is that it helps give brands a human face. Before the social media revolution, virtually all brand communications were one-way—the brands talk and the consumers listen, with no possibility for participation.
Thanks to Facebook, Twitter, blogs and online discussion forums, however, consumers now have the ability to speak directly to brands and share their experiences with brands with their friends. At first blush, this seems like a marketer's dream come true. Why go through the hassle of securing formal case studies and testimonials when people are talking about your brand organically, without prompting or payment? You can't buy that kind of authenticity (though many have tried ). Outils de veille gratuits. Comment réaliser sa veille sans perdre de temps ? En tant que blogueurs vous êtes toujours à l'affût de nouvelles infos et d' idées d'articles. Vous aimez sûrement sur ce qui se passe dans votre niche ou domaine. Malheureusement, "veiller" de cette façon peut-être extrêmement chronophage. 54 Free Social Media Monitoring Tools [Update2012] If you want to know what's happening in the social web you need social media monitoring tools. Before you reach for your wallet and start to spend money try out some of the free social media monitoring services .
This way you will get an understanding of what is available and if you need any paid services. I have collected 54 free social media monitoring tools. 9 outils pour surveiller et travailler son eRéputation ! Trendistic - see trends in twitter. Free tools to monitor and manage your online reputation. Online Search Tools - Social Web. CatchFree - Perform Everyday Tasks for Free. Your.flowingdata / Capture your life in data. Webmaster Tools & SEO Tools. Methodspace - Research Methods community.
---