Monitoring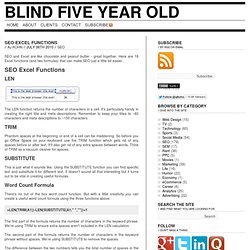 18+ SEO Excel Functions | Blind Five Year Old
SEO and Excel are like chocolate and peanut butter - great together.
Audience Measurement, Lookalike Modeling, Audience Buying
SEO Hacker - Online SEO School
Real Time Search - Social Mention
Wildfire Social Media Monitor
Google
SocialPointer- Real-Time Social Media Marketing Tools Campaign & Tactics
Search Socially
TermWiki - dedicata all'apprendimento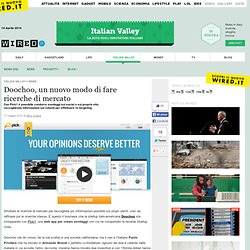 Doochoo, un nuovo modo di fare ricerche di mercato
Sfruttare le ricerche di mercato per raccogliere più informazioni possibili sui propri utenti, così da raffinare poi le ricerche stesse. È questo il business che la startup italo-americana Doochoo sta sviluppando con Pick1, una web app per creare sondaggi con cui ha conquistato la recente Startup Chile. Doochoo (da do chose, fai la tua scelta) è una società californiana, ma il ceo è l'italiano Paolo Privitera che ha trovato in Armando Biondi il perfetto co-fondatore: ognuno dei due è carente nelle materie in cui eccelle l'altro, racconta. Insieme hanno trovato due investitori e con 150mila dollari hanno messo in piedi dal 2009 un team di quattordici persone che ora lavorano in remoto un po' in America e soprattutto in Italia, fra Venezia, Milano e Roma sfruttando strumenti come Skype, Podio, mail, Whatsapp e Voxer (un Whatsapp vocale). L'idea originale era quella di creare un database delle opinioni aggregate.
Boardreader - Forum Search Engine
Real Time Search - Social Mention
Mamuna social media reviews
Scoopeo
Infomous
Klout - The Standard for Influence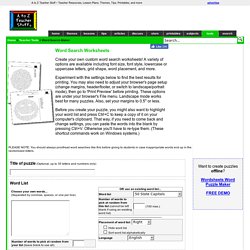 Make your own custom word search worksheets!
Word Search Generator :: Make your own printable word searches
Ghostery
Kurrently - real-time social media search engine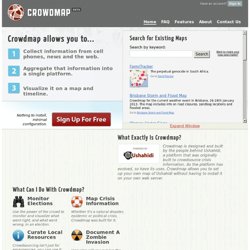 Crowdmap
What Exactly Is Crowdmap? Crowdmap is designed and built by the people behind Ushahidi, a platform that was originally built to crowdsource crisis information. As the platform has evolved, so have its uses. Crowdmap allows you to set up your own map of Ushahidi without having to install it on your own web server.
Bottlenose - A Smarter Way To Surf The Stream
Reviewing Bottlenose On Saturday I discovered the Bottlenose service and quickly realised how it can enhance my Twitter, Facebook and other channels to enable me to quickly find content of interest to me. Within a few minutes of using the service I found myself agreeing with Mashable that "Bottlenose is a Game Changer for Social Media Consumption" and ReadWriteWeb that the service is "More intelligent than basic consumer dashboards like TweetDeck and HootSuite". I came across Bottlenose from a tweet posted by @suebecks. I found that I had previously registered for the service but hadn't yet received an activation code.
How Bottlenose Can Help Turn Twitter into a High Signal Channel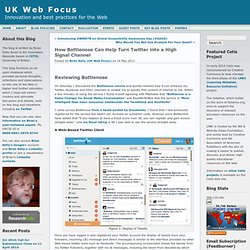 Business Social Marketing is Easy with Bottlenose – WP Pro Business
Heardable online reputation management and social media monitoring - hsn.com
Netvibes - Dashboard Everything
4 façons de surveiller votre e-répuration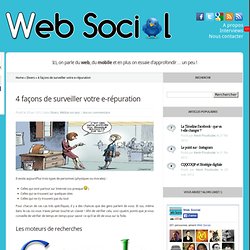 4 façons de surveiller votre e-répuration Il existe aujourd'hui trois types de personnes (physiques ou morales) : Celles qui sont partout sur Internet (ou presque )Celles qui se trouvent sur quelques sitesCelles qui ne s'y trouvent pas du tout Pour chacun de ces cas très spécifiques, il y a des chances que des gens parlent de vous. Et oui, même dans le cas où vous n'avez jamais touché un clavier !
veille : moteur de recherche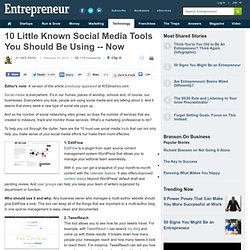 10 Little Known Social Media Tools You Should Be Using -- Now
Editor's note: A version of this article previously appeared at KISSmetrics.com. Social media is everywhere. It's in our homes, places of worship, schools and, of course, our businesses.
Surveillance d'un site web en "dur"
outils de veille et curation
Trendistic - see trends in twitter
spy :: visualizes the conversations on Twitter, Friendfeed, Flickr, Blogs and more.
CatchFree - Perform Everyday Tasks for Free
your.flowingdata / Capture your life in data.
Webmaster Tools & SEO Tools
Methodspace - Research Methods community