Blogroll
Genetik Odaklı Proje - 2. Bölüm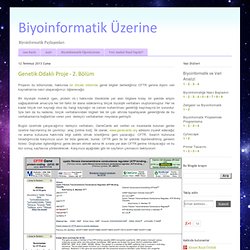 Projenin bu bölümünde, hakkında bir önceki bölümde genel bilgiler derlediğimiz CFTR genine ilişkin veri kaynaklarına nasıl ulaşacağımızı öğreneceğiz. Bir biyolojik molekül (gen, protein vb.) hakkında literatürde yer alan bilgilere kolay bir şekilde erişim sağlayabilmek amacıyla her biri farklı bir alana odaklanmış birçok biyolojik veritabanı oluşturulmuştur. Her ne kadar birçok veri kaynağı olsa da, hangi kaynağın ne zaman kullanılması gerektiği başlıbaşına bir sorundur. İşte tam da bu nedenle, birçok veritabanındaki bilgileri tek bir çatı altında toparlayarak gerektiğinde de bu veritabanlarına bağlantılar veren yeni derleyici veritabanları meydana gelmiştir.
Deep Time : A History of the Earth - Interactive Infographic
The Flying Trilobite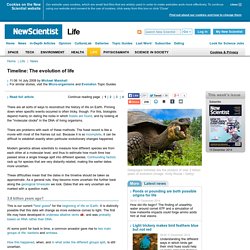 Read full article Continue reading page | 1 | 2 | 3 | 4 There are all sorts of ways to reconstruct the history of life on Earth.
Timeline: The evolution of life - life - 14 July 2009
Apoptoz Is
apoptoz is
apoptoz is
cogito – YKY
Biyo RSS: Güncel Biyoloji Haberleri
İnsan Doğası ve Evrim
INSANIN EVRIMI
The University of Utah
Conservation of Tropical Birds - Sodhi, Sekercioglu, Barlow & Robinson Review of Conservation of Tropical Birds - The Auk Winged Sentinels: Birds and Climate Change - Wormworth & Sekercioglu Natural History Book Society 2011 " Book of the Year "
ATLAS | Keşfetmek İçin Bak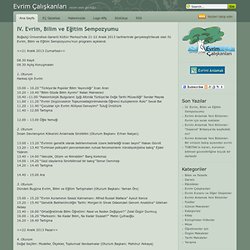 Evrim Çalışkanları
Küçük ve renkli bir akvaryum balığı olan zebrabalığının mutantı olan "altın" balıktan yola çıkarak insanlarda koyu ve açık renk deri oluşumundan sorumlu olan gen hakkında bir şey söylemek nasıl mümkün olabilir? Bu yeni bölümde 2005 yılının Aralık ayında Penn State Üniversitesi mensuplarından Keith Cheng'in yönettiği bir kanser araştırma grubunun, mutant "altın" zebrabalığı çalışmalarının nasıl olup da beklenmeyen bir yöne kaydığını ve zebrabalığından yola çıkan bilim insanlarının pigmentlenme geninin evrimsel tarihine dair söylediklerine dair bilgiler bulabilirsiniz. Okumak için tıklayınız.
müspet ilimler kumpanyası
MY LIFE AND THOUGHTS
Doğa Tarihi
Kaan Öztürk | Karmaşık sistemler, hesaplamalı bilim ve akademik hayat
"Kriptografi Gördüm", Wunjo…
in Fotoğraf Günlüğü
Bilim Güncesi
Yaşamın kıyısında
no dry light
s blog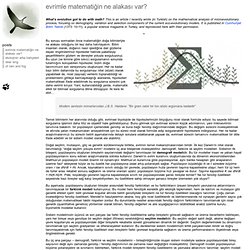 This is an article I recently wrote (in Turkish) on the importance of long-term ecological research, focusing on two exemplars from US and UK and reflecting on budding opportunities in Turkey. It is published in NTV Bilim ( 19: 52-56), a popular science magazine in Turkey, and reproduced here with their permission and some additional visuals. The title translates as "backyards of ecology".
S e q u e n c e S
Thoughtomics
Biology and Basic Science News, Articles, and Information from Scientific American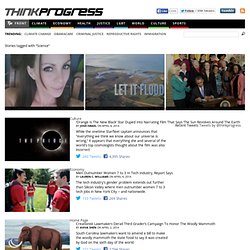 "Folks, last week, President Obama cynically used the inaugural address to push his radical pro-survival agenda. Folks, I didn't think this part of his speech would get any traction, because there's no national consensus on climate change. It's like if JFK announced the Apollo program, but half the country denied the Moon exists." - Stephen Colbert
Science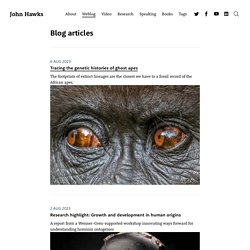 I have a review of Marlene Zuk's new book, Paleofantasy , in this week's Nature : "Evolutionary biology: Twisting the tale of human evolution" [1] .
Denim and Tweed
Gene Expression
Evolving Thoughts | Struggling with impermanence and vagueness in a complex world
Darren Naish: Tetrapod Zoology
Afarensis: Anthropology, Evolution, and Science
Earlier today, Maggie Koerth-Baker posted this tweet : I dig this graph, but I think it misses an outreach opportunity by ascribing common misconceptions to creationists only bouncingdodecahedrons.tumblr.com/post/17808416988 It links to a diagram showing evolution as a linear path rather than a branching tree, and it got me thinking about terribly popular misconceptions about evolution that were started by smart people, and a doozy came to mind.
Pharyngula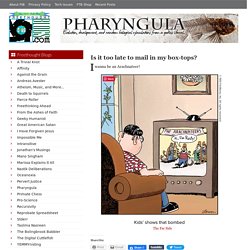 Well now, this is an interesting discovery: astronomers have found what looks like a "super-Earth" – a planet more massive than Earth but still smaller than a gas giant – orbiting a nearby star at the right distance to have liquid water on it! Given that, it might – might – be Earthlike. This is pretty cool news. We've found planets like this before , but not very many!
Science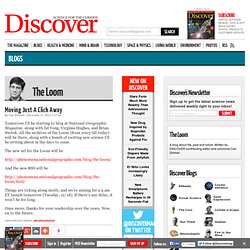 Your hands are, roughly speaking, 360 million years old.
For new readers, this collection of "missing links" rounds up fascinating stuff I find around the internet, and appears every Saturday. It's separated into Top Picks (the best stuff), Science/News/Writing (science writing), Heh/Wow/Huh (silliness, satire, photos, videos), and Journalism/Internet/Society (a miscellany of my other interests). If links are broken, let me know in the comments. Top picks "Restless genes" by David Dobbs, about the genetics and other factors behind the human urge to explore, is one of the best science stories of the year, let alone the week. It's beautifully written without sacrificing nuance.