Lunch
Homemade Protein Bars « askGeorgie.com. There are plenty of reasons to make your own protein bars.
First, it's economical ! You'll save a lot of money, particularly if you have a habit of buying single bars one a time. Even better, you can customize your bars to your taste preferences, avoid any allergens, and leave out ingredients you don't want. You can make a bar with high quality protein, whole grains, real nuts or fruit, flaxseeds, whichever sweetener you prefer, and skip all the long-named chemical ingredients (preservatives and fortifications) that you may not need or want in your snack. No Bake Granola Cakes. Big changes are happening over on my workouts page and even bigger changes are happening with my marathon training plans.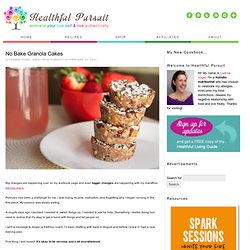 February has been a challenge for me, I was losing muscle, motivation, and forgetting why I began running in the first place. My passion was slowly exiting. Italian Grilled Cheese. Who doesn't love a good grilled cheese?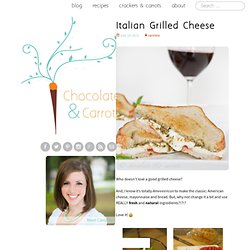 And, I know it's totally Ameeeerican to make the classic: American cheese, mayonnaise and bread. But, why not change it a bit and use REALLY fresh and natural ingredients?!?!? Cheeky Kitchen » Good, Holy Heck Portabella Burgers. People.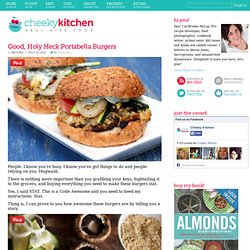 I know you're busy. I know you've got things to do and people relying on you. Hogwash. There is nothing more important than you grabbing your keys, hightailing it to the grocers, and buying everything you need to make these burgers stat. Yes, I said STAT. Hasselback Potatoes. These Hasselback potatoes looks beautiful, don't' they?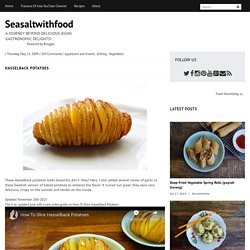 Here, I also added several cloves of garlic to these Swedish version of baked potatoes to enhance the flavor. It turned out great, they were very delicious, crispy on the outside and tender on the inside.. Updated: November 26th 2013 This is an updated post with a new video guide on How To Slice Hasselback Potatoes. Spinach "burgers" « The Domestic Mama & The Village Cook. I promised something a bit more "booty-friendly" and here it is!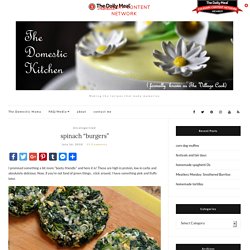 These are high in protein, low in carbs and absolutely delicious. Now, if you're not fond of green things.. stick around. Pizza Braid. How to Make Pizza Without Dough | « LXRCUISINE. I was getting kind of sick of ordering delivery pizza (this happens at least 2-3 times a month).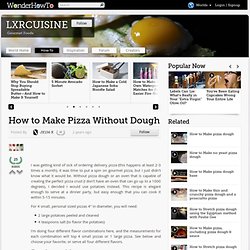 It was time to put a spin on gourmet pizza, but I just didn't know what it would be. Without pizza dough or an oven that is capable of creating the perfect pizza crust (I don't have an oven that can go up to a 1000 degrees), I decided I would use potatoes instead. Mozilla Firefox. From the molten yolk and bacon crunch of a hand-held breakfast, to the gooey charm of grilled cheese for lunch, nothing matches the simple pleasures of well-made sandwiches.
They're quick to assemble, infinitely adaptable, easy to eat, and immediately satisfying—the very definition of good food. The 25 sandwiches you're about to meet can be thrown together during the average basketball halftime or, with practice, during the seventh-inning stretch. (Who needs hot dogs, anyway?) A Cozy Kitchen » Avocado Fries. I have a particularly tragic memory of looking at rental houses with my friend when he first moved to LA and finding one that actually had an avocado tree in the backyard.
I mean, a tree that was taller than the house and was heavy with ripe avocados This memory is tragic because my friend didn't rent the house. If he had, I would have had a never ending supply to feed my avocado addiction.BTW – what are avocados, a vegetable? Some weird fruit? Say 'Yes' to Pesto. The following article was written by Keegan Baur.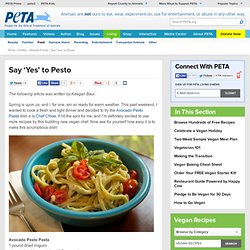 Spring is upon us, and I, for one, am so ready for warm weather. This past weekend, I wanted to cook a fresh and light dinner and decided to try the Avocado Pesto Pasta dish à la Chef Chloe. It hit the spot for me, and I'm definitely excited to use more recipes by this budding new vegan chef. Cinnamon and Vanilla Walnuts. These nuts are slightly sweet and salty and laced with cinnamon and vanilla. I've made candied nuts quite a bit in the past, but I love this newest recipe. It's not as sweet, so I like them better for snacking on or for putting in salads. They add just the right amount of sweet and saltiness to a salad. French Fries: The No-Guilt Version. There's nothing like a french fried potato. The taste, the texture, the dip-ability; it's probably one of my favorite go-to comfort foods.
However, I don't need the fat of an actual deep fried potato, and I certainly do not favor processed french fries that come from the frozen food section of the grocery store. Enter: Healthy French Fries* Step 1: Peel your 'taters. This isn't necessary, though, but if you decide you want the skin on make sure you scrub-wash them first. Olive Lentil Burgers. December 29, 2010 Olive Lentil Burgers by IsaChandra Serves 6 Active time: 20 minutes || Total time: 45 minutes I like veggie burgers. Here Come the Cookouts - Leslie Sarna. With Summer here, the warm weather is bound to bring on the cookouts. The veggie burger is pretty much the vegetarian staple at these. Let's face it, when people don't know what to serve a vegetarian or vegan, a frozen veggie burger patty is often what they get. (at least I get) While those can be very tasty, have you ever made them from scratch?
They are really really easy to make and you can make a bunch and freeze them so they are always on hand for a last minute lunch or dinner. : ) Corn and Zucchini Quesadillas. I'm so corny. My lovely wife, Betsy, and I have a fair amount of things in common. We both like the outdoors, we enjoy a good book, and we love poking our cat. But if had to pick one thing that was our most common bond it would probably be Tex-Mex food. Garlic-y Mashed Potato Cakes with Raspberry Ginger Mustard Chutney. Ramen Hacks: 30+ Easy Ways to Upgrade Your Instant Noodles. Perrys' Plate: Stacked Roasted Vegetable Enchiladas. Pizza Monkey Bread Recipe. Pea & Avocado Penne. Vegetarian Chili - Leslie Sarna. Roy G. Biv Smoothies. The Vegan Stoner.
---