Girl is a gun
The Healthy Sex Talk: Teaching Kids Consent, Ages 1-21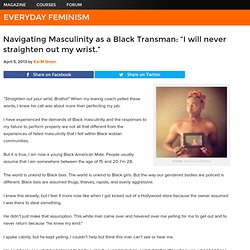 "Straighten out your wrist, Brotha!" When my boxing coach yelled these words, I knew his call was about more than perfecting my jab. I have experienced the demands of Black masculinity and the responses to my failure to perform properly are not alI that different from the experiences of failed masculinity that I felt within Black lesbian communities.
Navigating Masculinity As A Black Transman: "I Will Never Straighten Out My Wrist"
Susan Cain: The power of introverts
10 Female Electronic Music Pioneers You Should Know
One More Lesbian | Film, Television and Video On Demand
Juni | 2009 | hungry blog – Leben, Alltag und Essstörung aus dem Blickwinkel einer Betroffenen
Die Devise bei alten Geschichten. Man hat eine Freundschaft beendet, ist als Teenie ausgezogen, oder man hatte eine Meinung. 10 Jahre später hat man sie nicht mehr. Dann kommt der 0815 Standard Prolet und sagt "Steh doch mal dazu!" Wozu stehen? Dazu, dass man vor 10 Jahren etwas so gesehen, so getan, so gesagt hatte?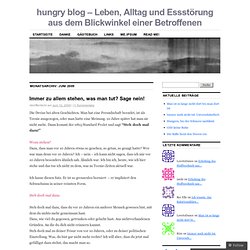 Recently a beautiful girl invited me to a wedding. I immediately wanted to find out all I could about being the perfect date. So I looked to the trusty Internet for help. I found websites with tips for straight couples but what I didn't find was information for girls who are taking girls to a wedding, or guys who are taking guys for that matter.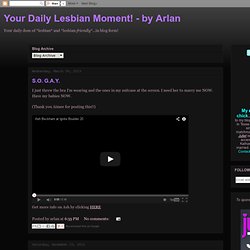 Your Daily Lesbian Moment! - by Arlan
Chimamanda Adichie: The danger of a single story
101 Lovers' Spit (Pilot) | Girl/Girl/Scene
Der Text er­schien zu­erst bei s1r. Alles nur Iro­nie aka Kunst darf alles Seit einer Weile auf der men­ta­len Text­pro­duk­ti­ons-​To-​Do-​List war ein Text zu den Or­sons. Durch die Er­kennt­nis, dass sel­bi­ge am 11.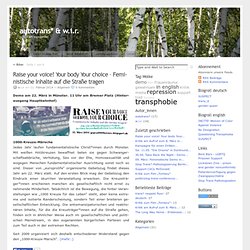 autotrans* & w.i.r.
◊ NINIA LAGRANDE ◊
Schrei­ben. Warum hatte ich noch­mal damit an­ge­fan­gen, warum habe ich auf­ge­hört? Es ist nicht mehr so ein­fach wie es sich mal an­ge­fühlt hat, Mei­nun­gen und Ur­tei­le fälle ich nicht mehr so gerne und an­statt zu wüten ak­zep­tie­re ich nun vie­les aus der Ferne.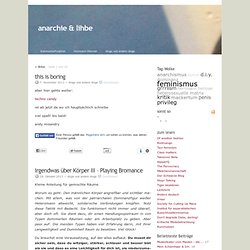 anarchie & lihbe