BRANDING Tips
Tips for improving your online branding
Some people think that branding is a highly expensive marketing activity that can only be pursued by multinationals with million dollar budgets while others regard branding as a highly complex strategy that only those well trained are able to use efficiently. These statements are not false, but they are only a small part of a bigger picture. There's at least one aspect of branding which is so simple that even a child could do it, as easy as pie, and with little to practically no cost whatsoever. I'm talking about online branding. Business of all sizes are joining the web experience, not only to build their own websites, but also to expand their digital presence with secondary sites, social media outlets and company blogs.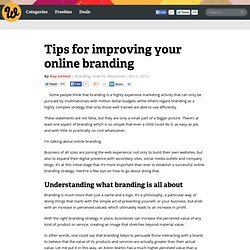 23 Answers You Need To Define Your Target Market We'd all love our product or service to appeal to everyone but you're living in a fool's paradise if you think that's possible, or that it's good marketing . Trust this old copywriter when I say that the right words into the right ears will get your much further than taking a megaphone to a crowd of people. What are the right words? Well that's for another time.
23 Answers You Need To Define Your Target Market | The Copy Detective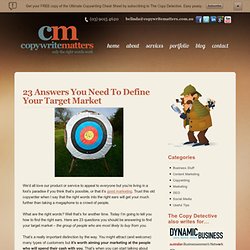 'Brand Identity,' you say? 'Isn't that just my logo and colours and stuff?' Well, yes and no – what if you don't have a logo? Yes, it is possible to have a successful business without a logo – *cue shock, jaws drop* What is Brand Identity and why should I care? Brand Identity is the whole package.
Know your business' brand identity inside and out « Strong Words
You hear about famous brands, such as Coca-Cola, Amazon, LEGO, Nike and Adobe, all the time. These brands are world-famous and some of the most advertised; and their logos, instantly recognizable—but do you know how their names came about and what they actually mean? Based on the Wikipedia list , online magazine Bored Panda has made a visual list of famous company name etymologies. How many of these 'fun facts' did you already know?
How Famous Brands Got Their Names, Logos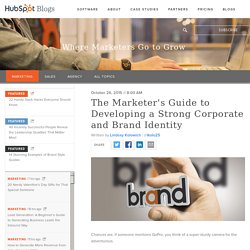 If you're a photographer and someone mentions GoPro, you think of a super-sturdy camera for the adventurous. Why is that? Because GoPro has done a good job defining their brand .
The Marketer's Guide to Developing a Strong Brand Identity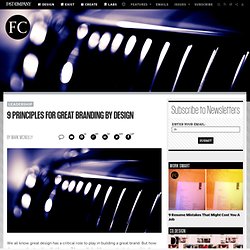 9 Principles For Great Branding By Design
We all know great design has a critical role to play in building a great brand. But how do we go about making that happen? I recently had the opportunity to speak to three top designers about that very question: Robert Brunner, founder of the design shop Ammunition and author of Do You Matter: How Great Design Will Make People Love Your Company ; Joe Doucet , founder of Joe Doucet Studio and David Hill , vice president of design at Lenovo and author of the Design Matters blog. Through these conversations, it became clear that the link between design and branding is important, and that having a top design team is to crucial to having a winning brand. Here's what I learned:
A solid color palette is the backbone of a successful brand or design. It is a fundamental that people do remember readily.
Color Psychology for Branding and Design « Jason Lester Design @jrob_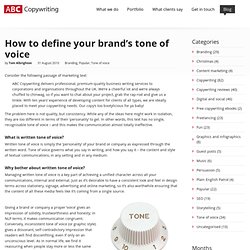 Brand tone of voice | Written tone of voice
Consider the following passage of marketing text: ABC Copywriting delivers professional, premium-quality business writing services to corporations and organisations throughout the UK. We're a cheerful lot and we're always chuffed to chinwag, so if you want to chat about your project, grab the rap-rod and give us a tinkle. With ten years' experience of developing content for clients of all types, we are ideally placed to meet your copywriting needs. Our copy's too bootylicious for ya baby!
Is branding important for voice over talent? Well, it depends. That's an unsatisfying answer, I know, but it's true. It really depends on what your voiceover goals are and what your target market is. The easy answer is, "Yes, of course it is." And since I'm a big fan of good branding (and geeky enough about it to spend time on branding blogs and forums), I'm admittedly biased towards doing everything possible to put your best foot forward.
Is Branding Important for Voiceover Talent? | VoiceoverTalent.com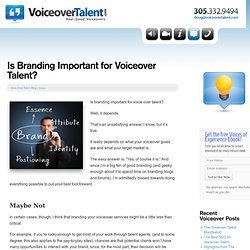 Do real people really want to have a relationship with a brand? Here are some of the many questions that brands are asking of Social Media...
Money For Nothing And Your Clicks For Free