Writing
This collection of bookmarks strives to be a primary go-to for resources for writers.
The kinds of content would include software that helps with the writing process, tools and resources to become more proficient at writing as well as to help generate ideas for writing, and links to various websites which also have the same goals.

The collection would include bookmarks to help with any style of writing from poetry to academic and technical.



While inspirational writing may be selectively included, this tree will generally not include any collections of short stories, poems, or other written works. This tree will not be used for self-promotion or promotion of any other individuals or companies. 10 Articles That Changed My Life | LifeReboot.com. It's easy to find a well written article.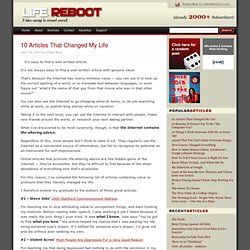 It's not always easy to find a well written article with genuine value. That's because the Internet has nearly limitless value — you can use it to look up the correct spelling of a word, or to translate text between languages, or even figure out "what's the name of that guy from that movie who was in that other movie?" You can also use the Internet to go shopping while at home, or do job searching while at work, or publish blog entries while on vacation. Taking it to the next level, you can use the Internet to interact with people, make new friends around the world, or research your next dating partner.
What I've discovered to be most surprising, though, is that the Internet contains life-altering advice. How to Write a Novel. How to write a novel.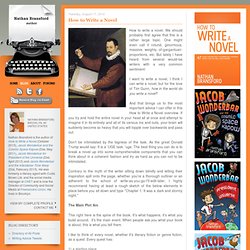 We should probably first agree that this is a rather large topic. One might even call it rotund, ginormous, massive, weighty, of-gargantuan-proportions, etc. Write or Die by Dr Wicked. How to Build a Story (Now on Video!) « Dan Wells. yWriter5 - Free novel writing software to help you write a book. yWriter is a powerful writing program which is free to download and use. yWriter is a word processor which breaks your novel into chapters and scenes, helping you keep track of your work while leaving your mind free to create.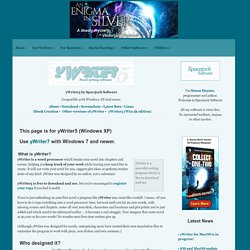 It will not write your novel for you, suggest plot ideas or perform creative tasks of any kind. yWriter was designed by an author, not a salesman! yWriter5 is free to download and use, but you're encouraged to register your copy if you find it useful. If you're just embarking on your first novel a program like yWriter may seem like overkill. I mean, all you have to do is type everything into a word processor! The Scriptorium Webzine » Toolbox. Toolbox Use this collection of downloadable/printable .pdf forms, quick questions and answers, and other writerly miscellany to make your work as a writer easier and more productive.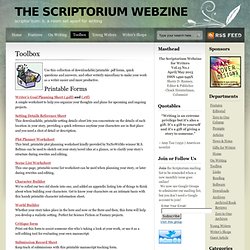 Printable Forms. How To Write A Novel Using The Snowflake Method. Writing a novel is easy.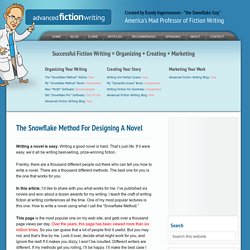 Writing a good novel is hard. That's just life. If it were easy, we'd all be writing best-selling, prize-winning fiction. Frankly, there are a thousand different people out there who can tell you how to write a novel. There are a thousand different methods. For those who want to know: Reliable information on health, energy, media, war, elections, 9/11, more.
DarkCopy - Simple, full screen text editing. Welcome - Ommwriter. Full screen distraction free text editor, increase your creativi. Word Perhect. Meat. I'm honored that this often shows up on the internet.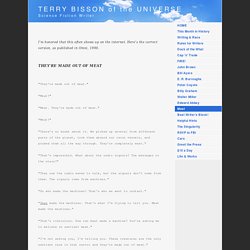 Here's the correct version, as published in Omni, 1990. "They're made out of meat. " "Meat? " National Novel Writing Month. JulNoWriMo - July Novel Writing Month. Write or Die by Dr Wicked. 911 Writers Block. ^ Back to top We use cookies, just to track visits to our website, we store no personal details.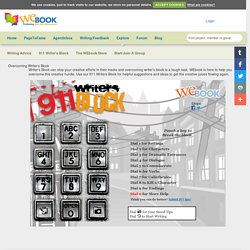 ACCEPT COOKIES What are cookies? Login Overcoming Writer's Block Writer's Block can stop your creative efforts in their tracks and overcoming writer's block is a tough task. The Brainstormer - The Art of Andrew Bosley. Random Writing Prompt Generators. The Domesday Book - Medieval Demographics Made Easy. The Domesday Book Penned by Brandon Blackmoor, based on Medieval Demographics Made Easy by S.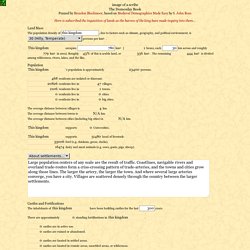 John Ross Here is subscribed the inquisition of lands as the barons of the king have made inquiry into them... <p>Forsooth, thy browser is truly antiquated! Serendipity. Seventh Sanctum. Creative Writing Games. How to kick-start the writing habit. Exercises for Fiction Writers - Page 2. English 50 – Intro to Creative Writing: Exercises for Story Writers More Exercises: Write the first 250 words of a short story, but write them in ONE SENTENCE.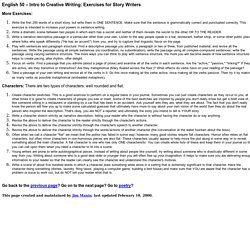 Make sure that the sentence is grammatically correct and punctuated correctly. This exercise is intended to increase your powers in sentence writing. Write a dramatic scene between two people in which each has a secret and neither of them reveals the secret to the other OR TO THE READER. 10 New Ideas for Getting Inspired to Write. Writerisms and other Sins: A Writer's Shortcut to Stronger Writing. Internet Resources - Writers Resources - Writing Links & Writers. 50 Tools that can Increase your Writing Skills - by Dumb Little. We found this while cruising though Bloglines last night.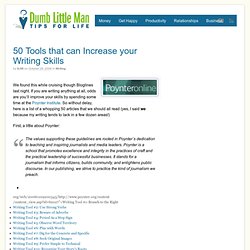 If you are writing anything at all, odds are you'll improve your skills by spending some time at the Poynter Institute. So without delay, here is a list of a whopping 50 articles that we should all read (yes, I said we because my writing tends to lack in a few dozen areas!) First, a little about Poynter: The values supporting these guidelines are rooted in Poynter's dedication to teaching and inspiring journalists and media leaders. Poynter is a school that promotes excellence and integrity in the practices of craft and the practical leadership of successful businesses. Save The Words. Fiction Writer's Character Chart - EpiGuide.com. If you're a fiction writer -- whether you're working on a novel, short story, screenplay, television series, play, web series, webserial, or blog-based fiction -- your characters should come alive for your reader or audience.
The highly detailed chart below will help writers develop fictional characters who are believable, captivating, and unique. Print this page to complete the form for each main character you create. IMPORTANT: Note that all fields are optional and should be used simply as a guide; character charts should inspire you to think about your character in new ways, rather than constrain your writing. Fill in only as much info as you choose. Have fun getting to know your character! Writing.
Lexophiles. LEXOPHILES (LOVERS OF WORDS): 1. A bicycle can't stand alone; it is two tired. 2. A will is a dead giveaway. 3.
---