Mind Mapping
5 Innovative Mind-Mapping Tools For Education. What do you do when you have an elaborate project, assignment, or paper that needs to be quickly organized?
Do you fire up Microsoft Word and whip up an outline? Do you pull out a pen and paper and start sketching? What if you could have the best of both options with a free online tool? It's called 'mind mapping' ("Mind Map" is a trademark of the Buzan Organization .) and it's basically a fun and intuitive way to visually organize your thoughts. Teacher's Guides and Analysis Tool - For Teachers. Mind Mapping Software | Genuine Mind Maps Software | NovaMind.com.
50 Mindtools Similar Sites | Websites Like Mindtools. ICT Mindtools. Business Process Management Software - Download SmartDraw FREE and create process management, improvement and re-engineering flowcharts, check sheets and forms for TQM, ISO and Six Sigma! Quickly and easily create decision trees and fishbone diagrams with SmartDraw.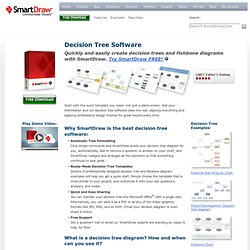 Try SmartDraw FREE! Start with the exact template you need—not just a blank screen. 8 Great Mind Mapping Tools For Effective Brainstorming. A mind map is considered a great way to brainstorm and generate more ideas.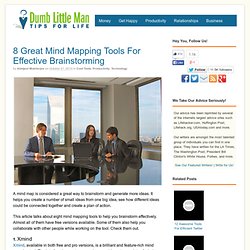 It helps you create a number of small ideas from one big idea, see how different ideas could be connected together and create a plan of action. This article talks about eight mind mapping tools to help you brainstorm effectively. Mind Mapping software for visual thinking | Seavus DropMind® Nine Tools for Collaboratively Creating Mind Maps. Mind maps or graphic organizers can be invaluable tools for visual thinkers and visual learners.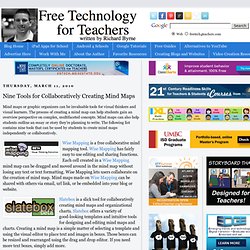 The process of creating a mind map can help students gain an overview perspective on complex, multifaceted concepts. Mind maps can also help students outline an essay or story they're planning to write. The following list contains nine tools that can be used by students to create mind maps independently or collaboratively. EDraw Mindmap - Descargar. Exobrain Looks Like An Awesome Mind Mapping Tool. Visualizing the ideas that you have in your brain is a tall order.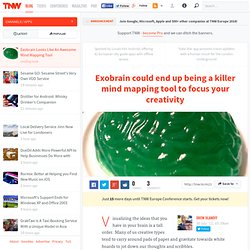 Many of us creative types tend to carry around pads of paper and gravitate towards white boards to jot down our thoughts and scribbles. A really helpful tool to extract exactly how our ideas might become an actual "thing" is by using mind mapping software, which basically lets you create a cloud of words, ideas and thoughts that can connect to one another. A service that will be entering beta soon called Exobrain could become the killer tool to take the mind mapping concept to the next level. Not much is known about the service, other than it was created by Colin Dunn and Nick Gauthier, and is still in development.
Depts.clackamas.edu/workBehaviors/documents/MindToolsEbook-Part1.pdf. Descargar mind map. TheBrain :: Mind Mapping Software, Brainstorming, GTD and Knowledgebase Software. The Mind Mapping Site. Text 2 Mind Map - Simple mind mapping online. Mind Mapping Software. 15 Useful Online Mind Mapping and Brainstorming Tools. Concept mapping and Mind mapping software are used to create diagrams of relationships between concepts, ideas or other pieces of information.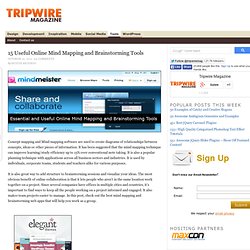 It has been suggested that the mind mapping technique can improve learning/study efficiency up to 15% over conventional note taking. It is also a popular planning technique with applications across all business sectors and industries. It is used by individuals, corporate teams, students and teachers alike for various purposes. It is also great way to add structure to brainstorming sessions and visualize your ideas. The most obvious benefit of online collaboration is that it lets people who aren't in the same location work together on a project. Welcome to mindmapping.com.
Mind Mapping Software - Create mind maps (graphical representations of thought processes) for brainstorming, problem solving, rational analysis, and decision marking. Edraw Mind Map Maker gives you amazing ways to create great-looking mind maps for brainstorming, problem solving, rational analysis, and decision marking.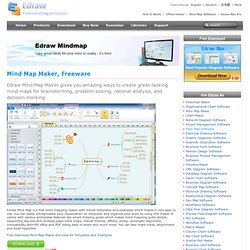 Edraw Mind Map is a free mind mapping maker with inbuilt templates and examples which makes it very easy to use. You can easily conceptualize your visualization on computer and organize your work by using this maker. It comes with various embedded features like smart drawing guide which makes mind mapping quite simple; supporting big size and multiple page mind maps; inbuilt themes, effects, styles; automatic alignment, compatibility with MS office and PDF, being easy to share and much more. Mind Maps - Mind Mapping Training from MindTools. A Powerful Approach to Note-Taking (Also known as Mind Mapping, Concept Mapping, Spray Diagrams, and Spider Diagrams) "Mind Map" is a trademark of the Buzan Organization (see www.buzan.com).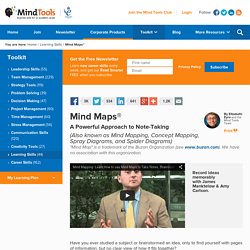 We have no association with this organization. Record ideas memorably with James Manktelow & Amy Carlson. Top 10 Free Online Mind Mapping Tools. As the name, mind mapping means that to draw your mind or ideas as a map, which are well-known for brainstorm, exploring your brain for many ideas.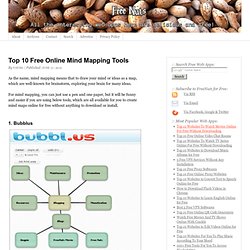 For mind mapping, you can just use a pen and one paper, but it will be funny and easier if you are using below tools, which are all available for you to create mind maps online for free without anything to download or install. 1. Bubblus. Official Mind Mapping software by Tony Buzan. The Mind Mapping Software Blog. Hive Five: Five Best Mind Mapping Applications. Are there any programs out there that allow a person to create a series of steps to accomplish a task type thing?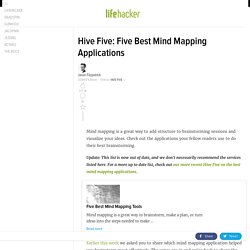 Example: 8 steps to bake cookies. Mix dry ingredients, melt butter in bowl, add dry ingredients, mix at low speed, poor into pan, bake at 325 for 30 minutes, cut brownies, eat and enjoy. But let's say at the 2nd step, to melt the butter, you had to use an acetylene torch (it's really tough butter). Main Page. 15 Great Mindmapping Tools and Apps. Mindmapping is the process of drawing up diagrams that show relations between various ideas, tasks or information. For many of us this shows to actually be a way of taking notes that can be more useful than just writing down keywords or sentences like we do on a to-do list. By drawing mind maps you actually visualize your tasks and how each task can influence each other in a better way, making your brain remember more easily and/or come up with new ideas.
Software de Mind Mapping - Crear Mind Maps en línea. Mind Mapping Tools. Mind mapping tools are tools, which people use to represent various ideas, plans or projects. Their functionalities and features allow users to arrange concepts or images around a central idea. Mind mapping tools are designed to structure, generate or classify information, so that people can study, learn, make decisions or solve problems more efficiently. A small reminder for the people who are regularly using mind maps, is that they are the best partner for taking notes. Mind mapping tools help you unleash your creativity and apply a personal style to your work, by embellishing mind maps your own way. 30+ Mind Mapping Tools. We all need to organize our thoughts sometimes, and there seems to be no better way to do it than in a visual fashion. We've got 30+ mind mapping tools to help you do just that.
And since we know some of you are on a budget, we've got free and paid suggestions for you. List of concept- and mind-mapping software. Concept-mapping and mind-mapping software are used to create diagrams of relationships between concepts, ideas or other pieces of information. It has been suggested that the mind mapping technique can improve learning/study efficiency up to 15% over conventional note taking.[1] File format[edit] CmapTools - Home Page Cmap.html. Software for brainstorming and mind map creation. Build your own mind map online! MindGenius - MindGenius Mind Mapping Software. XMind: Professional & Powerful Mind Mapping Software.
Inspiration Software, Inc. - The Leader in Visual Thinking and Learning | inspiration.com.
---