Web 2.0 Tools
About. 7 Awesome Collaborative Whiteboard Tools for Teachers. The best thing about these collaborative whiteboards is that they encourage students to learn collaboratively, a skill much needed in the 21st century education.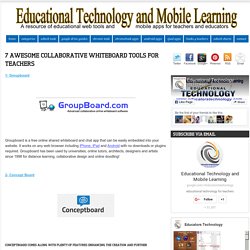 Being a whiteboard means that you can use it not only as a collaboration tool but also to host virtual brainstorming sessions with your students and best of all, the flow of ideas never stop. Students can work simultaneously on a certain project with everyone drawing, sketching, scribbling, and adding their touch to the final work.
They can also save their whiteboard and refer back to it when needed. The 30 Best Web 2.0 Tools For Teachers (2012 Edition) Looking for the best cloud computing software for your school?
What about a way to remotely store homework and other assignments? It's time to figure out which web 2.0 tool is right for you! Empressr - The Best Online Rich Media Presentation Application. Vocaroo | Online voice recorder. - 40 Sites for Educational Games. With the start of school right around the corner, I decided to revisit a post I've done on sites for educational games.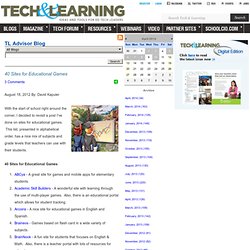 This list, presented in alphabetical order, has a nice mix of subjects and grade levels that teachers can use with their students. 40 Sites for Educational Games. 30 Web Sites to Teach You About Technology Integration. Web 2.0 to support the nets. Best Websites for Teaching and Learning. The "Top 25" Websites foster the qualities of innovation, creativity, active participation, and collaboration.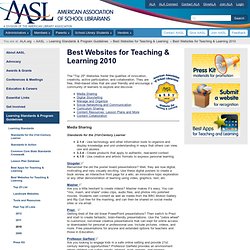 They are free, Web-based sites that are user friendly and encourage a community of learners to explore and discover. Media Sharing Standards for the 21st-Century Learner 2.1.4 - Use technology and other information tools to organize and display knowledge and und understanding in ways that others can view, use and assess. 3.3.4 - Create products that apply to authentic, real-world context 4.1.8 - Use creative and artistic formats to express personal learning Glogster. Create and Track QR Codes in Seconds. AASL Unveils Top 25 Websites for Teaching and Learning: ALA Annual 2012.
Sorry, but the article or page you're looking was not found.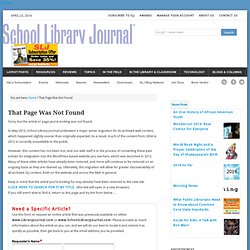 In May 2013, School Library Journal underwent a major server migration for its archived web content, which happened slightly sooner than originally expected. As a result, much of the content from 2004 to 2012 is currently unavailable to the public. However, this content has not been lost, and our web staff is in the process of converting these past articles for integration into the WordPress-based website you see here, which was launched in 2012. 18 Free Mind Mapping Tools for Teachers and Students. Mind mapping. concept mapping, or brainstorming are three different names with almost the same meaning : collecting,organizing , and representing ideas, tasks, words, or other items linked to and arranged around a central key word or idea into a mind map diagram .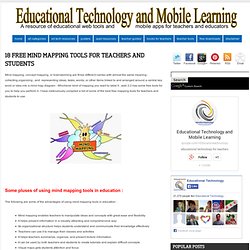 Whichever kind of mapping you want to label it , web 2.0 has some free tools for you to help you perform it. I have meticulously compiled a list of some of the best free mapping tools for teachers and students to use. Some pluses of using mind mapping tools in education : The following are some of the advantages of using mind mapping tools in education : All the Web 2.0 Tools you'll ever need in one blog post! I am web geek, and not just because I own a Foursquare t-shirt that I bought at a discount after my 1000th check in.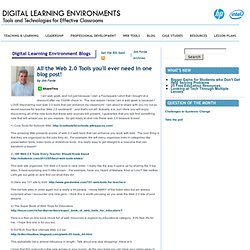 The real reason I know I am a web geek is because I LOVE discovering cool web 2.0 tools that can enhance my classroom! I am about to share with you my not so secret sources for teacher Web 2.0 excitment! Wowzers Tackles Elementary Math with Online Games. Gaming | News Wowzers Tackles Elementary Math with Online Games By Dian Schaffhauser07/02/12 A company that creates educational virtual worlds has introduced a new online product designed to help third through fifth graders get better at math.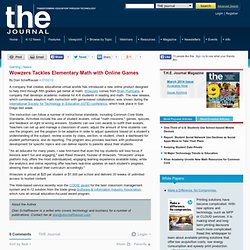 Wowzers comes from Brain Hurricane, a company that develops academic material for K-8 students in reading and math. The new release, which combines adaptive math instruction with game-based collaboration, was shown during the International Society for Technology in Education (ISTE) conference, which took place in San Diego last week. Realizing the Promise of New Education Technologies. UserID: iCustID: IsLogged: false IsSiteLicense: false UserType: anonymous DisplayName: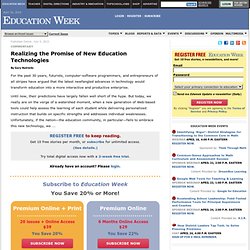 SLOOH SpaceCamera - Live Event. 12 Screencasting Tools For Creating Video Tutorials. Ever wondered how people show you so clearly what is happening on their computer, like in the Photoshop Video Tutorials we shared with you?
Thanks to screencasting software, anyone can do it. So what's stopping you now from making your own how-to videos? Bridging World History: Unit 1: Maps, Time and World History. Yodio - Add voice to photos. Meetings.io. ScienceFix - Videos of Middle School Science Lessons. 7 Useful YouTube Channels for Science Students and Teachers. Last month I posted a list of useful YouTube channels for history teachers and students. That list proved to be popular so I thought I'd follow-up with a list of useful YouTube channels, not named Khan Academy, for science teachers and students. The Periodic Table of Videos is a YouTube channel produced by The University of Nottingham.
One of the more useful playlists in the channel is The Elements. The table features a video demonstration of the characteristics of elements in the Periodic Table of Elements. In all there are 390 videos divided into 24 playlists about the work of chemists at the university.Science Bob is a helpful website featuring science fair project ideas for elementary school and middle school students. Main Page - GigaPan Time Machine.
Meet Pentametron, A Bot That Only Tweets In Iambic Pentameter. Meet Pentametron, a robot that is a literature nerd's dream. It uses an algorithm to find and retweet rhyming couplets in iambic pentameter. Through a Twitter account, Pentametron retweets sequential tweets that fit into the ten-syllable alternating-stress meter commonly used in Shakespeare's plays and sonnets, complete with rhyming couplets. It also posts them on Pentametron.com in 14 line sonnets.
According to Gawker, the bot first "strips the tweet of emoticons and ASCII art. Six great special-education resources for parents and teachers. These six websites provide a wealth of information, including vetted technology tools that can help special-needs students By Meris Stansbury, Online Editor Read more by Meris Stansbury. Math Web Apps. At the Oklahoma Digital Learning Summit last week, an Oklahoma STEM specialist asked me what math products I liked and I mentioned the following: Elementary Math i-Ready.com from Curriculum Associates, is a great K-8 adaptive assessment with engaging content. CoSketch.com - Online Whiteboard Collaboration.
Creating Assignments That Work for Digital Learning Environments. OLE Products: Election 2012. 12 Animated Plays by William Shakespeare: Macbeth, Othello and Other Great Tales Brought to Life. Scale2.swf (application/x-shockwave-flash Object) - Eight ways to create screencasts and slideshares. Watch CliffsNotes Episodes - Hamlet, Romeo & Juliet, Macbeth and More | Cambio TV. SteveSpanglerScience. - 50 Web 2.0 Sites for Schools. Make Your Images Interactive. VOKLE | Host your own show! Broadcast live and video chat with a virtual audience.
50 new tech tools you should know about. BloomBoard. 5 Innovative Animation Tools for Teachers. M&M'S® Become an M&M'S® Character: Create Character. Web 2.0 teaching tools to enhance education and learning — Edjudo. - Evernote For Schools Site: Resource for Using Evernote in Education.
TPACK
Webpage Screenshot. Spongelab | A Global Science Community | Home page. Teacher Reviews New Student Participation App. Web 2.0. United States History Map . Intro. - Top 10 Sites for Creating a Chart or Graph. Cybraryman Internet Catalogue. How to Teach with Technology: Science and Math.
How to Teach with Technology: Social Studies. How to Teach with Technology: Language Arts. SCIENCE VIDEO ANIMATION: Biology, Chemistry, Technology, Engineering, Optics, Maths, Astronomy movies. Free Screen Sharing and Online Meetings. Wolfram Education Portal: Free Resources and Materials for Teachers. Technology. Free Technology for Teachers: Seven Tools for Creating Data Visualizations.
File convert service - document, image, music, video and more - Zamzar. 15 Free Tools for Web-based Collaboration. Middle School - PhET Simulations. Let's Get SMART® Scientists on Twitter - Astronomers, Biologists, and Chemists, and more - Science Pond. Presentation Software | Online Presentation Tools | Web Presentations | SlideRocket.
EssayTagger.com - Grade Essays Faster. Web 2.0 Tools for Math Educators. Web 2.0 Science Tools. 20 Technology Skills that Every Educator Should Have. 20 Technology Skills that Every Educator Should Have, Part 4. Caffein. Spotzi, spot, zoom in and explore. WiFli Student Response System. Wiggle 3D: How To Make Animated 3D Images from Adorama Learning Center.
80 Online Tools, References, and Resources. Photojournal: NASA's Image Access Home Page. Learn to code. Learn by Doing. HOT FREE BOOKS • 20,000+ full-text free books! #SciDo Collaborative - home. Quick Screen Share. QR voice FAQ. Web 2.0 Drawing Tools for Every Level. Word Dynamo.
Tidepool.swf (application/x-shockwave-flash Object) Europe_History.swf (application/x-shockwave-flash Object) - Curation is the new search: seven tools you may not know you can search with. - Top 100 Sites of 2011. Minutes. Home. Spellathon. Search. JeopardyLabs - Online Jeopardy Template. Screencast-O-Matic - Free online screen recorder for instant screen capture video sharing.
Discovery Education Web2011 : Home.
---