Behaviorism
Modern clinical psychology and psychiatry since the 1970s have developed a number of therapeutic applications based on the concept of mindfulness ( Pali sati or Sanskrit smṛti / स्मृति) in Buddhist meditation . [ edit ] Definitions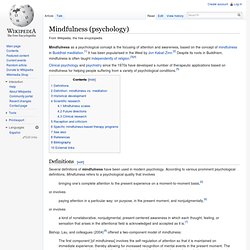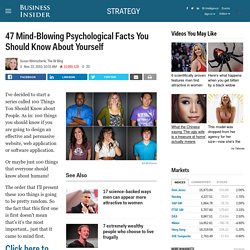 WHAT YOU ARE ABOUT TO READ IN THE NEXT PARAGRAPH IS COMMONLY BELIEVED, BUT NOT TRUE – You read by recognizing the shapes of words and groups of words.
A few years ago, my life was a mess. So was my house, my desk, my mind. Then I learned, one by one, a few habits that got me completely organized. Am I perfect? Of course not, and I don't aim to be.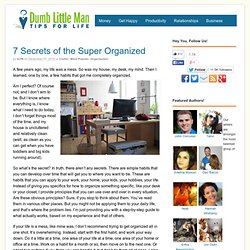 We all want to get stuff done, whether it's the work we have to do so we can get on with what we want to do, or indeed, the projects we feel are our purpose in life. To that end, here's a collection of 50 hacks, tips, tricks, and mnemonic devices I've collected that can help you work better. Most Important Tasks (MITs): At the start of each day (or the night before) highlight the three or four most important things you have to do in the coming day. Do them first. If you get nothing else accomplished aside from your MITs, you've still had a pretty productive day. Big Rocks: The big projects you're working on at any given moment.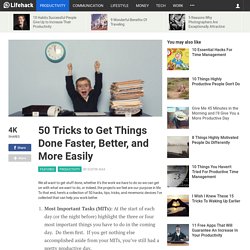 Behavioral Pattern Analysis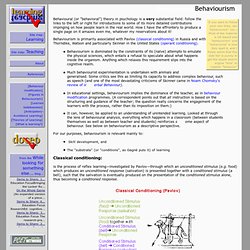 Behaviourism
If you want to follow your own links, use "behaviorism" (sic.) Most of the material is US-based and "behaviorism" and "behaviorist" is how they spell it, and I freely admit that this side-bar is purely to get the stupid search engine "bots" to register "behavior" Behavioural (or "behavioral") theory in psychology is a very substantial field: follow the links to the left or right for introductions to some of its more detailed contributions impinging on how people learn in the real world.
Behaviorism (or behaviourism ), is an approach to psychology that combines elements of philosophy, methodology, and theory. [ 1 ] It emerged in the early twentieth century as a reaction to "mentalistic" psychology, which often had difficulty making predictions that could be tested using rigorous experimental methods. The primary tenet of behaviorism, as expressed in the writings of John B.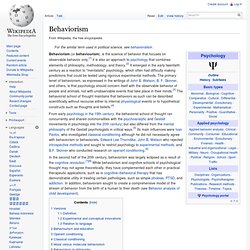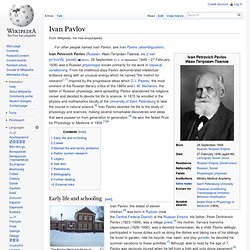 Ivan Pavlov
Ivan Petrovich Pavlov ( Russian : Ива́н Петро́вич Па́влов ; 26 September [ O.S. 14 September] 1849 – 27 February 1936) was a famous Russian physiologist . From his childhood days Pavlov demonstrated intellectual brilliance along with an unusual energy which he named "the instinct for research". [ 1 ] Inspired when the progressive ideas which D. I.
Classical conditioning (also Pavlovian conditioning or respondent conditioning ) is a form of learning in which the conditioned stimulus or CS, comes to signal the occurrence of a second stimulus, the unconditioned stimulus or US. (A stimulus is a factor that causes a response in an organism.) The conditioned response is the learned response to the previously neutral stimulus. [ 1 ] The US is usually a biologically significant stimulus such as food or pain that elicits a response from the start; this is called the unconditioned response or UR.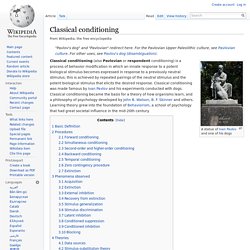 Classical conditioning
Richard Herrnstein
Richard J.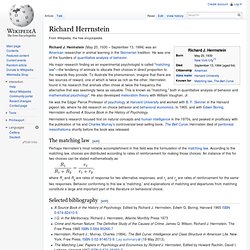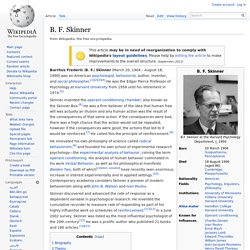 Burrhus Frederic "B.
Modeling language (Wikipedia)
A modeling language is any artificial language that can be used to express information or knowledge or systems in a structure that is defined by a consistent set of rules.
Interesting Info -> Lying Index & Body Language -> Micro Expressions
Interesting Info -> Lying Index -> Eye Direction & Visual Accessing Cues Eye Movement and Direction & How it Can Reveal Truth or Lies This is a continuation of our previous article Detecting Lies . Many comments by our visitors asked about how eye direction can indicate the presence of a lie.
Interesting Info -> Body Language -> Flirting Body Language (part 1) Quick Jump: General Signs of Flirting | Male Flirting | Female Flirting Also See: Body Language Resources | Decoding Male Body Language Updated March 21st - 2012.
Interesting Info -> Lying Index -> How to Detect Lies Become a Human Lie Detector (Part 1) Warning: sometimes ignorance is bliss.