PBL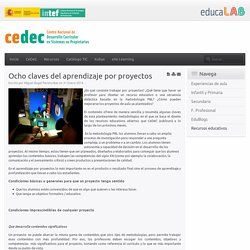 Ocho claves del aprendizaje por proyectos
¿En qué consiste trabajar por proyectos? ¿Qué tiene que hacer un profesor para diseñar un recurso educativo o una secuencia didáctica basada en la metodología PBL? ¿Cómo pueden mejorarse los proyectos de aula ya planteados?
Project-Based Learning vs. Problem-Based Learning vs. X-BL
At the Buck Institute for Education (BIE), we've been keeping a list of the many types of "_____- based learning" we've run across over the years: Case-based learningChallenge-based learningCommunity-based learningDesign-based learningGame-based learningInquiry-based learningLand-based learningPassion-based learningPlace-based learningProblem-based learningProficiency-based learningService-based learningStudio-based learningTeam-based learningWork-based learning . . . and our new fave . . .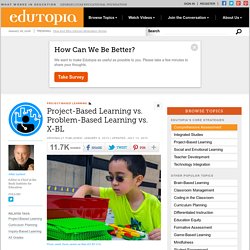 proyectosparaaprender - home
Creativity__Innovation_Rubric traducido.doc
Project Based Learning: Explained. (SPANISH)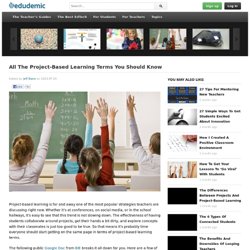 All The Project-Based Learning Terms You Should Know
Project-based learning is far and away one of the most popular strategies teachers are discussing right now. Whether it's at conferences, on social media, or in the school hallways, it's easy to see that this trend is not slowing down. The effectiveness of having students collaborate around projects, get their hands a bit dirty, and explore concepts with their classmates is just too good to be true. So that means it's probably time everyone should start getting on the same page in terms of project-based learning terms.
11 Steps Of Effective Project-Based Learning In A Blended Classroom -
In part 1 of this 6-part series, Thomas Stanley looked at an overview of blended learning , specifically the critical interactions of a blended learning model. In part 2 , he looked specifically at student-to-student interaction, and the reality of synchronous and asynchronous access. In part 3, he looked at student-to-teacher interactions, and moving from instruction to becoming the "guide on the side," and in part 4 he explored the idea of student-to-community interactions. Below in part 5, Stanley examines Student-to-material interactions as part of the blended learning model, specifically the process of project-based learning in a blended classroom. Student-to-Material Interaction: Effective PBL Learning in the Online or Blended Classroom What is the most effective way to get students to grapple with the subject matter?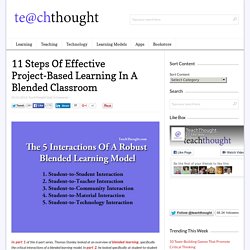 EducationWorld is pleased to present this article by Aimee Hosler, an OnlineSchools.com contributor and mother of two who writes about education and workplace news and trends. She holds a B.S. in journalism from California Polytechnic State University - San Luis Obispo. "Learn by doing ." This is the type of experience that great teachers strive to facilitate for students. Many educators have heard about, or maybe even witnessed, how project-based learning (PBL) can engage a broader range of learners and promote workplace skills. PBL is an instructional strategy in which students work cooperatively over time to create a product, presentation or performance.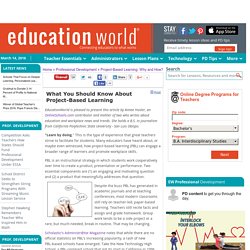 Project-Based Learning: Why and How?
Queremos trabajar por proyectos en el centro pero no sabemos por dó...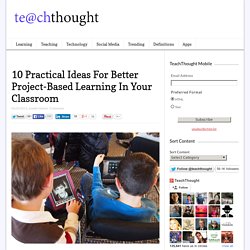 By Jennifer Rita Nichols, TeachThought Intern Teachers are incorporating more and more projects into their curriculum, allowing for much greater levels of collaboration and responsibility for students at all levels. Project- based learning is a popular trend, and even teachers who don't necessarily follow that approach still see the benefit to using projects to advance their students' learning. Projects can be wonderful teaching tools.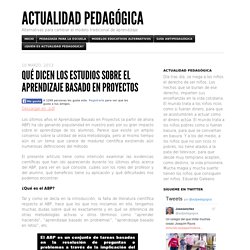 Descargar en .pdf Los últimos años el Aprendizaje Basado en Proyectos (a partir de ahora ABP) ha ido ganando popularidad en nuestro país por su gran impacto sobre el aprendizaje de los alumnos. Parece que existe un amplio consenso sobre la utilidad de esta metodología, pero al mismo tiempo aún es un tema que carece de madurez científica existiendo aún numerosas definiciones del método. El presente artículo tiene como intención examinar las evidencias científicas que han ido apareciendo durante los últimos años acerca del ABP, para ver en qué consiste, cuáles son los roles del profesor y del alumno, qué beneficios tiene su aplicación y qué dificultades nos podemos encontrar. ¿Qué es el ABP?
Qué dicen los estudios sobre el Aprendizaje Basado en Proyectos | Actualidad Pedagógica
Trabajo por proyectos - Segorbe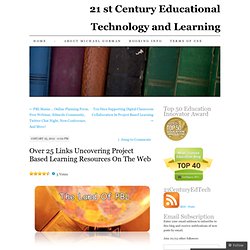 i 3 Votes Welcome to this first in a series of PBL Mania Posts. For the next few weeks I am celebrating Project Based Learning by hosting a webinar at Edtech Leaders Online, and by presenting a PBL session at the NICE Conference in Chicago. In this post I will introduce you to some awesome places on the web containing some of the very best PBL resources.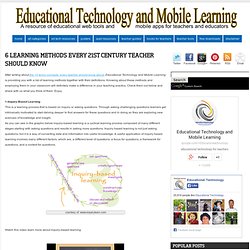 After writing about the 14 techy concepts every teacher should know about, Educational Technology and Mobile Learning is providing you with a list of learning methods together with their definitions. Knowing about these methods and employing them in your classroom will definitely make a difference in your teaching practics. Check them out below and share with us what you think of them.
APRENDIZAJE BASADO EN PROYECTOS - 27.pdf
Evaluación en el PBL - ABP
I am continuously inspired by the increasing number of shared video content which let's face it, in this digital age, we can't really avoid. The sharing and re-sharing of videos via email and through Facebook and Twitter have undoubtedly given rise to the phenomenon of these 'viral' videos. It goes without saying that shared video content is more popular than ever before, with more than 48 hours worth of video being uploaded to YouTube every single minute. Given that YouTube is the most popular video sharing website on the web, and only six years old, there is huge potential for virtually any video content to go viral. What Is A Viral Video? A viral video is quite simply a video that becomes popular through internet sharing.
Project-Based Learning Idea: Students Create Their Own Viral Video
If you're contemplating using Project-Based Learning or are already trying out the latest craze to hit the modern classroom, you should know about this checklist. It details if you're actually doing it correctly. For example, does your project focus on significant content, develop 21st century skills, and engage students in in-depth inquirty (just to name a few)? If not, you might want to reconsider your PBL approach.
What is Project Based Learning? "Project-based learning is a dynamic approach to teaching in which students explore real-world problems and challenges. With this type of active and engaged learning, students are inspired to obtain a deeper knowledge of the subjects they're studying."
PBL Made Easy With Blended Learning
Project-Based Learning is a 21st century approach to learning that acts both as a curriculum and instruction tool, as well as a new way for students to think about school. Rather than strictly academic lessons and units, real-world problems can be solved, and students gain experience with long-term management of the learning process, and the possibility of self-direction. Project-Based Learning allows naturally embedding of "school" in authentic environments whether those are digital or physical.
Projects in the classroom are as old as the classroom itself. "Projects" can represent a range of tasks that can be done at home or in the classroom, by parents or groups of students, quickly or over time. While project-based learning (PBL) also features projects, in PBL the focus is more on the process of learning and learner-peer-content interaction that the end-product itself. The learning process is also personalized in a progressive PBL environment by students asking important questions, and making changes to products and ideas based on individual and collective response to those questions.
The Difference Between Projects And Project-Based Learning
Home » About BIE » What is PBL? In Project Based Learning (PBL), students go through an extended process of inquiry in response to a complex question, problem, or challenge. While allowing for some degree of student "voice and choice," rigorous projects are carefully planned, managed, and assessed to help students learn key academic content, practice 21st Century Skills (such as collaboration, communication & critical thinking), and create high-quality, authentic products & presentations.
Aprendizaje basado en proyectos explicado por Common Craft
Do You Really Know What Project-Based Learning Is? - Teaching Now
Problem-based Learning » Prof. Philip Hallinger
Trabajando a través de Proyectos
II Jornadas PBL y Metodologías Activas Sevilla 2012: Red de formación e intercambio de proyectos Proyéctate
YouTube
11 Essential Tools For Better Project-Based Learning - Getting Smart by Guest Author - blended learning, EdTech, PBL
Guest Lesson | For Authentic Learning, Start With Real Problems
Cuando Sur y Norte se unen: Las matemáticas del viaje, un ejemplo de trabajo por proyectos (PBL) en colaboración aplicado al área de las matemáticas. | Buenas Prácticas TIC y recursos interesantes para utilizar en el aula
MONOGRÁFICO: Aprendizaje por proyectos y TIC
e-learning, conocimiento en red: MONOGRÁFICO: Aprendizaje por proyectos y TIC . César Vallejo #pblesp | Siempre a mano
Twenty Tips for Managing Project-Based Learning
P.B.L. en el IES El Palo by José María Ruiz Palomo on Prezi
Practical PBL: Design an Instructional Unit in Seven Phases | Edutopia | Siempre a mano
Practical PBL: Design an Instructional Unit in Seven Phases
Aprendizaje Esencial con Herramientas Digitales, Internet y Web 2.0
Aprendizaje basado en proyectos
Project-Based Learning Immersion
PBL Teaching and Learning Template | Digital Delights
PBL Teaching and Learning Template
Aprendizaje por proyectos en secundaria: PBL y PjBL
PBL