Music Sites
If you like music then you will like most all types. List your favorite sites here and the more non-mainstream the better. Not a place for Gangsta or hate rappers though.
Listen to Music Curated by Music Experts. Grooveshark Mobile Music. MULTIPLY (IN A MINOR KEY) by Jamie Lidell - happy playlist. 2 million+ music tracks to discover) The Beatles. 100 legal sites to stream and download free music | MerryCode. Music is life, I never found anyone who's life isn't influenced by Music.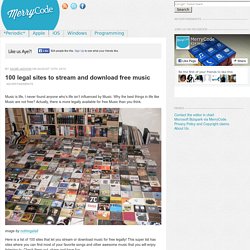 Why the best things in life like Music are not free? Actually, there is more legally available for free Music than you think. Otomata. New!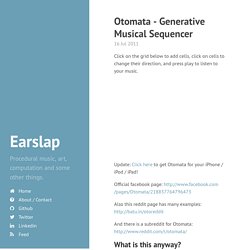 If you like Otomata, check out my new instrument Circuli by clicking here! Update: Click here to get Otomata for your iPhone / iPod / iPad! Listen to Music Samples, Remixes and Cover Songs. The Ultimate Road Trip Playlist — 50 Best Road Trip Songs | The Jetpacker. No road trip is complete without a playlist of songs that capture the spirit of traveling on the open road.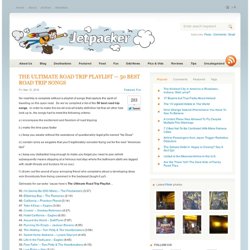 So we've compiled a list of the 50 best road trip songs . In order to make this be-all end-all totally definitive list that all other lists look up to, the songs had to meet the following criteria: a.) encompass the excitement and freedom of road tripping. Nature Sounds. 33 Ways to Make More Time in Your Life For Music-Making. 1.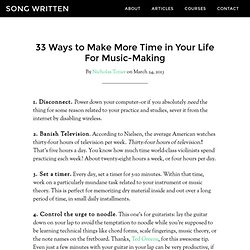 Disconnect. Power down your computer–or if you absolutely need the thing for some reason related to your practice and studies, sever it from the internet by disabling wireless. 2. Banish Television. 7 Alternatives to Pandora and Last.FM | Mystery Tricycle. Whether you are annoyed by the ads on Pandora, the limited number of skips, or the abyss of cruel 30-second song teasers from Last.FM, many online listeners are growing weary of mainstream methods of hearing new music.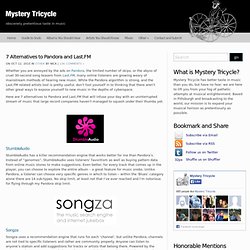 While the Pandora algorithm is strong, and the Last.FM related artists tool is pretty useful, don't fool yourself in to thinking that there aren't other great ways to expose yourself to new music in the depths of cyberspace. Here are 7 alternatives to Pandora and Last.FM that will infuse your day with an uninterrupted stream of music that large record companies haven't managed to squash under their thumbs yet. Nudge. Select 1 of 8 different Sound Patterns from the small Matrixes icons on the right. Use your mouse to draw notes on each 16 Step Matrix. Adjust the volume of the iNudge. Click MORE for advanced adjustment abilities. Projecttwo. FINALLY MOVING by Pretty Lights - chillout playlist. Enya.com | The Official Site. Girl Talk - All Day. FilterMusic - Internet radio stations, electronic & house music, online web radio.
Cantaria folk song library, www.chivalry.com/cantaria. Established in 1995 Cantaria is a library of traditional and contemporary folk songs, mostly from Ireland, Scotland, and England, intended to be an educational tool for propagating the living song tradition by providing lyrics with recorded examples of songs being sung, historical notes about the songs and in some cases the sheet music as well.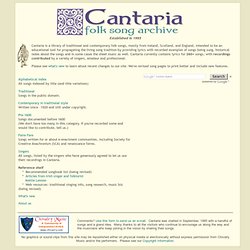 Cantaria currently contains lyrics for 260+ songs, with recordings contributed by a variety of singers, amateur and professional. Please see what's new to learn about recent changes to our site. We've revised song pages to print better and include new features.
Info on making Voice Recordings
Ukulele in Standard-Tuning (G, C E A)] Bird Photo Transcribed into Music. Aurgasm | your favorite music you've never heard. Listen for free to new and emerging music at amazingtunes. Lyricsfly.com - Song lyrics search database. Music to use » Search.
SiON SoundObject Quartet. Musicovery. Every Beatles song ever, all played at once: All Together Now. Grooveshark - Listen to Free Music Online - Internet Radio - Free MP3 Streaming. Great Workout Songs | Top Work Out Song Ideas to Get Fit to! We've compiled our favourite list of "Great Workout Songs" to get you pumped and ripped in no time time at all.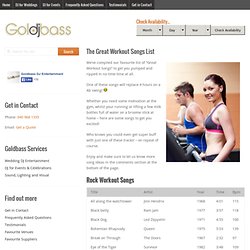 One of these songs will replace 4 hours on a Ab swing! Whether you need some motivation at the gym, whilst your running or lifting a few milk bottles full of water on a broome stick at home – here are some songs to get you excited!
---