Meilleure musique de 2012
Albums and Tracks of the Year for 2012. RA DJ Charts: Top 100 charted tracks in 2012. RA DJ Charts: Top 100 charted artists in 2012. TOP 50 Albums 2012. C'est une étape habituelle, en fin d'année le bilan s'impose pour les albums les plus marquants sur ces 12 mois.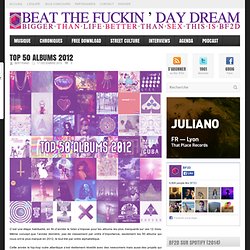 Même concept que l'année dernière, pas de classement par ordre d'importance, seulement les 50 albums qui nous ont le plus marqué en 2012, le tout trié par ordre alphabétique. Cette année le hip-hop outre atlantique s'est réellement réveillé avec des newcomers mais aussi des projets qui se sont vraiment développé, je pense par exemple au label G.O.O.D.
Music qui a littéralement explosé. Edj – Best of 2012. 2012 was a diverse musical year: songs to blast wide open & songs to listen to on headphones. edj once again fits his personal favorites onto the still-dying format of the CD. 79 minutes long, this review of the year's best journeys from genre to another sub-sub genre, always in search of an edgy and catchy quality. edj_01_08_13_best_of_2012 - Andy Stott – Leaving – Luxury Problems – Modern Love - Julia Holter – Marienbad – Ekstasis – Rvng Intl. - Beach House – Lazuli – Bloom – Bella Union - Teengirl Fantasy – Mist of Time (feat.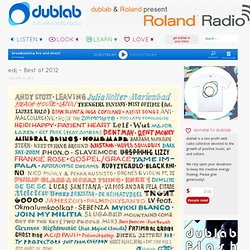 Laurel Halo) – Tracer – R&S - Dean Blunt & Inga Copeland – Artist Song 2 – Black Is Beautiful – Hyperdub - Animal Collective – Rosie Oh – Centipede Hz – Domino - Zammuto – Too Late To Topologize – Zammuto – Temporary Residence - Heidi Happy – Patient Heart – On The Hills – Silent Mode - Le1f – Wut (5kinAndBone5) – Dark York – SoundCloud Ltd. - Major Lazer – Get Free (feat. The Glitch Mob's 2012 Favorites by Glitch Mob on Spotify. Best of 2012. PLAYLIST: Feelin' All Y2K Again The 'Millennial' generation has been lauded as prematurely-nostalgic adult children that are fond of primitive Internet art, VHS tapes, photo filters and platform tennis shoes.
Whether or not this is the case, we've grown-up and pirated all kinds of production software in order to flood the Internet with homages to those most beloved relics of our recent childhoods. Personally, I have zero qualms admitting that a not-insignificant (OK, so maybe some qualms) percentage of the tracks I consume on a daily basis are just remixes of songs I liked in middle school. BEST OF 2012: Albums. BEST OF 2012: Albums Here are ten albums we will never forget from this year.
Click the links to listen on Spotify. Mount Eerie - Clear Moon / Ocean Roar Two separate albums are my top album of the year. BEST OF 2012: Songs. BEST OF 2012: Songs Songs – whether in the form of half-baked Soundclouds, majestic singles, freaky-deaky videos or sometimes even physical sculptures continued to rule the music world in 2012.
The best? Well, that is ultimately up the listener – a role that has more options than ever. BEST OF 2012: Party Music. BEST OF 2012: Party Music Today's recap and mix comes courtesy of RCRD LBL contributor Elise Peebles.
Check her out online here and here . Best Of 2012: Party Mix | 2,700+ Listens | 79 Likes | rcrdlbl. BEST OF 2012: Hip-Hop. BEST OF 2012: Hip-Hop Looking back, I'd imagine that these past few years will be viewed as a transitional time for hip-hop.
For every interesting new voice, there's an even deeper retreat into genre codes and formulas, and no one really knows exactly how it's going to shake out. Music is cheap to produce, but that means there's more garbage and it's easier to burn out when that one cool video is the only cool thing an artist makes. BEST OF 2012: Indie Rock. BEST OF 2012: Indie Rock This year in indie rock seemed like both a return to professionalism and a retreat to the barebones scuzz of historical garage theatrics.
Here are some very good songs in playlist form and an overview of the genre's most notable developments in 2012. BEST OF 2012: Electronic/Dance. BEST OF 2012: Electronic/Dance The world of electronic music continued to veer into uncharted territories throughout 2012 – both within unexplored underground nooks and on stadium stages with bigger sounds (and more party-hungry audiences) than ever before.
Here are some very good songs in playlist form and an overview of electronic/dance's most notable developments in 2012. Best Albums of 2012. Frank Ocean has the best-reviewed major album of 2012 It's not exactly a surprise, is it.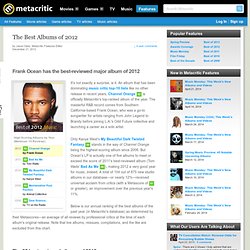 An album that has been dominating music critic top-10 lists like no other release in recent years, Channel Orange 92 is officially Metacritic's top-ranked album of the year. The masterful R&B record comes from Southern California-based Frank Ocean, who was a go-to songwriter for artists ranging from John Legend to Brandy before joining L.A.' Best Debut Albums of 2012. Ranking the year's best-reviewed debuts Our full list of 2012's best-reviewed albums won't arrive for a few days, but we're once again starting the list-making a bit early with a look at the year's 15 top debut albums.
While 2012 wasn't quite as strong a year for first-timers as 2011, this year still brought some exciting new talent to the attention of music fans, including English singer-songwriter Jessie Ware, who tops this year's Freshman 15. Below, we've listed the best-reviewed debuts of 2012, ranked by Metascore; albums must have at least 7 reviews (and be a full album, rather than an EP) to be eligible for inclusion. Mixtapes are eligible, however, which is why you don't see Frank Ocean's major-label debut Channel Orange on the list below (since his Nostalgia, Ultra was released first, in 2011, though some reviews came in too late for it to be included in last year's Freshman 15).
The 25 Best Mash-Ups. Mash-ups get no respect. Part of the problem is that with the easy-to-use technology these days, anyone can make them—and they do. It has led to a saturation of the Internet with half-assed mashes will little thought and even less listenability. The 20 best FACT mixes of 2012. From original sessions of found sound recordings (Julia Holter) and breakneck turntablism from the archives (Derrick May) to meticulous mixtapes of hip-hop and funk (Soul Clap, above) and full-blooded dancefloor attacks (Randomer), we enjoyed FACT's mix series in 2012 more than any year to date.
Here's our 20 office favourites. Use the arrow keys on your keyboard to turn pages (page 1/21) "A mix of road-tested hardcore from the dustiest shelf in Untold's record collection. It's an education, but far from a snotty one, and we hope we're not the only ones who'll be forcing it onto someone's stereo system at an after-party tonight. The 50 best albums of 2012. It's the same case every year at FACT with albums.
We sit down, moaning about how there's not been as many great full-lengths as in years gone by, and by the time it comes to finalising the top 50 there's a stack of worthy contenders – amongst them this year Jon Convex's Idoru, DJ Earl's Audio Fixx, Keith Fullerton Whitman's Generators, Fiona Apple's The Idler Wheel…, KTL's V and Joey Bada$$'s 1999 – that just end up missing the cut. Consider that your honourable mentions list; what follows are the 50 albums that did it most for FACT's staff this year. We'll be posting 10 entries a day, concluding with the top 10 on Friday. Les 101 meilleures chansons de l'année 2012 par Konbini.
101 meilleures chansons pour résumer l'année 2012 : voilà ce que Konbini vous propose. Tous les styles, du rap à l'électo en passant par la nouvelle pop à la française et le rock britannique. 101 chansons. Pas une de plus, pas une de moins. Derrière la sélection, cinq personnes de la rédaction de Konbini aux goûts différents. Les 20 chansons les plus écoutées pendant le réveillon. Nite Versions Best Albums of 2012 - Nite Versions. Le top des 40 meilleurs albums de 2012 du Guardian. Top albums 2012 : les tops des critiques. Nos 100 meilleurs albums de 2012: 31 à 100. Music Reviews, Ratings, Charts, News | Album of The Year. S Top 25 Albums Of 2012 So Far. Pitchfork's Top Albums of 2012. Pitchfork's 25 Worst Albums of 2012. La Shitlist 2012 de The Drone. Music Blog Zeitgeist of 2012 / The Hype Machine. FACT's alternative BRITs 2013: the nominations. Les albums de 2012.
---