Observateurs media US
Digital Deliverance. Pressthink. Followthemedia.com a knowledge base for media professionals. REVSQUARE MEDIA CAFÉ. Stephen Robert Morse. Publishing 2.0. How will native advertising scale?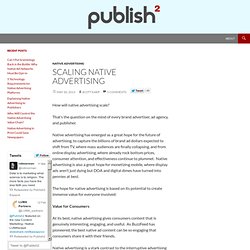 That's the question on the mind of every brand advertiser, ad agency, and publisher. Native advertising has emerged as a great hope for the future of advertising, to capture the billions of brand ad dollars expected to shift from TV, where mass audiences are finally collapsing, and from online display advertising, where already rock bottom prices, consumer attention, and effectiveness continue to plummet.
Native advertising is also a great hope for monetizing mobile, where display ads aren't just dying but DOA and digital dimes have turned into pennies at best. The hope for native advertising is based on its potential to create immense value for everyone involved: MediaShift. 1.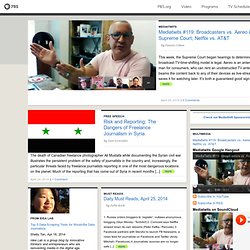 Russia orders bloggers to 'register'; outlaws anonymous blogging (Glyn Moody / Techdirt) 2. Comcast says Netflix slowed down its own streams (Peter Kafka / Re/code) 3. Facebook partners with Storyful to launch FB Newswire, a news feed for journalists on Facebook and Twitter (Andy Mitchell / Facebook) 4 Journalists' sources are no longer safe [...] more »
Tom Foremski. Center for International Media Assistance | Let the people know the facts and the country will be safe. - Abraham Lincoln. Poynter. Constellation Research Group. WHAT'S NEXT: INNOVATIONS IN NEWSPAPERS. Editor & Publisher ® A Guide to the Media Industry - Media Decoder Blog. Newspaper Death Watch. Newspaper Innovation. Project for Excellence in Journalism (PEJ) | Understanding News in the Information Age. Nieman Journalism Lab. The State of the News Media 2011. Columbia Journalism Review. On The Media. Nicholas Carr. Online Journalism Blog. MediaDailyNews, MEDIA and OMMA Magazines. Future Journalism Project. The Media Business. Future Exploration Network. World Association of Newspapers. Paper Cuts | Buyouts and layoffs in the newspaper industry. Home. Media Matters for America.
Newsonomics - How the emerging business of digital news shapes what we read and know. Welcome to WAN-IFRA. NAA.org Homepage - NAA.org. The papers got smaller. Pew Research Center. BuzzMachine.
---