Observateurs media US
Digital Deliverance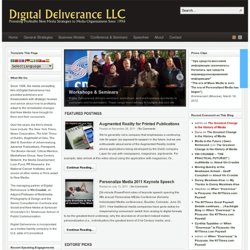 Keynoted the fifth annual Personalize Media conference , held this year on June 21-22, 2011, Boulder, Colorado. The speaker of the Singapore Press Holdings Foundation annual Media Lecture , Drama Centre, National Library, Singapore, July 14, 2010. The co-chair and co-moderator of Syracuse University's S.I. Newhouse School of Public Communication's Monetizing Online Business Conference , New York City, June 24-25, 2010.
Pressthink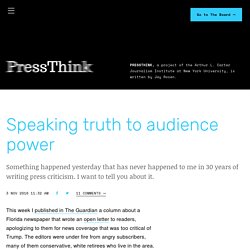 Feb.4 These are my notes for a talk I'm giving today at the Reynolds School of Journalism at the University of Nevada, Reno What I'm calling the personal franchise model in journalism is not new. I.F.
News research center asks "What if?"Hot topics A new research center has opened its doors at Karlstad University in Sweden.
followthemedia.com a knowledge base for media professionals
REVSQUARE MEDIA CAFÉ
Business Insider publishes a very interesting presentation from Facebook product manger Paul Adams, back when he was at Google. It is called: The Real Life Social Network and it is supposed to have influenced the creation of Google+. What are the key elements from this presentation: #1- "People are spending much more time interacting with other people and much less time consuming content from websites".
There are an uncertain number of people who are so singularly obsessed with Amanda Knox's case that they virtually slapped me around again and again for these six words and one link. Yes, Twitter is a public forum, and yes, everyone is entitled to his and her own opinions… but why are people so obsessed with a seven year old murder case? The person who inadvertently explained the problems with trolls to me best is my friend Rob, who works as a writer's assistant and writer on Law and Order: Special Victims Unit. When he told me about a recent episode he was working on, he said, "Of course we'll find the accused perpetrator guilty in the end. The audience loves that. They root for the bad guys to get convicted."
Stephen Robert Morse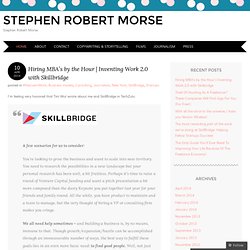 Publishing 2.0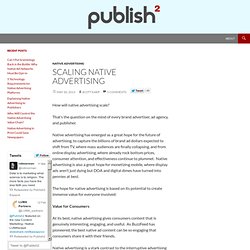 How will native advertising scale? That's the question on the mind of every brand advertiser, ad agency, and publisher. Native advertising has emerged as a great hope for the future of advertising, to capture the billions of brand ad dollars expected to shift from TV, where mass audiences are finally collapsing, and from online display advertising, where already rock bottom prices, consumer attention, and effectiveness continue to plummet. Native advertising is also a great hope for monetizing mobile, where display ads aren't just dying but DOA and digital dimes have turned into pennies at best. The hope for native advertising is based on its potential to create immense value for everyone involved:
1. Mozilla co-founder Brendan Eich resigns as CEO, leaves foundation board (Kara Swisher / Re/code) 2. Leaked NSA documents will be stored in public database (Adrianne Jeffries / The Verge) 3. Turkey lifts Twitter ban after court ruling (Ozge Ozbilgin & Orhan Coskun / Reuters) 4.
MediaShift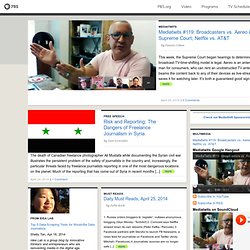 Tom Foremski
Center for International Media Assistance | Let the people know the facts and the country will be safe. - Abraham Lincoln
CIMA has compiled data on the media in developing countries around the world. This data is drawn primarily from IREX's Media Sustainability Index, Freedom House's Freedom of the Press index, and Reporters Without Borders's Press Freedom Index. While these indexes measure different aspects of press freedom, by including each of them, we hope to provide a more complete picture of the media in each country. Also included in these summaries is data from the Committee to Protect Journalists as well as news updates from IFEX.
Poynter.
Constellation Research Group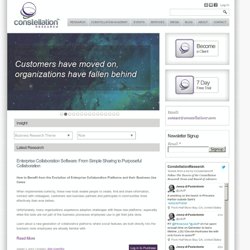 Enterprise Collaboration Software: From Simple Sharing to Purposeful Collaboration How to Benefit from the Evolution of Enterprise Collaboration Platforms and their Business Use Cases When implemented correctly, these new tools enable people to create, find and share information, connect with colleagues, customers and business partners and participate in communities more effectively than ever before.
WHAT'S NEXT: INNOVATIONS IN NEWSPAPERS
Alfonso Nieto died yesterday in Pamplona (Spain) but his legacy as a person, friend, writer, thinker, mentor and leader will last for many years. He was the absolute force behind the development of Journalism education in Spanish universities. During his time as president of the University of Navarre we founded INNOVATION. We learned from him many lessons and one of them was that "nothing is more practical than a good theory." Alfonso Nieto was a close friend of the late Leo Bogart, a founding director of INNOVATION. Like Leo, he was a man of good manners, many friends, sharp mind and highly educated.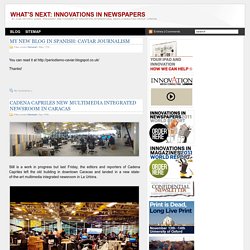 Editor & Publisher ®
A Guide to the Media Industry - Media Decoder Blog
Greenwald and Poitras Land in New York Times Minute | The New Stephen Colbert David Letterman's Legacy Russia Today Anchor Resigns on Air VHS vs. Communism'House of Cards' ReturnsAnd Now, a Preview From Your SponsorGoPro Goes AmateurMadden NFL: The 33rd TeamAnd the Winner Is ...
We did a double-take when we saw this headline on Bloomberg last week: "BuzzFeed Said to Expect 2014 Sales of Up to $120 Million." If you haven't paid much attention to BuzzFeed, now is a good time to start, because this seven-year-old dark horse may have figured out the secret to making money in an environment of brutal competition and plummeting advertising prices. The story relates some impressive statistics: BuzzFeed expects to book $60 million in revenue this year, up from an initial budget of $40 million.Year-over-year traffic is up fourfold.The site attracted more than 130 million unique visitors in November.BuzzFeed expects to field more than 600 ad campaigns this year.It has raised $46 million.It's profitable. Image via CrunchBase Casual visitors to BuzzFeed might be tempted to dismiss the site as just another collection of top-10 lists.
Newspaper Death Watch
Free dailies in the Netherlands March 27th, 2013 Dutch free dailies Metro and Spits lost some circulation together compared to 2011 but are still the second and fourth paper in the country. Paid paper De Telegraaf had a circulation of 521,000 copies, Metro has an average circulation of 436,000 (434,000 in 2011), paid paper AD distributed 383,000 copies while Spits had a circulation of 325,000 copies (354,000 in 2011).
Newspaper Innovation
Project for Excellence in Journalism (PEJ) | Understanding News in the Information Age
Nieman Journalism Lab
The State of the News Media 2011
Columbia Journalism Review
16 women whose digital startups deserve Vox-level plaudits - A look at the media entrepreneurs who aren't grabbing headlines Why was 'Dasani' shut out of the Pulitzers? - 5 problems with The New York Times' ambitious, influential series on the life of one homeless Brooklyn girl The AP downplays its Obamacare scoop - Repeal on deductible caps marks another step in The Great Cost Shift The enduring pull of mag covers - Why do magazine cover images still hold so much cultural power in this decline-of-print era? Michael Wolff's digital media bloopers - The Newser founder trolls (other) digital-news companies
On The Media
Nicholas Carr
Online Journalism Blog
MediaDailyNews, MEDIA and OMMA Magazines
Future Journalism Project
The Media Business
Future Exploration Network
World Association of Newspapers
Paper Cuts | Buyouts and layoffs in the newspaper industry
Home
Media Matters for America
Newsonomics - How the emerging business of digital news shapes what we read and know
Welcome to WAN-IFRA
NAA.org Homepage - NAA.org
the papers got smaller
Pew Research Center
BuzzMachine