Community Builder
Community Builder extensions. Community Builder Ads. Advertisement and Affiliates Results 1 - 2 of 2 Community Builder Plugin for Interspire Email Marketing...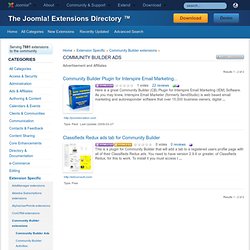 Here is a great Community Builder (CB) Plugin for Interspire Email Marketing (IEM) Software. Community Builder Activities. Results 1 - 8 of 8 Virtuemart CB Suite Our complete package of CB Plugs for Virtuemart.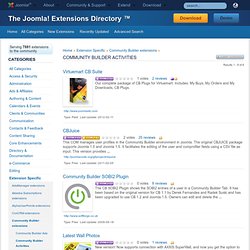 Includes: My Buys, My Orders and My Downloads, CB Plugs. Type: PaidLast Update: 2012-02-11. Community Builder Authors. Results 1 - 3 of 3 Multi Author Tab Multi Author Tab is a Community Builder plugin.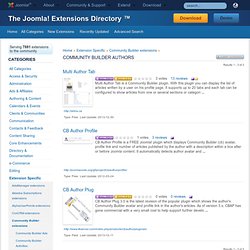 With this plugin you can display the list of articles written by a user on his profile page. It supports up to 20 tabs and each tab can be configured to show articles from one or several sections or categori ... Type: FreeLast Update: 2013-12-30. Community Builder Communication. Results 1 - 8 of 8 Notice Board for Community builder Notice board is a plugin for Community builder that allows to add a personal message-board for each user (as a bulletin board) (from version 2.0 and the module can be operated without Community Builder).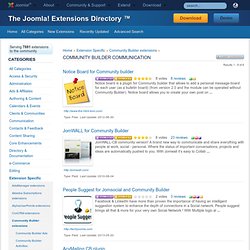 Notice board allows you to create your own post on ... Type: FreeLast Update: 2012-06-30. Community Builder Management. Results 1 - 10 of 10 CB reCaptcha This Community Builder plugin shows reCaptcha widget on registration and password/username reminder forms.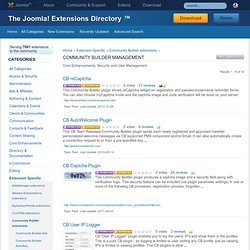 Community Builder Maps. Community Builder Multimedia. Galleries and multimedia extensions for Community Builder Results 1 - 6 of 6 CB Music.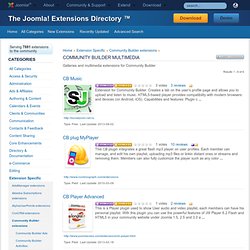 Community Builder Pictures. Results 1 - 6 of 6 Photogallery for CB Photo gallery for Community Builder is an extension to allow each user to have and manage a personal image gallery.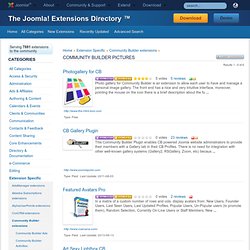 The front end has a nice and very intuitive interface, moreover, pointing the mouse on the icon there is a brief description about the fu ... Type: Free CB Gallery Plugin. Community Builder Profiles. Results 1 - 20 of 36 «StartPrev12NextEnd» Profile Pro for Community Builder With this extension you can: ✔ Customize profile, profile edit and registration pages in Community Builder !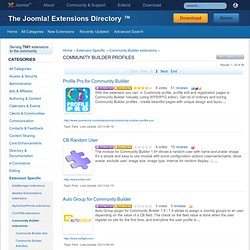 Visually (using WYSIWYG editor). Get rid of ordinary and boring Community Builder profiles - create beautiful pages with unique design and layou ... Community Builder Search. Results 1 - 3 of 3 Geocode Factory Map Search for Community Builder This Community Builder search plugin for Geocode Factory allows you to show the Community Builder search results in a Geocode Factory map.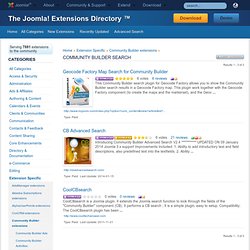 Community Builder Social Web. Results 1 - 3 of 3 ShareMyProfile CB plugin This little plugin for Community Builder displays a 'Share this profile' button on every profile page.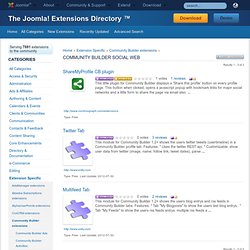 This button when clicked, opens a javascript popup with bookmark links for major social networks and a little form to share the page via email also. ... Community Builder Store. Search. This Community Builder search plugin for Geocode Factory allows you to show the Community Builder search results in a Geocode Factory map. This plugin work together with the Geocode Factory component (to create the maps and the markerset), and the Geocode Factory module (to display the map on the Community Builder pages). This plugin is a gateway between the Geocode Factory and Community Builder search result. The search results are show on the map, when the module is shown on the Community Builder search page. All features of Geocode Factory maps are usable, and you can display any markersets (Sobi markers, Events markers ...) at same time, only the Community Builder markers will be filtered. Geocode Factory component is requiered.
---