JavaScript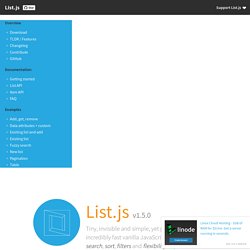 Do you want a 3 KB cross-browser native JavaScript that makes your plain HTML lists/tables super flexible, searchable, sortable and filterable? Yeah! Do you also want the possibility to add, edit and remove items by dead simple templating? Hell yeah!
How to Download and Build V8 - V8 JavaScript Engine - Google Code
V8 is Google's open source JavaScript engine. V8 is written in C++ and is used in Google Chrome, the open source browser from Google. V8 implements ECMAScript as specified in ECMA-262, 5th edition, and runs on Windows (XP or newer), Mac OS X (10.5 or newer), and Linux systems that use IA-32, x64, or ARM processors. V8 can run standalone, or can be embedded into any C++ application.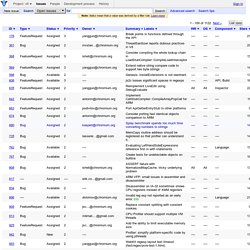 Function Declarations and Expressions Functions in JavaScript are first class objects. That means they can be passed around like any other value. One common use of this feature is to pass an anonymous function as a callback to another, possibly an asynchronous function.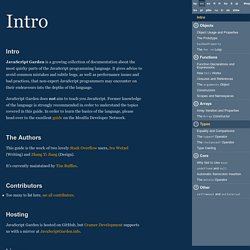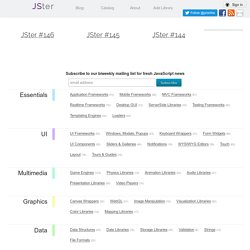 Sign in JSter is a catalog of 1544 JavaScript libraries and tools for web development. JSter #20 JSter #19 JSter #18 via Ad Packs
The Future of JavaScript – take a peek today!
The ECMA committee is working hard on designing the next version of JavaScript, also known as "Harmony". It is due by the end of next year and it is going to be the most comprehensive upgrade in the history of this language. Chrome and V8 are committed to pushing JavaScript forward and have already started implementing the new features.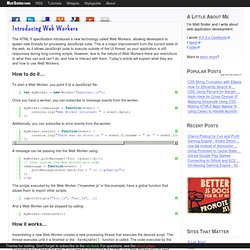 The HTML 5 specification introduces a new technology called Web Workers, allowing developers to spawn new threads for processing JavaScript code. This is a major improvement from the current state of the web, as it allows JavaScript code to execute outside of the UI thread, so your application is still responsive during long-running scripts. However, due to the nature of Web Workers there are restrictions to what they can and cant do, and how to interact with them. Todays article will explain what they are and how to use Web Workers. How to do it…
Introducing Web Workers
Nodester API Profile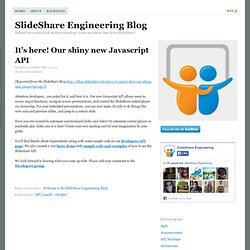 [Reposted from the SlideShare Blog http://blog.slideshare.net/2011/01/24/its-here-our-shiny-new-javascript-api/] Attention developers…you asked for it, and here it is. Our new Javascript API allows users to access major functions, navigate across presentations, and control the SlideShare embed player via Javascript.
It's here! Our shiny new Javascript API
Developer Network: Community: JavaScript API (Early Access)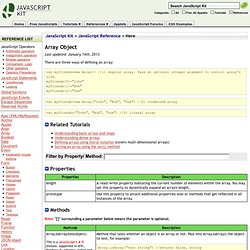 By default sorts an array alphabetically and ascending. By passing in an optional SortFunction, you can sort numerically and by other criteria as well. If SortFunction is defined, the array elements are sorted based on the relationship between each pair of elements within the array, "a" and "b", and your function's return value.
JavaScript Kit- Array Object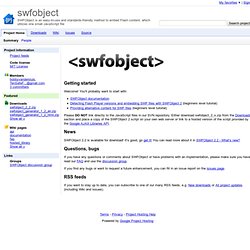 Getting started Welcome! You'll probably want to start with: Please DO NOT link directly to the JavaScript files in our SVN repository. Either download swfobject_2_x.zip from the Downloads section and place a copy of the SWFObject 2 script on your own web server or link to a hosted version of the script provided by the Google AJAX Libraries API. News
README.md impress.js It's a presentation framework based on the power of CSS3 transforms and transitions in modern browsers and inspired by the idea behind prezi.com. impress.js may not help you if you have nothing interesting to say ;)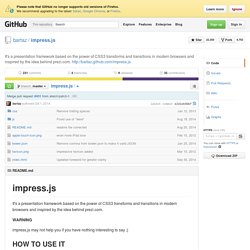 TradeMe/bootup.js
README.md bootup.js Cache and load static files from local storage. This makes it easier to manage Javascript and other files for offline use, or just to improve the startup time of your web app.
Modernizr is a JavaScript library that detects HTML5 and CSS3 features in the user's browser. Why use Modernizr? Taking advantage of cool new web technologies is great fun, until you have to support browsers that lag behind.
timbre - JavaScript Library for Objective Sound Programming
Porting Deadly Dodge Ball
I have been slowly moving away from Flash towards HTML 5 for a while with 12 Months of Doomsday most likely being my last Flash project. It is certainly possible that Flash CS6 will somehow convince me to keep developing for Flash, but Adobe has pissed me off quite a bit the last few months so CS6 would have to have extremely impressive features (or a really cheap upgrade from CS5.5) in order to keep me as a customer. For this reason I decided to port my Friday the 13th project from Flash to HTML 5. If porting from Flash to HTML 5 wasn't enough, I thought it would also be a good opportunity to play around with EaselJS, which is a Flash-like animation library for JavaScript. The reason I thought about using a third-party (open source) library instead of cleaning up and building on top of my own is simply due to the fact that going forward I am going to have less time to spend on my site as I am going to be focused on developing some mobile games.
svmjs Neural Networks in Javascript: demo
svmjs Support Vector Machine in Javascript: demo
README.md Matches.js is deprecated. Please check out sparkler, a native pattern matching engine built using sweet.js macros.
natefaubion/matches.js
JSFeat - JavaScript Computer Vision Library.
download release 1.3
Useful JavaScript Libraries and jQuery Plugins For Web Developers
Text utilities
BigScreen
javascript ([3]clientside[2]))
Web Services Messaging with Apache Axis2: Concepts and Techniques
JSON: What It Is, How It Works, and How to Use It