Christmas
About FaveCrafts.com Welcome to FaveCrafts.com where we have 1000's of free craft projects, home decor ideas and DIY tips. We add new projects and tips every day.
Christmas Crafts, Free Knitting Patterns, Free Crochet Patterns and More from FaveCrafts.com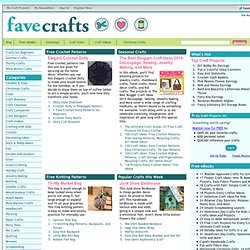 AllFreeChristmasCrafts (freexmascrafts) on Pinterest
The holidays have officially begun. As we countdown to Christmas I'll be sharing some of my favorite holiday decorations, crafts, and gift ideas. To start us off Bread Dough Ornaments from Stephanie of even*cleveland. So cute, I can't wait to try.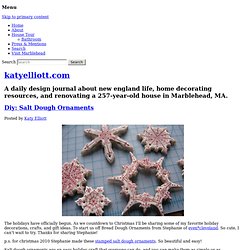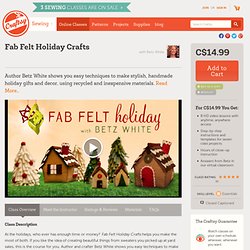 Fab Felt Holiday Crafts
Class Description At the holidays, who ever has enough time or money? Fab Felt Holiday Crafts helps you make the most of both.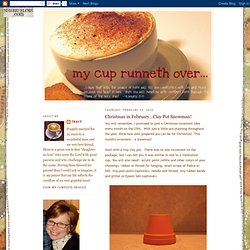 Christmas in February...Clay Pot Snowman!
You will remember, I promised to post a Christmas ornament idea every month on the 25th. With just a little pre-planning throughout the year, think how well prepared you can be for Christmas! This month's ornament...a snowman! Start with a tiny clay pot. There was no size increment on the package, but I can tell you it was similar in size to a medication cup. You will also need: acrylic paint (white and other colors of your choosing), ribbon or thread for hanging, small scraps of fleece or felt, tiny pom-poms (optional), needle and thread, tiny rubber bands and glitter or Epsom Salt (optional).
▶ Twine Wrapped Christmas Star Ornaments
101 Days of Christmas: Personalized Scrabble Ornaments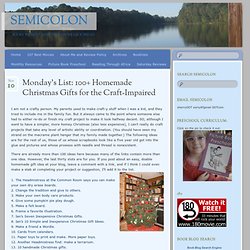 I am not a crafty person. My parents used to make craft-y stuff when I was a kid, and they tried to include me in the family fun. But it always came to the point where someone else had to either re-do or finish my craft project to make it look halfway decent. SO, although I want to have a simpler, more homey Christmas (also less expensive), I can't really do craft projects that take any level of artistic ability or coordination.
Monday's List: 100+ Homemade Christmas Gifts for the Craft-Impaired
Handmade website
[ Close Privacy Policy ] Privacy Policy / Your California Privacy Rights Revised and posted as of March 4, 2013 Prime Publishing, LLC ("Company," "we" or "us") reserves the right to revise this Privacy Policy at any time simply by posting such revision, so we encourage you to review it periodically. In order to track any changes to this Privacy Policy, we will include a historical reference at the top of this document. This Privacy Policy will tell you, among other things: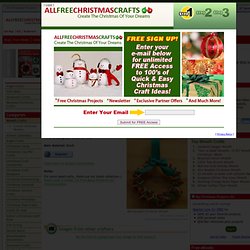 Mini Beaded Christmas Wreath | AllFreeChristmasCrafts.com
Pinterest
One of the jewelry projects I did recently is this necklace. I always wanted to try to make one with many different items and elements. I thought that it is a little more challenging to mix and match and I might be able to come up with something unique. To make this necklace, I used wood, metal, and leather. I also mixed vintage items with new findings. Go ahead, go fish around the house... you might find some fun and unique items to make a one of a kind necklace!
Eclectic Necklace ~
A Christmas DreamAnd How It Came True Louisa May Alcott (1832-1888) "I'm so tired of Christmas I wish there never would be another one!"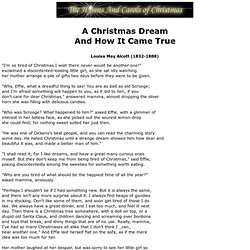 A Christmas Dream, And How It Came True - Louisa May Alcott
Holiday Card Series 2012 – Day 12 « kwernerdesign blog
Happy Friday, all! Back again with another card and video in the Holiday Card Series. :) Today, I used the reindeer stamp from Gnome for the Holidays, a stamp set I designed for Simon's Festive Holiday Card Kit. I just love this little guy! I colored the stamp with Copic markers on 120# Ultra Thick White cardstock. The Ultra Thick cardstock is perfect for this card because I planned to color directly on the card base and I didn't want the Copics bleeding through to the inside of the card.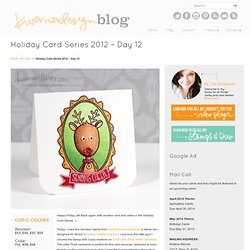 Item: K72-08171 - Type: Felt Applique Kits. 3" x 4"Decked out in their winter garb, these jolly snowmen are perfect for decorating or for adorning a package. Our Simple Snowmen Ornaments in felt applique are fun and easy to make. Contains cotton thread, cording, die-cut acrylic/polyester felt, polyester stuffing, needle, and easy instructions. Finished Size: 3" x 4" (8 x 10 cm), Set of 3. Designed by Dimensions. We ship via the U.S.
Dimensions Simple Snowmen Ornaments - Felt Applique Kit - 123Stitch.com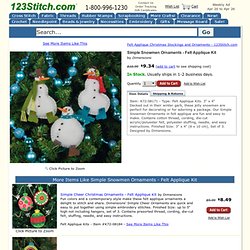 Hello Handmade Jewelry Club members! Just 9 days to go and it's Christmas. Check out the round-up free tutorials and jewelry making news we had for the week and maybe you could get some handmade jewelry making gift ideas to your friends
Round-Up Free Tutorials & Jewelry Making News
DIY Beading: Oh, Christmas Tree Bracelet Tutorial
It's DIY beading time and I'm about to share a diy beading bracelet tutorial that's perfect this coming Christmas! Remember this bracelet I shared on the Fanpage? Finally, the patten is finished and I believe many have been waiting for it So, let's wait no more! 1. In order to create the Christmas Tree you need to know first the basic Square Stitch weaving technique.
All Free Christmas Crafts