GADGETS 6
[curiosidade] Acessório permite colocar alça de segurança no iPhone 5. A ideia nós já conhecemos, mas agora resolveram implementá-la no iPhone 5.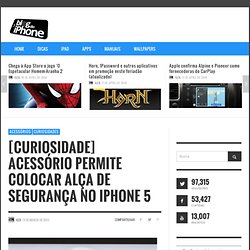 Aproveitando os únicos parafusos externos que o aparelho tem, este acessório permite colocar uma alça no iPhone, para quem procura mais segurança. O acessório consiste em uma pequena alça, parecida com aquelas dobradiças de porta de armário. Para instalá-lo, você precisa tirar os parafusos originais no aparelho e trocá-los por um mais comprido, que vem junto com o produto. This Incredible Fake iWatch Ad Is A Holographic Dream Come True. This month saw the revival of rumors concerning Apple's fabled iWatch.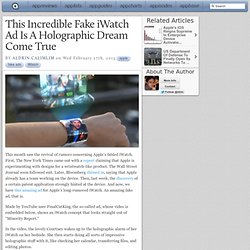 First, The New York Times came out with a report claiming that Apple is experimenting with designs for a wristwatch-like product. The Wall Street Journal soon followed suit. Later, Bloomberg chimed in, saying that Apple already has a team working on the device. Then, last week, the discovery of a certain patent application strongly hinted at the device. And now, we have this amazing ad for Apple's long-rumored iWatch. Buddy crowdfunded smartwatch claims a battery life of 10 days. One of the challenges smartwatch makers face deals with the tiny batteries that power these things.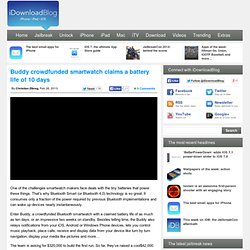 That's why Bluetooth Smart (or Bluetooth 4.0) technology is so great. It consumes only a fraction of the power required by previous Bluetooth implementations and can wake up devices nearly instantaneously. Enter Buddy, a crowdfunded Bluetooth smartwatch with a claimed battery life of as much as ten days, or an impressive two weeks on standby. Show Your Creativity With a 3D Pen. Say you had a goal.
Not only did you meet your goal you reached it to the tune of 6241%. Probably a good indication you succeeded, eh? Meet 3Doodler, a 3D pen. Not Surprisingly, Google Glass Will Be Compatible With The iPhone. While I'm still personally waiting for the rumored Apple iWatch to make an appearance this year, The Verge's Joshua Toplosky has an interesting, hands-on look at the Google Glass project.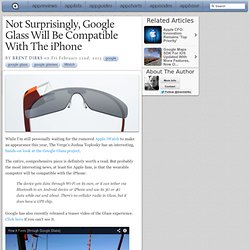 The entire, comprehensive piece is definitely worth a read. But probably the most interesting news, at least for Apple fans, is that the wearable computer will be compatible with the iPhone: The device gets data through Wi-Fi on its own, or it can tether via Bluetooth to an Android device or iPhone and use its 3G or 4G data while out and about. Electromagnetic Harvester claims to charge batteries with ambient energy. The handheld Electromagnetic Harvester allegedly charges a AA battery using just the electromagnetic fields given off by gadgets, power lines, vehicles, and even living things Image Gallery (6 images) We're surrounded by electromagnetic fields almost everywhere these days.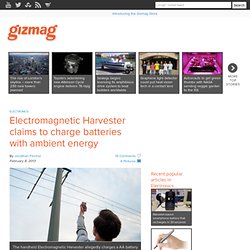 Just because they're almost imperceptible doesn't mean they can't be used as a source of energy though. One student in Germany recently built the Electromagnetic Harvester, a small box that allegedly charges an AA battery using just the electromagnetic fields given off by the likes of power lines, vehicles and electronic gadgets. View all. Crazyflie Nano Quadcopter Kit 10-DOF with Crazyradio (BC-CFK-02-A) [ROB01315M] - $173.00. I was just wondering when this product will be in stock again?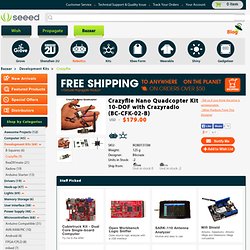 Please kindly click " Notify Me " button and you will receive an email when it is in stock Answered by Yang tongtong | 2014-03-14 Was this useful? 0 of 0 people found this useful. Cassette Conversion Gadget Ports Songs To iPhone. I remember back in the day when I had literary stacks of cassettes.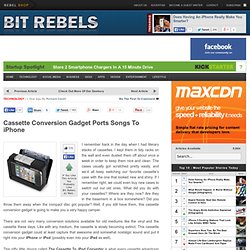 I kept them in tidy racks on the wall and even dusted them off about once a week in order to keep them nice and clean. The cases usually got scratched pretty easily, and we'd all keep switching our favorite cassette's case with the one that looked new and shiny. If I remember right, we could even buy new cases to switch out our old ones. How to Set Up a Personal Hotspot with the iPhone. Posted 09/04/2012 at 8:03am | by Hollin Jones You might be wondering: "What can a hotspot do for me?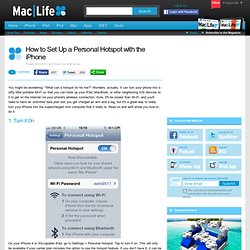 " Wonders, actually. It can turn your phone into a nifty little portable Mi-Fi so that you can hook up your iPad, MacBook, or other neighboring iOS devices to it to get on the internet via your phone's wireless connection. Sure, it'll be slower than Wi-Fi, and you'll need to have an unlimited data plan lest you get charged an arm and a leg, but it's a great way to really turn your iPhone into the supercharged mini computer that it really is.
Read on and we'll show you how to do it. Launchport for iPad Delivers Inductive Charging and Magnetic Mounting. By Kevin Purcell | Launchport created a new iPad sleeve that integrates a magnet on the back to both mount and inductively charge the New iPad and iPad 2.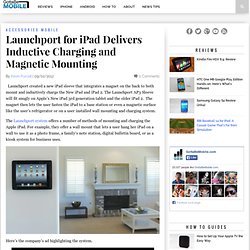 The Launchport AP3 Sleeve will fit snugly on Apple's New iPad 3rd generation tablet and the older iPad 2. Double Robotics iPad Telepresence Robot. Double Robotics has created an awesome new style of telepresence robot called the Double, that uses an Apple iPad to create the two way communication and power the controls. The Double is equipped with two wheels ate its base and holds the iPad at eye level (40″ – 60″ above the ground) allowing you to engage with others just as if you were there. Watch the video after the jump to learn more about the Double telepresence project and see it in action. 50 Must-Download Apps For Lifelong Learners. Added by Jeff Dunn on 2012-08-13 Long after degrees have been conferred and careers have been launched, many folks just can't seem to quit school. For them, life provides an overstuffed cornucopia of educational opportunities that don't necessarily require hefty loans and navigating different professorial strategies. Those with a lust for learning who happen to also enjoy testing the limits of what the iPad offers definitely don't have to worry about finding resources to pique their fancy.
Hundreds, if not thousands, of apps are out there just twitching for users to fire them up and absorb a mental nugget or two. History and Geography. Apple Takes On Google In 3-D Maps Comparison. While the struggle for supremacy between iOS and Android is typically fierce on all fronts, one of the biggest battles is bound to be fought over the future of 3-D interactive map technology. Just days before Apple's WWDC Maps app announcement, Google stole some thunder with its own update preview, bringing sophisticated 3-D mapping into the Google Earth fold. Still, the search giant's methods — and results — are a bit different from Apple's beta product, and the jury's still out on which brand is wielding the most cartographic expertise.
The Red Ferret Journal » Tiny Quadcopter UFO offers hover fun in the sun. Dica 'faça-você-mesmo': proteção caseira para evitar que seu cabo USB da Apple se rompa. Os cabos USB que vem junto com os dispositivos da Apple (como o iPhone e o iPad) não são muito conhecidos por sua durabilidade. De fato, muita gente reclama que, depois de alguns meses, as extremidades começam a se romper com o uso. Eu pessoalmente nunca tive um cabo destes rompido e acredito que dependa muito da forma que o usuário cuida do cabo. Mas como muita gente sofre deste problema, trazemos a solução sugerida pelo nosso leitor Sandro Dukta. Stackable Battery Packs Provide as Much Power as You Can Carry. Energenie protective case doubles iPhone's battery life. You know the drill, you need to make a phone call on your iPhone and bam, the battery has run out. Energenie is the latest company to offer a solution with its iPhone 4/4S Chargegenie Sleevecharger. Clip your iPhone into the Sleevecharger case and not only will your handset be protected from any bumps, scuffs and knocks, but you'll also double the battery life.
While the Chargegenie Sleevecharger is solely compatible with the iPhone 4 and iPhone 4S, Energenie has an alternative solution for handsets from other manufacturers. The Chargegenie 25 and Chargegenie 50 external batteries house a capacity of 2500mAh and 5000mAh respectively and can be used to top up the juice levels of mobiles, MP3 players, games consoles and digital cameras, with a range of different adapters included in the box.
Indeed the Chargegenie 50 boasts enough power to charge a tablet device such as an iPad or Google Nexus 7. Top 10 Ways to Boost Your Home Wi-Fi. A Simple Guide for Teachers to Create eBooks on iPad using iBook Author. Improved Multitool Design Makes Room For a Built-in Wrench. Salty, Sweet And Just Plain Cool 3-D Cases For The iPhone. Satechi's New Portable Energy Station Packs A Punch. Lantronix Home xPrintServer Transforms Any Printer Into A Wireless iOS Printer. Syre Bluetooth Enabled Nano Watch Strap Landing On Kickstarter. Bring a High-Quality Audio Experience to All Your Devices With the SRS iWOW Universal. Flying object propels itself by flipping inside out.
Moving mirrors make light from nothing. Jem Melts Rock Using Sunshine - Bang Goes The Theory - Series 3, Episode 5 Preview - BBC One. Jem Melts Rock Using Sunshine - Bang Goes The Theory - Series 3, Episode 5 Preview - BBC One. It Exists! MIT Creates Tech For Moving Files Across Devices With A Swipe. The best skins for your iPhone, iPad, and other devices. Watch movies on iOS: rip, convert and sync. Implantable Electronics­ Learn About The Wonders Of The Human Body From The Man Himself In Leonardo Da Vinci: Anatomy.
YouTube User Campaigns For Apple to Update iPad Keyboard. One Trip Grip Grocery Bag Holder Will Save Your Fingers. 80+ Pieces of Epic Geek Jewelry For Nerdy Girls. "Breakthrough" Liquidmetal Apple gadget at least 5 years away. Keyboard Attachment Turns iPad Into Laptop. Light Up Your Memories – Illuminated Drawing Pins with Cork Board by Hwang Youn Ha, Kim Min Jeong, Cha Yoon Suk & Kim Yong Ha. New Nanotextured Glass Could Usher Water Repellant, Self-Cleaning Gadgets. [jailbreak] Brasileiro consegue levar o verdadeiro multitasking para o iPad. iZen Bamboo — Welcome. Wireless iPad keyboard crafted from bamboo. New concept video shows multiple iPad apps running on screen at once. Brydge turns your iPad into a little MacBook Air.
Custom Knives, Tactical Knives, Damascus Knives, Strider Knives - KnifeArt.com, Chris Reeve Knives. Twisted Blade Knives - The 'Jagdkommando Integral Tri-Dagger' is Controversial. Ultimate guide to iCloud.
---