Gadgets
This pearltree is all about gadgets - electronic gadgets, kitchen gadgets, unique gadgets and many more to be added as when something really interests me comes up. Keep tuned in and do not miss out.
The best counter top microwave models. This model comes in a silver color with the front panel in a color of electroplate type décor.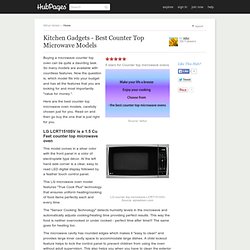 At the left hand side corner is a clear, easy to read LED digital display followed by a feather touch control panel. This LG microwave oven model features "True Cook Plus" technology that ensures uniform heating/cooking of food items perfectly each and every time. Kenwood Smoothie 2GO – A review. The Kenwood Smoothie SB054 makes smoothies for you in no time at all.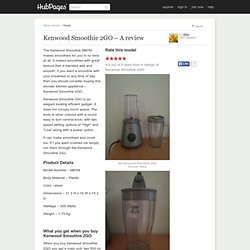 It makes smoothies with great texture that is blended well and smooth. If you want a smoothie with your breakfast or any time of day then you should consider buying this wonder kitchen appliance – Kenwood Smoothie 2GO. Kenwood Smoothie 2GO is an elegant looking efficient gadget. It does not occupy much space. Types of Camera Gadgets. There are many types of camera gadgets in the market.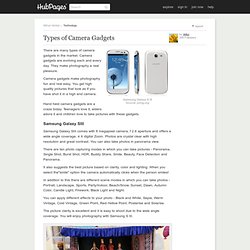 Camera gadgets are evolving each and every day. They make photography a real pleasure. The best gadget gift - LG Tone HBS - 700 Wireless Stereo Headset - A review. The LG Tone HBS-700 Wireless Stereo Headset is elegantly designed, looks sleek and stylish.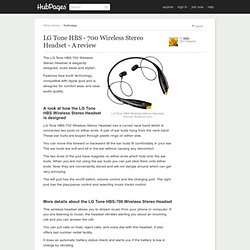 Features blue tooth technology, compatible with Apple ipod and is designed for comfort wear and clear audio quality. A look at how the LG Tone HBS Wireless Stereo Headset is designed LG Tone HBS-700 Wireless Stereo Headset has a curved neck band which is connected two pods on either ends. A pair of ear buds hang from the neck band. Eco-Friendly Water Powered Gadgets. Countless number of batteries are used all over the world.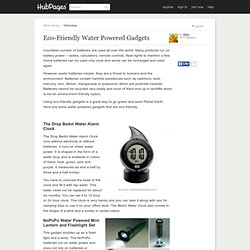 Many products run on battery power – radios, calculators, remote controls, flash lights to mention a few. Some batteries can be used only once and some can be recharged and used again. However useful batteries maybe, they are a threat to humans and the environment. Types of Back-to-School Gadgets. Textbooks are valuable and a must have for students.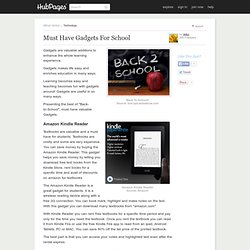 Textbooks are costly and some are very expensive. You can save money by buying the Amazon Kindle Reader. This gadget helps you save money by letting you download free text books from the Kindle Store, rent books for a specific time and avail of discounts on amazon for textbooks. The Amazon Kindle Reader is a great gadget for students. Kindle Fire HD - A great electronic gift for all ages. 1.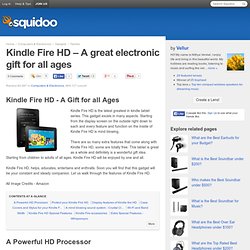 Prime Kindle Owner's Lending Library – There are 180,000 books to choose from, free with no due dates. In addition to this there are current and old New York Times best sellers, including all the seven Harry Potter Books. 2. Unlimited instant streaming of thousands of popular movies and TV shows.