Tech and gadgets interest
ENCYCLOPEDIA OF ALTERNATIVE ENERGY AND SUSTAINABLE LIVING
KOFORIDUA, Ghana (AP) — Their project might not sound like much: The college students on Wednesday launched a tiny model of a satellite the size of a soda can on a big yellow balloon. It went aloft to a height of 165 meters (yards) and then came back down attached to a parachute. Yet in this developing West African country, ambitious organizers, —who recently launched the Ghana Space Science and Technology Center — see the test as a sign of bigger things to come. "We hope that this practical demonstration of what can be done by students like them will generate more enthusiasm, fire up their imagination to come up with more creative things, and show that it's possible that they'll one day be able to launch their own real satellite into orbit," said Prosper Kofi Ashilevi, director of the space center that marked its one-year anniversary earlier this month.
Students in Ghana launch mini-satellite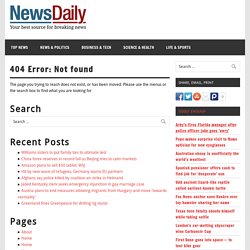 Lilypad floating city concept
The Lilypad floating city concept is designed to house climate change refugees Image Gallery (10 images) With global sea levels predicted to rise significantly over the next century due to climate change, a lot of people living in low lying areas are expected to be displaced from their homes.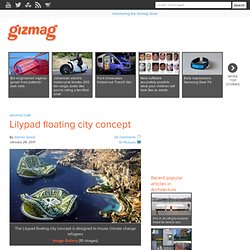 Battle of Electric Cars
If my grandchildren ever ask me where I was when I realised the internet was over – they won't, of course, because they'll be too busy playing with the teleportation console – I'll be able to be quite specific: I was in a Mexican restaurant opposite a cemetery in Austin, Texas, halfway through eating a taco. It was the end of day two of South by Southwest Interactive, the world's highest-profile gathering of geeks and the venture capitalists who love them, and I'd been pursuing a policy of asking those I met, perhaps a little too aggressively, what it was exactly that they did. What is "user experience", really? What the hell is "the gamification of healthcare"? Or "geofencing"? Or "design thinking"?
SXSW 2011: The internet is over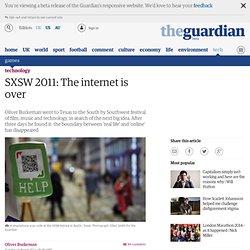 I have recently been looking for ways to cut down on my energy usage, both domestic and commercial, and in this process I have come across several gadgets that make great claims. Some of these "gadgets" are well known and have a great deal of data and experience to prove their efficacy.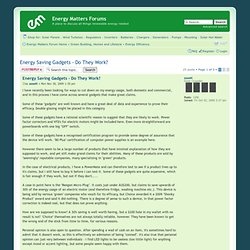 - Energy Saving Gadgets - Do They Work? - Energy Matters Forum
Ecogadgets - energy saving and climate change tips
Energy Saving Devices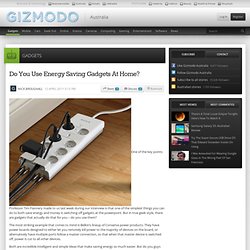 Do You Use Energy Saving Gadgets At Home?
One of the key points Professor Tim Flannery made to us last week during our interview is that one of the simplest things you can do to both save energy and money is switching off gadgets at the powerpoint.
SpamLoco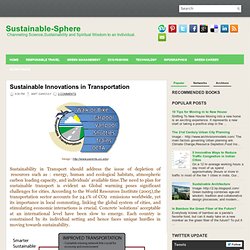 Sustainability in Transport should address the issue of depletion of resources such as : energy, human and ecological habitats, atmospheric carbon loading capacity, and individuals' available time.The need to plan for sustainable transport is evident as Global warming poses significant challenges for cities.
Sustainable Innovations in Transportation