GADGETS 1
Wish List. How Technology Is Transforming The Kitchen & Making Us All Chefs. When we stop to think about the ways technology has impacted our lives, the obvious ones like the workplace, entertainment and how we learn and consume information comes to mind.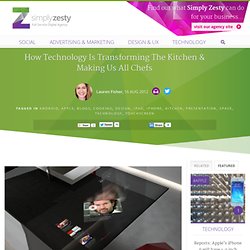 But what we don't realise is just how much it has affected our personal space. With more and more people in the world, there's less space to work with and so more efficient means of using this space is needed. Of all these spaces, the kitchen has undergone the greatest change. What was the home of cookbooks and large unwieldy stoves has now become sleeker and better designed.
DailyTekk | Cool and useful tech curation. Onbile - Create your mobile website with premium templates. How to Remove YouTube Logo & Branding from Embedded Videos & Player. YouTube dropped a little bombshell of a news announcement yesterday on their blog when they released two new changes for embedded videos.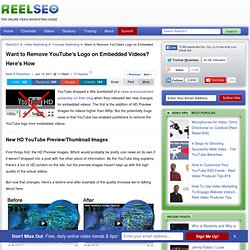 The first is the addition of HD Preview Images for videos higher than 480p. But the potentially-huge news is that YouTube has enabled publishers to remove the YouTube logo from embedded videos. New HD YouTube Preview/Thumbnail Images First things first, the HD Preview Images. Apple - iPhone - MiamiBR. Wrap'It Headphone Organizer. Earbuds where you need them! by Paul Hanna. Hi!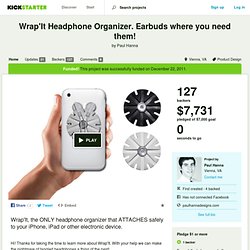 Thanks for taking the time to learn more about Wrap'It. With your help we can make the nightmare of tangled headphones a thing of the past! What is Wrap'It? Wrap'It is a innovative new headphone organizer that attaches directly to your smartphone, mp3 player, kindle, laptop, ipad or other smoothed back electronic device or case. I'm Watch | imWatch. Check Out This Awesome iPhone-Compatible iWatch Concept. Digital wrist-wear has come a long way since calculator watches.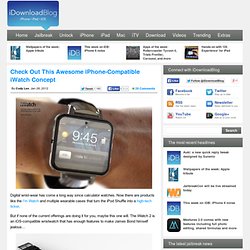 Now there are products like the I'm Watch and multiple wearable cases that turn the iPod Shuffle into a high-tech ticker. But if none of the current offerings are doing it for you, maybe this one will. The iWatch 2 is an iOS-compatible wristwatch that has enough features to make James Bond himself jealous… Crimson Aluminum Frame Case for the iPhone 4 Review. I received a handful of iPhone 4 cases to review over the last several months, including the Crimson Aluminum Frame Case.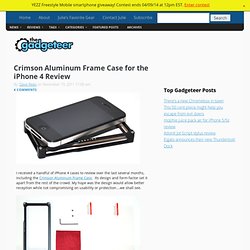 Its design and form-factor set it apart from the rest of the crowd. My hope was the design would allow better reception while not compromising on usability or protection….we shall see. Motorized Inversion Table. Since we live in an era where most things are motorized or at least have some sort of robotics function built-in, don't you think it makes sense to have a Motorized Inversion Table as well for fitness buffs?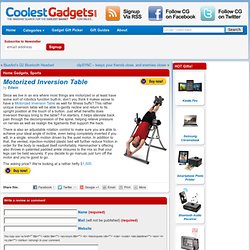 This rather unique inversion table will be able to gently recline and return to its upright position at the touch of a button. Just what benefits does inversion therapy bring to the table? For starters, it helps alleviate back pain through the decompression of the spine, helping relieve pressure on nerves as well as realign the ligaments that support the back. There is also an adjustable rotation control to make sure you are able to achieve your ideal angle of incline, even being completely inverted if you will, in a single, smooth motion driven by the quiet motor.
LuminAID provides cheap, solar-powered light when you need it  Nine amazing wearable gadgets for sporty geeks. A sport lover would always like to go for such a gadget that is versatile and hence can resist all accidents.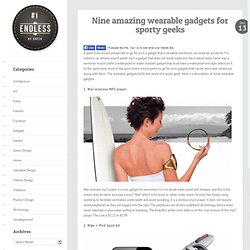 For instance, an athlete would prefer such a gadget that does not break easily and has a robust body. Same way a swimmer would prefer a waterproof or water resistant gadget that must have a waterproof and tight shield on it. Robot baby sends shivers down the spine. When you mention the word "robot", what comes into your mind?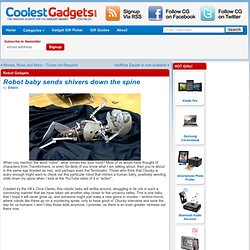 Most of us would have thought of characters from Transformers, or even Go-Bots (if you know what I am talking about, then you're about in the same age bracket as me), and perhaps even the Terminator. Those who think that Chucky is scary enough might want to check out this particular robot that mimics a human baby, positively sending chills down my spine when I look at the YouTube video of it in "action". Created by the UK's Chris Clarke, this robotic baby will writhe around, struggling in its crib in such a convincing manner that we have taken yet another step closer to the uncanny valley.
This is one baby that I hope it will never grow up, and someone might just make a new genre in movies – techno-horror, where robots like these go on a murdering spree, only to have good ol' Chucky intervene and save the day for us humans. MAKE. Smartphone Booklet by Ilshat Garipov. Not a Pamphlet, It's a Smartphone Clutch your pearls because I'm about to say something amazing – nanoparticles!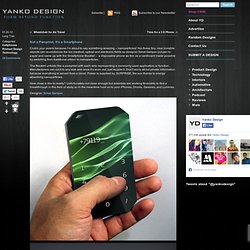 Yes these tiny, near invisible objects can revolutionize the bio medical, optical and electronic fields so designer Ilshat Garipov put pen to paper and came up with the Smartphone Booklet – a disposable phone as thin as a cardboard made possible by switching from traditional silicon to nanoparticles. Hack your monitor to only be visible with special glasses  15 Awesome Do-It-Yourself (DIY) Gadgets - Best DIY gadgets, diy gadgets, DIY gizmos, do it youself gadgets, do it youself gadgets gadgets 2012, do it youself gizmos, do it youself tech toys, do it youself toys. Flotspotting: Jose Hurtado's Tandem with a Twist. Posted by Ray | 20 Jan 2012 | Comments (15) Spanish designer José Hurtado started out as an architect before shifting his focus to industrial design.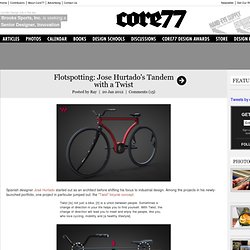 Among the projects in his newly-launched portfolio, one project in particular jumped out: the "Twist" bicycle concept. Twist [is] not just a bike, [it] is a union between people. Sometimes a change of direction in your life helps you to find yourself. With Twist, the change of direction will lead you to meet and enjoy the people, like you, who love cycling, mobility and [a healthy lifestyle]. Draco Design DRACO IV Case for iPhone 4/4S Review. It seems like every day there's a new case out for the iPhone, and today is no different. Today I submit for your perusal a review of an aluminum bumper-style case from Japanese design firm Draco Design, the Draco IV. Is there enough here to differentiate it from the competition, or is it just another also-ran? iConvert Lets The iPad Scanning Frenzy Begin. By David Ponce I'm being overly enthusiastic here. I mean, lets face it: who still has paper? … Well, ok, maybe a couple of you still do, and I guess that's why the iConvert exists.
I guess my point is that no one is excited about paper; it's just one of those figments of a distant past we still have to live with. Gadgets :: Security & Spy Stuff. How to Make an iPad Textbook in Under Five Minutes. The most popular products for today! Fuze Custom Earphones – DIY Audiologist Kit. We all know that custom-fitted earphones are going to give you the best fit, isolation, and stay in place better than your standard supplied headphones, but this normally involves a trip to the audiologist and normally isn't a cheap solution.
Fuze supplies custom earphones in a DIY kit that takes around 15 minutes to fit. You can relive your childhood memories of playing with play-doh and plasticine as you mix together the BioFuzion healthcare-grade material before molding the material around the earbuds in your ear. The kit comes with Fuze stereo drivers, BioFuzion earpiece material ( pre-measured ) , instructional web video, and soft storage pouch and is available in red, blue, black, purple, hot pink, bright orange and beige. Available from the Earfuze store starting from $34. New Amazing Transparent Smart Digital Window Introduced by Samsung [Video] Jan 16 If futuristic digital designs are you thing, then have a look at this latest gizmo presented by Samsung at the CES trade show in Las Vegas.
This new type of window is in fact a transparent touchscreen that will allow you to check out the weather outside while staying in touch with all your favorite websites. Samsung digital window can be installed wherever the user wishes: in the kitchen, to check out various recipes, in the bedroom, for early news in the morning or in the hallway, instead of a regular window. 20 Gadgets That Innovate Ordinary Things. Suicidal Metal Wall Clock Counts to a Century, Falls Apart. 30 Bizarre and Creative Packaging Design Examples | You the Designer. » Concept – cooking pot Future technology.
Fridge concept on Industrial Design Served. Racer Bike by Allen Chester G. Zhang. 11 cheap gifts guaranteed to impress science geeks. Hug Chair by Ilian Milinov. Engineers-ring.jpg (JPEG Image, 471x354 pixels) Best of Yanko Design 2011. Gadgets. Flyboard lets you fly like a bird, swim like a dolphin.
---