Eso Wikis
Gnosis
Gnosis is the common Greek noun for knowledge (in the nominative case γνῶσις f.). In the context of the English language gnosis generally refers to the word's meaning within the spheres of Christian mysticism , Mystery religions and Gnosticism where it signifies a 'spiritual knowledge' or religion of knowledge , in the sense of mystical enlightenment or 'insight'. Gnosis taught a deliverance of man from the constraints of earthly existence through 'insight' into an essential relationship, as soul or spirit , with a supramundane place of freedom. [ 1 ]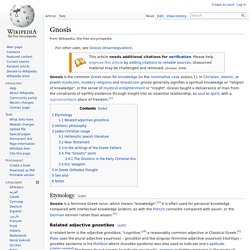 Catégorie:Gnosticisme
Category:Gnosticism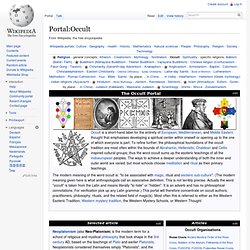 Portal:Occult
Occult Organisations Rosae Crucis Ancient Mystical Order of the Rose Cross , Builders of the Adytum , Fellowship of the Rosy Cross , FUDOFSI , FUDOSI , Fraternitas Rosae Crucis , Mystical Order of the Temple of the Rosy Cross , Order of the Temple of the Rosy Cross , Rosicrucian , Rosicrucian Fellowship , Rosicrucian Order Crotona Fellowship .
Catégorie:Occultisme
Paranormal influences, agencies, or phenomena available only to the initiated while hidden from others. Articles on items commonly used by occultists such as tarot cards and runes may also be in this category. For related topics, see Occult , Category:Spirituality , Category:New Age , Category:New religious movements .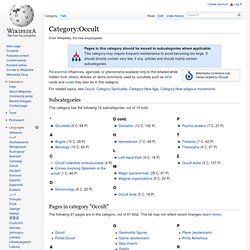 Category:Occult
the_rapture_of_incarnation_by_artofwarstudios.jpg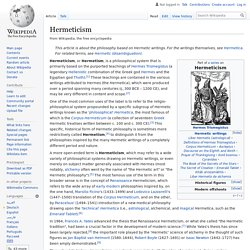 Hermeticism is a set of beliefs and practices whose aim is the influencing of the world through contact with the heavenly forces.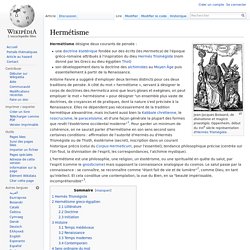 Hermétisme
Un article de Wikipédia, l'encyclopédie libre. Jean-Jacques Boissard, de divinatione et magiçis praestigiis , Oppenheim, début du XVIIème siècle représentation d' Hermès Trismégiste . Hermétisme peut prendre trois sens différents [ 1 ] .
Catégorie:Hermétisme
Esotericism or Esoterism signifies the holding of esoteric opinions or beliefs, [ 1 ] that is, ideas preserved or understood by a small group or those specially initiated, or of rare or unusual interest. [ 2 ] The term derives from the Greek ἐσωτερικός (esôterikos) , a compound of ἔσω (esô) : " within ", thus "pertaining to the more inward", mystic.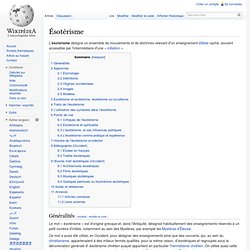 Un article de Wikipédia, l'encyclopédie libre.
Ésotérisme
Catégorie:Ésotérisme
Level of consciousness (Esotericism)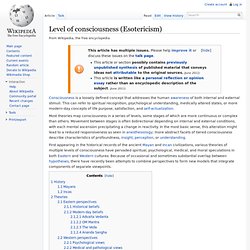 Consciousness is a loosely defined concept that addresses the human awareness of both internal and external stimuli. This can refer to spiritual recognition, psychological understanding, medically altered states, or more modern-day concepts of life purpose, satisfaction, and self-actualization . Most theories map consciousness in a series of levels, some stages of which are more continuous or complex than others.
Category:Alchemy
Category:Esotericism
Catégorie:Alchimie
Category:Secret societies
Catégorie:Société secrète ou fraternité
Category:Collegiate secret societies
Un article de Wikipédia, l'encyclopédie libre. Emblème de la société théosophique. Les cinq symboles visibles dans le sceau sont l' Étoile de David , l' Ânkh , la Sauvastika , l' Ouroboros et, au-dessus du sceau, le signe Aum .
Skull and Bones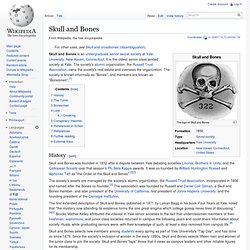 The logo of Skull and Bones Skull and Bones is an undergraduate senior secret society at Yale University , New Haven, Connecticut . It is the oldest senior class landed society at Yale and acknowledged as the leader among the College's Big Three societies that include Scroll and Key Society and Wolf's Head Society .
Un article de Wikipédia, l'encyclopédie libre. La Fraternité blanche universelle se définit comme une association initiatique, fondée par Peter Deunov en Bulgarie en 1922 , dont une nouvelle branche a été initiée en France par un disciple, Omraam Mikhaël Aïvanhov . Le 24 février 1922 , Peter Deunov ouvre une école ésotérique à Sofia en Bulgarie portant le nom de Fraternité Blanche Universelle.
Fraternité blanche universelle
The Hermetica are Egyptian - Greek wisdom texts from the 2nd and 3rd centuries CE, [ 1 ] mostly presented as dialogues in which a teacher, generally identified with Hermes Trismegistus or "thrice-greatest Hermes ", enlightens a disciple.
Category:Religious belief and doctrine
Esoteric cosmology
Esoteric cosmology is cosmology that is an intrinsic part of an esoteric or occult system of thought. Esoteric cosmology maps out the universe with planes of existence and consciousness according to a specific worldview usually from a doctrine.
Category:Religious behaviour and experience
Accueil - EsoWiki
Category:Paranormal
Grégoire de Nazianze , ou « de Naziance », dit « le Jeune », ou encore Grégoire le Théologien , né en 329 en Cappadoce et mort en 390 , est un théologien et un docteur de l'Église .
Category:Esoteric schools of thought
Category:Esoteric Christianity