Psychology.
Get flash to fully experience Pearltrees
The Rosenhan experiment was a famous experiment into the validity of psychiatric diagnosis , conducted by psychologist David Rosenhan and published by the journal Science in 1973 under the title " On being sane in insane places ". [ 1 ] The study is considered an important and influential criticism of psychiatric diagnosis. [ 2 ]
CAMBRIDGE, Mass., Nov. 3, 2010 – The language we speak may influence not only our thoughts, but our implicit preferences as well.
The Dunning–Kruger effect is a cognitive bias in which unskilled individuals suffer from illusory superiority , mistakenly rating their ability much higher than average.
Fears typically develop in our minds after we've had traumatic or negative experiences. But there are exceptions. For example, did you know that just hearing others express their fears can make us afraid?
From Los Angeles Times: It's not all about you
The hedgehog's dilemma , or sometimes the porcupine dilemma , is an analogy about the challenges of human intimacy . It describes a situation in which a group of hedgehogs all seek to become close to one another in order to share heat during cold weather.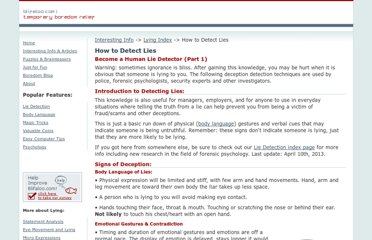 Interesting Info -> Lying Index -> How to Detect Lies Become a Human Lie Detector (Part 1) Warning: sometimes ignorance is bliss.
"Music helps me concentrate," Mike said to me glancing briefly over his shoulder. Mike was in his room writing a paper for his U.S. History class. On his desk next to his computer sat crunched Red Bulls, empty Gatorade bottles, some extra pocket change and scattered pieces of paper.