Finance / Economics Blogs / resources
observingrealities
PRIME ECONOMICS
anti-mankiw
Twenty-Cent Paradigms
EconLog | Library of Economics and Liberty
CONVERSABLE ECONOMIST
macrobusiness.com.au |
EconoSpeak
Econometrics Beat: Dave Giles' Blog
Economics Intelligence | Olaf Storbeck on current economic research
Trusted Sources | Variant Perception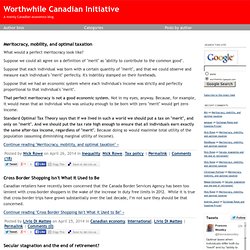 Worthwhile Canadian Initiative
What makes our chequable demand deposits at banks media of exchange? The answer is: the clearing house, where circles of offsetting IOUs are cancelled out. It is clearing houses that create money.
Bearish Market News | By Adam Sharp
Economic Principals
Modern Money Mechanics | MMT simplified.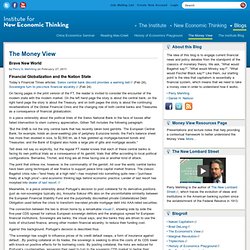 Today's Financial Times articles: Swiss central bank discord provides a warning bell (Feb 24), Sovereigns turn to pre-crisis financial wizardry (Feb 24) On facing pages in the print version of the FT, the reader is invited to consider the encounter of the modern state with the modern market. On the left hand page the story is about the central bank, on the right hand page the story is about the Treasury, and on both pages the story is about the continuing reverberations of the Global Financial Crisis and the changing role of both central banks and Treasuries as a consequence of financial globalization. In a piece ostensibly about the political trials of the Swiss National Bank in the face of losses after failed intervention to stem currency appreciation, Gillian Tett includes the following paragraph: "But the SNB is not the only central bank that has recently taken bold gambits.
Brave New World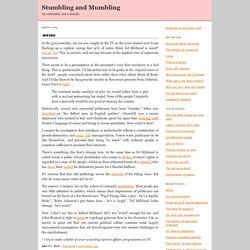 Do we need a budget surplus to get the ratio of government debt to GDP down? There seems to be some confusion on this, so let me clarify. George Osborne said today:
Stumbling and Mumbling
Coordination Problem
not an economist | A non-economist explores economics and the economy in the wake of the financial crisis
Janet Tavakoli
Bronte Capital
Greg Mankiw's Blog
Real-World Economics Review Blog
Credit Slips
Abnormal Returns
Empirical Finance Blog | Turning Academic Insight Into Investment Performance™
Free exchange
Antonio Fatas and Ilian Mihov on the Global Economy
True Economics
Front Page | vox
Rortybomb
Felix Salmon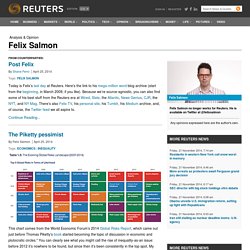 Ostensibly Respectable Academic Is In Fact A Hack: it's a hardy perennial, and an enjoyable one at that. The best example is Inside Job, where big names like Ric Mishkin and Glenn Hubbard got their well-deserved comeuppance. And it's a genre I've indulged in myself: last year, for instance, I spent 4,500 words on a paper by Bob Litan, showing how he lies with numbers to arrive at his paymasters' predetermined conclusion. But here's the thing: for this kind of article to carry any weight, it has to demonstrate the mendacity or venality of the academics in question — and, ideally, those academics should have a high-profile reputation which deserves to be tarnished.
Brad DeLong's Grasping Reality with Both Hands
Planet Money
Rick Bookstaber
Economics for public policy
Calculated Risk
Tomorrow's release of jobs data will mark six full years since the official beginning—and four-and-a-half years since the official end—of the Great Recession.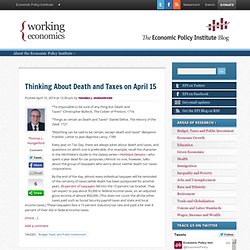 Blog
The Street Light
Noahpinion
Mike Norman Economics
The Economics Anti-Textbook
Umair Haque
Blogs Author Ian Fraser
ECONOCLASM
By Michael S. Derby
Real Time Economics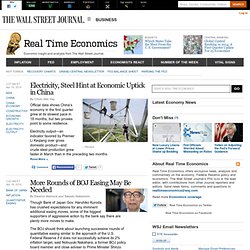 CEPR
John Quiggin
Jesse's Café Américain
Saturday Quiz – January 11, 2014 Welcome to the Billy Blog Saturday Quiz. The quiz tests whether you have been paying attention over the last seven days.
Bill Mitchell – billy blog | Modern Monetary Theory … alternative economic thinking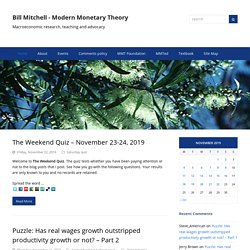 naked capitalism
RepoWatch | Watching for the next financial crisis by keeping an eye on the repurchase market
interfluidity
Hussman Funds Weekly View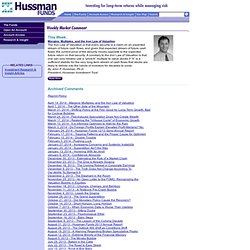 For more information about investing in the Hussman Funds, please call us at1-800-HUSSMAN (1-800-487-7626)513-326-3551 outside the United States Site and site contents © copyright 2003 Hussman Funds. Brief quotations including attribution and a direct link to this site (www.hussmanfunds.com) are authorized.
Uneasy Money
Rajiv Sethi
Economist's View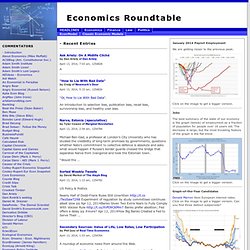 September Payroll Employment We are still 1% off the previous peak in jobs. Click on the image to get a bigger version. Calculated Risk Read the Bill McBride interview. Jobs
Economics Roundtable
Economics of Contempt
zero hedge | on a long enough timeline, the survival rate for everyone drops to zero
Steve Keen's Debtwatch
Blog­ging on eco­nom­ics and the ecol­ogy are not nec­es­sar­ily eco­nomic propo­si­tions, but many of those who do it com­menced for phil­an­thropic rea­sons, rather than finan­cial. One of the plea­sures of blog­ging for me has been meet­ing such peo­ple, and one of my favourites is Nicole Foss, who main­tains the Auto­matic Earth site. The fol­low­ing short inter­view has been posted on the "Eco­nom­ics in Debate" web­site in The Netherlands. Per­ma­nent link to this post (18 words, esti­mated 4 secs read­ing time) Last week I vis­ited the stu­dents who have started the Post Crash Eco­nom­ics Soci­ety at Man­ches­ter Uni­ver­sity, and took part in a debate on the topic of "Should (and could) eco­nom­ics have pre­dicted the eco­nomic cri­sis?"
TheMoneyIllusion
mainly macro
NAKED KEYNESIANISM
Diary of a Mad Hedge Fund Trader
Cheap Talk
EconoMonitor
Home
Dan Ariely
TradingEconomics.com - Free Indicators for 231 Countries.
Black Swan Insights
TripleCrisis
The Physics of Finance
Statistical Modeling, Causal Inference, and Social Science
James Grant was born in 1946, the year interest rates put in their mid-20th century lows. He founded Grant's Interest Rate Observer, a twice-monthly journal of the financial markets, in 1983, two years after interest rates recorded their modern-day highs.
Grant's Interest Rate Observer
Economists' Forum | Economics blog from the Financial Times
Global economic recovery stuck below takeoff speed By Eswar Prasad and Karim Foda The global economic recovery remains stuck below takeoff speed, unable to achieve liftoff and facing the risk of stalling.
Not the Treasury view...
Angry Bear
Business / Economics
National Security Notice