Finance / Economics Blogs / resources
Observingrealities. PRIME ECONOMICS. Anti-mankiw. Twenty-Cent Paradigms. EconLog | Library of Economics and Liberty. CONVERSABLE ECONOMIST. Macrobusiness.com.au | EconoSpeak. Econometrics Beat: Dave Giles' Blog. Economics Intelligence | Olaf Storbeck on current economic research. Trusted Sources | Variant Perception. Worthwhile Canadian Initiative. This is speculative.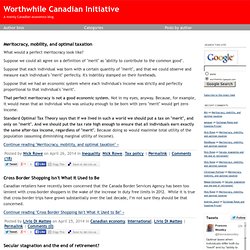 I don't know whether it works empirically. Or, I should say, I don't know how much it works empirically. Bearish Market News | By Adam Sharp. Economic Principals. Modern Money Mechanics | MMT simplified. Brave New World. Today's Financial Times articles: Swiss central bank discord provides a warning bell (Feb 24), Sovereigns turn to pre-crisis financial wizardry (Feb 24) On facing pages in the print version of the FT, the reader is invited to consider the encounter of the modern state with the modern market.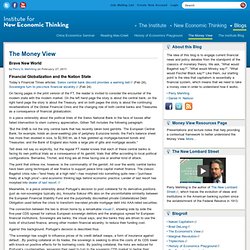 On the left hand page the story is about the central bank, on the right hand page the story is about the Treasury, and on both pages the story is about the continuing reverberations of the Global Financial Crisis and the changing role of both central banks and Treasuries as a consequence of financial globalization. In a piece ostensibly about the political trials of the Swiss National Bank in the face of losses after failed intervention to stem currency appreciation, Gillian Tett includes the following paragraph: "But the SNB is not the only central bank that has recently taken bold gambits.
Stumbling and Mumbling. Nobody will thank me for saying so, but I have a bit of a mancrush on Ed Smith.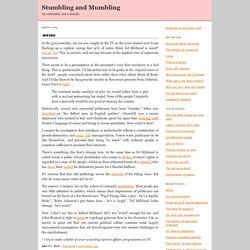 Yet again, he has raised a profound point in the social sciences: Nakedly ambitious people rarely achieve their ambitions...Simplistic self-interest is not just bad PR, it is often bad strategy. Coordination Problem. Not an economist | A non-economist explores economics and the economy in the wake of the financial crisis. Janet Tavakoli. Bronte Capital. Greg Mankiw's Blog. Real-World Economics Review Blog. Credit Slips. Abnormal Returns. Empirical Finance Blog | Turning Academic Insight Into Investment Performance™ Free exchange. Antonio Fatas and Ilian Mihov on the Global Economy. True Economics.
Front Page | vox. Rortybomb. Felix Salmon. Never mind Michael Lewis.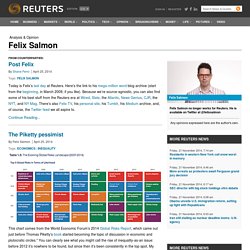 The most interesting and provocative thing to be written of late about financial innovation in general, and high-frequency trading in particular, comes from Joe Stiglitz. The Nobel prize-winning economist delivered a wonderful and fascinating speech at the Atlanta Fed's 2014 Financial Markets Conference today; here's a shorter version of what Stiglitz is saying. Markets can be — and usually are — too active, and too volatile. Brad DeLong's Grasping Reality with Both Hands.
Planet Money. Rick Bookstaber. Economics for public policy. Calculated Risk. Blog. Today is Equal Pay Day, a reminder that women and men are not always compensated at the same rate.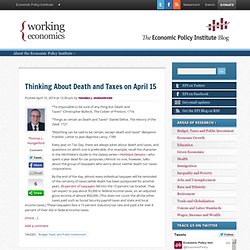 While the widely reported statistic that women, on average, earn 77 cents to every man's dollar has been is a great indicator that women are put in situations every day that for a variety of reasons mean they earn less, it has been criticized for not measuring individuals of similar characteristics, such as age, occupation, education, or experience. To try to get a better understanding of the gender wage gap among specific age groups, and given that many high school and college seniors are on the brink of graduating and entering the labor force, I thought it would be interesting look at the gender wage gap by age and education, to see how women and men fare as they enter today's unsteady labor market. The Street Light. Noahpinion. Mike Norman Economics. The Economics Anti-Textbook. Umair Haque. Blogs Author Ian Fraser. ECONOCLASM. Real Time Economics. China's GDP growth fell in the first quarter to its slowest pace since September of 2012, slipping to 7.4% on-year growth from 7.7% the in the fourth quarter.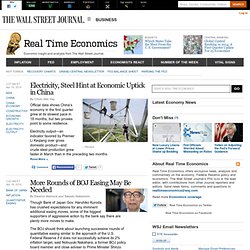 The increase was slightly higher than economists' expectations of a 7.3% gain. Authorities released other data that suggested continuing weakness, but not at a quickening pace. Industrial production grew 8.8% on year in March below expectations of 9% but up from an average 8.6% expansion in January and February, combined to limit distortions from the Lunar New Year holidays. Retail sales were 12.2% higher on-year in March, up from 11.8% growth in January and February. Fixed-asset investment, meanwhile, slipped to 17.6% on year in the first quarter from 17.9% growth in the first two months.
CEPR. John Quiggin. Jesse's Café Américain. Bill Mitchell – billy blog | Modern Monetary Theory … alternative economic thinking. Options for Europe – Part 64 The title is my current working title for a book I am finalising over the next few months on the Eurozone.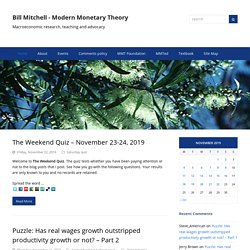 If all goes well (and it should) it will be published in both Italian and English by very well-known publishers. Naked capitalism. RepoWatch | Watching for the next financial crisis by keeping an eye on the repurchase market. Interfluidity. Hussman Funds Weekly View. For more information about investing in the Hussman Funds, please call us at1-800-HUSSMAN (1-800-487-7626)513-326-3551 outside the United States Site and site contents © copyright 2003 Hussman Funds.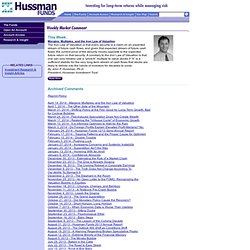 Brief quotations including attribution and a direct link to this site (www.hussmanfunds.com) are authorized. Uneasy Money. Rajiv Sethi. Economist's View. Economics Roundtable. January 2014 Payroll Employment We are getting closer to the previous peak.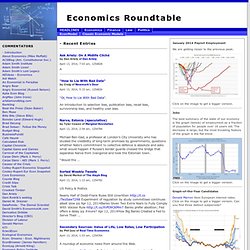 Click on the image to get a bigger version. Jobs The best summary of the state of our economy is the graph (below) of employment as a fraction of population for people over 16 years old. The decrease is large, but the most troubling feature of the graph is the flat trend . Economics of Contempt. Zero hedge | on a long enough timeline, the survival rate for everyone drops to zero. Steve Keen's Debtwatch. Back in the Olde Days, before the global finan­cial cri­sis, when I was one of a hand­ful rais­ing the alarm, some of the most stri­dent oppo­si­tion to my opin­ion about what this might mean for hous­ing in Aus­tralia came from Christo­pher Joye (who was then a Direc­tor at Ris­mark).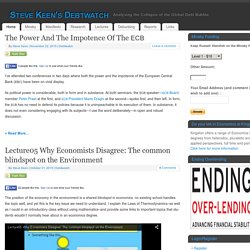 We went head to head on many occa­sions, with me argu­ing that our prices were a debt-fuelled bub­ble, and Joye argu­ing that ris­ing house prices sim­ply reflected ris­ing house­hold incomes. There are very few peo­ple who qual­ify as unfor­get­table in your life, and Ted Wilshire was one of those for me. A larger than life char­ac­ter in every sense of the word, Ted was best known as the Research Offi­cer for the Aus­tralian Metal Work­ers Union (AMWU) who penned the then-influential pam­phlets Aus­tralia Ripped Off and Aus­tralia Uprooted in the days prior to The Accord under the Hawke and Keat­ing Gov­ern­ments.
TheMoneyIllusion. Mainly macro. NAKED KEYNESIANISM. Diary of a Mad Hedge Fund Trader. Cheap Talk. EconoMonitor. Home. Dan Ariely. TradingEconomics.com - Free Indicators for 231 Countries. Resources. Black Swan Insights. TripleCrisis. The Physics of Finance. Statistical Modeling, Causal Inference, and Social Science. Grant's Interest Rate Observer. James Grant was born in 1946, the year interest rates put in their mid-20th century lows. He founded Grant's Interest Rate Observer, a twice-monthly journal of the financial markets, in 1983, two years after interest rates recorded their modern-day highs. Born in New York City and raised on Long Island, he had thoughts, first, of a career in music, not interest rates—french horn was his love. But he threw it over to enter the Navy. Following enlisted service aboard the U.S.S.
Hornet, and, as a newly minted, 20-year-old civilian, on the bond desk of McDonnell & Co., he enrolled at Indiana University. Economists' Forum | Economics blog from the Financial Times. Global economic recovery stuck below takeoff speed By Eswar Prasad and Karim Foda The global economic recovery remains stuck below takeoff speed, unable to achieve liftoff and facing the risk of stalling. Not the Treasury view... Angry Bear. Business / Economics. National Security Notice We are NOT calling for the overthrow of the government. In fact, we are calling for the reinstatement of our government. We are not calling for lawlessness.
---